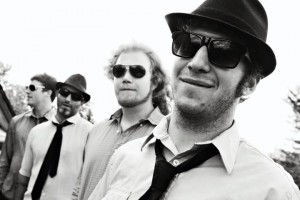 Photo by Lisa Siciliano
Why You Should Go: From the beginning of their time together, the Fox Street All Stars have been profoundly influenced by the culture and music of the south and, specifically, New Orleans.  As they cut their teeth in bars and clubs around Denver, the core Fox Street trio of Eric Low, James Dumm, and Jonathan "Skippy" Huvard was supplemented by a rotating cast of heavy hitting Denver musicians and it wasn't uncommon for the band to blossom out to seven, nine, or even eleven members on any given evening.  There are nights when a stripped down Fox Street line-up delivers a hard charging road house blues type rock-n-roll show in the style of Gov't Mule, or Widespread Panic, while the next night might feature a horn section, Hammond B-3 player and background singers for a Blues Brothers style Rhythm and Blues revue that would be right at home on a Jazz Fest stage.  One thing has remained constant no matter the line-up, the band is always hell bent on delivering a high energy show that will get whole room grooving.
Broken Tongues is an innovative, six-piece, alternative hip-hop band based in Denver, CO. The Tongues have a singular, live-instrumental style, crafted through combined years of music study, collaboration and performance. BT's genre-bending sound is born out of renowned musical influences, including Pink Floyd, Stevie Wonder, Thelonious Monk, Atmosphere and the Roots.
Venue:
Cervantes Other Side, 2635 Welton Street, Denver, CO 80205 – 303/297-1772
Doors:
8:00 PM
*Price:
ADV – $8.00
DoS – $10.00
Buy Tix
*All times and prices are gathered from other sources and I am not responsible for mistakes or inconsistencies. They are intended only as guidelines. Please, always call the venue if you desire the most accurate information possible.