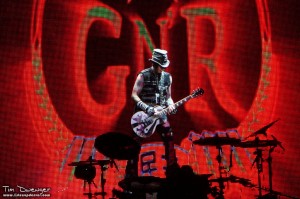 Photos by Tim Dwenger
The Scene: The scene at the Guns N' Roses show at the 1st Bank Center was pretty much what I thought it might be.  There were plenty of aging metalheads in leather and old tour t-shirts with big haired ladies in tight outfits on their arms and they were rubbing shoulders with well dressed suburban couples in their late 30's out to relive their glory days with songs like "Welcome To The Jungle" and "Paradise City."   Sure there were some younger folks who came out to catch a glimpse of a fading legend, but the average age in the arena was pushing 40 for sure.  It was an interesting crowd to say the least and the variety of people that turned out for a walk down memory lane was a clear testament to the wide reach of GnR's material in the late 80's and early 90's.
Guns N' Roses: First off, I've got to admit that the main reason I headed out on a Sunday night to catch this show was because I didn't want to miss the opportunity to catch an Axl Rose meltdown.  While they do seem to be fewer and farther between than just a few years ago, it's by no means unheard of these days.  For better or worse, Axl didn't fly off the handle and instead decided to be surprisingly professional.  Guns N' Roses was scheduled to take the stage at 11pm (yes you read that right, 11pm . . . on a freakin' Sunday) and at the stroke of the hour, the lights went down and the theme song from Dexter came pumping from the PA.  Within seconds, the lights came up and guitarist DJ Ashba appeared in silhouette against a giant LED screen emblazoned with a GnR logo.  As he launched into the opening riff from "Chinese Democracy," an array of pyrotechnics exploded around the stadium sized stage, Axl and the rest of the band appeared, and we were off on quite an interesting ride.
Though the opener was a lot less than it could have been, the band followed it up with a trio of tunes from Appetite For Destruction as if to say to the mom's and dad's who had to go relieve a babysitter "there, you got what you came for, you can go now."  I've got to admit that Rose's voice sounded pretty impressive on what I thought would be the defacto opener "Welcome To The Jungle," and as he pushed into "It's So Easy" and "Mr. Brownstone" I thought we might be in for surprisingly good show.
Unfortunately, what followed was an on again, off again set that was in desperate need of an editor.  With solo after gratuitous solo, the band stretched . . . and stretched . . . and stretched the show out to three full hours, not bidding us goodnight until 2am.  Axl has publicly bragged about how long the show is on this tour, and I've got to say that this is NOT the hit filled powerhouse set that will leave you begging for more in the wee hours of the morning.  Rather, there were moments where it was downright boring as the band slogged through track after track from Chinese Democracy, and a slew of poorly chosen teases and covers like  "Baba O'Riley," "Another Brick In The Wall," and even "The Theme From The Pink Panther."  What it all added up to was a whole bunch of filler, much of which was totally unnecessary at 1am on a Sunday night.  Axl and his band could have put on a polished, and really quite good, 90 minute show that focused on a few tracks from Chinese Democracy and the rest of the hits that people came to hear, rather than forcing us to sit through song after song that should have been left on the cutting room floor.  Editing certainly doesn't seem to be Mr. Rose's strong suit.
While that lack of editing was a major blow to the musical portion of the night, it served to make the visual side of things very interesting.  The stage set up was so big that it could have been left over from GnR's days of touring stadiums with Metallica.  With two levels, five video screens, enough acreage to raise a couple hundred head of cattle, an arsenal of pyrotechnical effects, and a dizzying array of lights hanging overhead, the set-up rivaled any of the biggest bands touring today.  Frankly, with a rig like this, I have no idea how the band is going to clear any money from this tour.  The small arena might have been two-thirds full and there was plenty of room to move around on the floor or to find a seat to wait out some of the slower moments of the evening.
While there were plenty of those slow moments, songs like "Live And Let Die," "Sweet Child O' Mine," and "November Rain," delivered just about everything I was hoping for.  The three guitarists that are touring with this band in an effort to duplicate the guitar heroics that Slash pulled off on his own, did an admirable job and most of legendary solos were played note for note.  There is no lack of talent in this band, and while at times it seemed like we could have been at a Vegas show due to the exorbitant production values, for the most part these guys proved their worth as musicians, as opposed to actors.
The two and half hour set wrapped up with a version of Bob Dylan's "Knockin' On Heaven's Door" that went on for what seemed like an eternity as Axl begged the sparse crowd to sing to him, followed by a high energy take on "Nightrain" which allowed Rose to put his singing prowess on display once again as he hit all the notes and growls in the powerhouse tune.  After a brief encore break, the band came back and closed the show with a self indulgent 30 minute mini-set that featured at least 3 drawn out instrumentals that did nothing to advance the show.  By the time they got to "Patience" and "Paradise City" much of the crowd was poised to hit the parking lot but Axl had one last surprise in store for us when confetti cannon's by the soundboard exploded, filling the air with millions of pieces of red paper.
The marathon show was nothing short of over-the-top . . . in every way.  From the stage set-up, to the three guitar attack, to the three hour set time, to the 34 song setlist, Axl did it his way, so it was more than fitting that the walk-out music for the evening was Frank Sinatra's "My Way."  When all was said and done I would say that ended up enjoying about half the show and on the drive home I did my best to figure out how to get that other hour and half of my life back.  I have one word for you Axl: "Edit."
Energy: B-
Sound: C
Musicianship: A-
Stage Presence: A-
Set / Light show: A
Overall: B
Music has always been a part of my life. It probably all started listening to old Grateful Dead, Peter Paul & Mary, and Simon & Garfunkel records that my parents had, but it wasn't long before they were taking me to concerts like Starship, Crosby, Stills & Nash, and Huey Lewis & The News. I got the bug to write about music after reviewing an Eric Clapton concert for a creative writing project in high school but didn't really take it up seriously until 2002. Since then I have published countless articles in The Marquee Magazine and done some work for Jambase.com, SPIN Magazine, and various other outlets. I started Listen Up Denver! as a way to share the music information that is constantly spilling out of my head with people who care. Please enjoy!