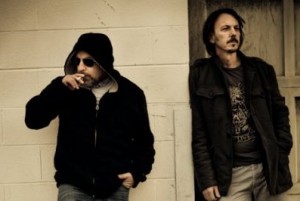 Photo by Tony Morey
The Scene: It was a quiet Thursday night at The Bluebird Theatre, but it was far from dead.  Walking in to the sparsely attended show didn't give me a sense of disappointment, but rather a feeling of crashing a private party. Everyone seemed to know each other and there was a looseness and intimacy to the entire evening both onstage and off. I quickly ran into familiar faces and asked them all about their connection to Jerry Joseph and Wally Ingram, two guys I really didn't know much about. I soon found that the least common denominator was Widespread Panic, and that is a subject I am not well versed on.
I first heard Widespread Panic at a party at NC State in 1996 and never really knew how far their reach had spread until I moved from the Northeast to Denver 8 years ago. By then I really wasn't interested in adding another band to my live recording collection, and I never wound up getting into them. I dig them, and one day will explore deeper, but until that day comes I need to rely on others to begin to teach me. Thursday night was not only an introduction to the great songwriting of Jerry Joseph, but also a crash course in the network of musicians that are involved in the Widespread Panic scene.
Tori Pater and Chadzilla (of Polytoxic): Drums and acoustic guitars were the instruments of the evening for both bands. It is not easy to get a full sound out of just these two instruments, but if the two musicians are fully in tune with each other, it comes off great. Chadzilla and Pater have played together for years, and their bond showed as they took us through a set that was strong yet stripped down. Pater's southern rasp and aggressive strumming were powerful as always, and Chadzilla's sticks flew as the two of them warmed the crowd for another pair of longtime friends and band mates.
I mentioned above that the openers were also tied to WSP, and here are the basics: Pater is a Georgia boy and Panic fan and his band Polytoxic and the band Outformation have had a tight relationship for many years. Outformation was started by Sam Holt. Sam Holt was the guitar tech for Michael Houser. Michael Houser was the guitar player for WSP who passed away in 2002. Sam Holt sat in with WSP after Houser's death. Sam and Tori now regularly play together here in Denver. There is so much more, but you get the picture.
Jerry Joseph and Wally Ingram: Jerry Joseph has been playing music professionally since the early eighties. His first band, Little Women, was a Reggae/Rock Jam band that played not only his originals, but also Grateful Dead and Reggae covers. In 1990 a meeting of the minds occurred when a little band from Athens, GA opened for Little Women. The roles were reversed later that year and the union of Jerry and Widespread Panic was cemented.
Little Women disbanded for various reasons and, after some self-improvement, Jerry formed the Jackmormons in 1996. In early 2003 Jerry began working on a project with Ingram and Dave Schools of Widespread Panic called The Stockholm Syndrome.  That project grew to include guitarist Eric McFadden and keyboard player Danny Dziuk (who was later replaced by Danny Louis). In 2008 Jerry and drummer Steve Drizos formed The Denmark Veseys.
Since Jerry and Wally's background involve so many different sounds, styles, and bands, fans never really know what to expect from one of their shows. Everyone got to The Bluebird on different roads but converged to experience the prolific songwriting of Jerry with nothing but some acoustic guitar and some solid and simple drumming by Ingram. Tonight's pacing was that of a marathon and Jerry's gruff and smokey roots rock sound weaved a common thread through all the material he covered. This man has been playing music professionally for around 30 years, he tours non-stop by himself or with any of his other endeavors and he has been to hell and back…and that's just how he sounds; rough and tumble.
We got to hear songs like "White Dirt" (which Joseph co-wrote with Dave Schools) off of Stockholm Syndrome's 2004 album Holy Happy Hour and Jerry Joseph and Wally Ingram's 2010 release Civility, and a reworkings of earlier Joseph material that also appeared on last year's release. Throughout the evening the duo focused on a stripped down and raw sound that seemed to come straight from the gut. There was some sporadic energy in the set, but it was mostly a slow paced night and there was a certain darkness that hung in the air.
Ingram and Joseph took us through over two and a half hours of music that also included "Conscious Contact"(Jackmormons), "Cochise"(The Denmark Veseys) and closed with the another Jackmormons tune "We Will Go Down," which seemed to be a crowd favorite. One of the highlights for us all was their cover of MIA's "Paperplanes," which I have also heard the Dead Winter Carpenters do recently. These two kept it grimy and it was one of the more energetic moments of the evening.
While I knew very little about either of these two men before entering the building on Thursday, I feel like walking into the theater opened up a door to a long list of bands and projects that I need to explore. I will admit that in the short time it took me to research this article, I have already gained the motivation to finally delve into Panic. The die-hard fans of all the above mentioned bands that I talked to during the show were so knowledgeable that I felt inept in a category I usually pride myself in, musical knowledge! It seems like I have a lot of catching up to do!
Energy: B-
Sound: B+
Musicianship: B+
Stage Presence: B
Set / Light show: B-
Overall: B

Brian Turk grew up in the shadow of the Catskill Mountains, near Woodstock, NY. He comes from a family of music lovers, audiopliles, Dead Heads and avid concert goers.The musical magic that can only be created in the Catsklills, both past and present, is what Brian cosiders the epicenter of his music addiction. The music of The Band, and most recently The Levon Helm Band, is the soundtrack of home for him. Brian's mother took him to his first concert at 5years old...it was Johnny Cash and Roseanne Cash at Jones Beach Amphitheatre. For Brian, music is a family affair. He feels the same way about live music...we all convene to celebrate together. Brian's writing life started when he wrote his favorite author, southern fiction writer Clyde Edgerton, a fan letter at age 13. When most kids were idolizing baseball players and television, he was worshipping writers and musicians. The two became friends and Clyde shared his craft with Brian. The next year Brian attended Duke University's Young Writers Camp. This is the extent, of what Brian considers, his "formal" training in writing. From then on his goal was to capture snapshots of life through words. Brian has been involved with live music in various facets over the years, and combined with his enthusiasm and love for Denver's music scene, he creates a vivid description of what he sees and hears. If you see him out at a show, dancing with a notebook in hand, say hello.