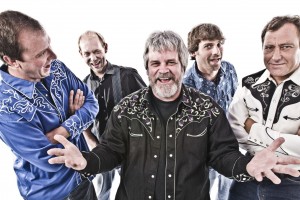 Great American Taxi has always had a simple plan behind their band — don't make any plans, just see what happens.
That's not a tough concept to grasp for anyone who has ever seen vocalist and guitarist Vince Herman play with Taxi, or with his other band, Leftover Salmon. Herman has always approached performing in his relaxed style of 'just jump out of the airplane and I'm sure you'll find a 'chute before you hit the ground.'
"As far as planning ahead for a music career and setting out to do a certain genre in a certain type of way, to attract a certain kind of crowd? Fuck that noise!" he said in a recent interview with The Marquee. "That's just no way to do it. You do what comes out of you musically and what is legit to your soul, and that's the only consideration I've ever had, and luckily, that lets me do whatever the fuck I want."
That lack of following some sort of business plan has let the band very organically find its own way since they set out on the trip more than six years ago, and most recently, it resulted in having a long-time Taxi friend, singer/songwriter Todd Snider, act as producer for their newest album, Paradise Lost.
Taxi keyboardist and co-founder Chad Staehly, explained in a separate interview with The Marquee that getting Snider on board with the album was just another happy accident along the Taxi route. "Last Halloween — Halloween 2010 — Todd was in Colorado and we played shows with him, the last of which was supporting Salmon at the Fillmore. Backstage after Todd's set, we were hanging around and talking about Taxi wanting to make a record and just as typical as anything goes with Great American Taxi, it was like we stumbled into it. Todd was like, 'Hey, I'd love to help you guys out with that,' and we started sketching ideas right then and there," Staehly recalled.
Finish This Article Over At The Marquee Magazine Site . . .

Catch Great American Taxi Live:
Agave :: December 14
Three20South :: December 15
Boulder Theater :: 9th annual Mark Vann Foundation Benefit Concert :: December 16
Hodi's Half Note :: December 17
The Marquee is an independent, Colorado-based, PRINT & ONLINE Free Music Magazine. The Marquee strives to be the Farmer's Almanac of the regional music scene — providing readers with facts, tid-bits, in-depth feature stories and a Calendar section that is unparalleled on Colorado's Front Range, covering every live music venue from large venues such as Red Rocks Amphitheatre to small clubs and coffee shops.