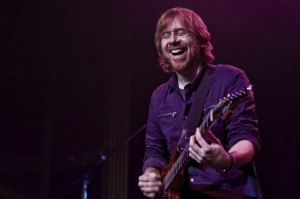 Photo by Tim Dwenger
The Scene: Despite the fact that the line built up faster outside before the show, from my vantage point the venue actually seemed a little less crowded last night than Tuesday.  Don't get me wrong, it was still a very full room, but there was a little more breathing space.  Though I'm sure there were still some run-ins with cranky folks, our group came out of the evening unscathed and happy.  A relatively rare occurrence at a sold-out show at the Ogden.
Trey Anastasio & TAB: The evening took the same form as the first with Trey taking the stage solo for an acoustic set that featured several Phish favorites.  After opening with "Sample" Trey busted out a tune that hasn't been played since 2001 at Jones Beach, "Mountains In The Mist."  Though the crowd didn't seem to be too familiar with the song, it was a treat to hear such a rarity and it wouldn't be the last such offering.  Trey reeled the crowd back in with a beautiful take on "The Horse > Silent In the Morning" that had most everyone in the room singing along.  "My Friend, My Friend" followed, a tune that has only been played once before on this tour, and while it didn't have the same feeling as it did when he played it with Mike Gordon at The Fourmile Canyon Revival, Trey showed some pretty impressive chops on the acoustic.   He kept up the theme of rare tunes when he dropped into the Phish staple "Runaway Jim" for the first time since 1999. "Carini" and "Wilson" followed and kept the audience singing along until the evening's first cover was unveiled in the form of The Rolling Stones classic "Shine A Light" from their Exile on Main St album that Phish Cover during their Halloween 2009 performance.
Just as the acoustic portion of the show was growing a bit stale, Trey invited up Jennifer Hartswick and Natalie Cressman to join him on background vocals for a poignant version of "Wading In The Velvet Sea."  Russell Remington then joined the girls to round out the horn section and highlight "Stealing Time From The Faulty Plan," before the rest of the band came out for a rousing take on Outkast's "Hey Ya!" a tune that has been showing up a lot on this tour.
Then the real fun began as Trey pick up the electric and the band absolutely tore in a blistering version of "Push On Till The Day," that had every ass in the building shaking.  It was a bit of a tease as the band left for setbreak after the song ground to a close, but it left us wanting more and that's a sure sign of a seasoned band.
After a relatively short break the band came back and picked up right where they left off with "Cayman Review," and I've got to say that I think this band handles the tunes from Trey's self titled album almost better than the 2003 line-up.  They sound so tight and well rehearsed that's it's a true joy to see them hit their stride on these tunes.
The call and response style blues of "Done Done It," and the newer "Valentine," set up another screamer from the self titled album "Money Love and Change" and it proved to be one of the stand-out moments of the show.  The set then slowed up a bit with a segment highlighted by an instrumental take on Marley's "Small Axe."  "Mozambique" featured a phenomenal trumpet solo from Hartswick who later proved herself to be the star of the night, but we'll get to that in a minute.
As the set began to wind down the band ran through a bit of an uneven version of "Simple Twist Up Dave" that had it's moments but the jam lost the crowd a few times.  "Windora Bug," featured some great work from bassist Tony Markellis on vocals and bass and even cracked Trey up a few times.  As if he was saving it to tease us even more toward the end of the set,  "Sand" blew the doors of the place with a raging, funky jam that got tired feet moving yet again.  The horns set off for a few minutes but came back to deepen the groove as the song wound to a close.  The set closing "Show Of Life," could have been placed better to leave us on a high note before the encore, but they redeemed themselves with a huge, and I do mean HUGE, version of Led Zeppelin's "Black Dog" that proved to everyone in the room that Jen Hartswick has one of the most powerful voices in rock as she gave Robert Plant a run for his money.
All in all a great two night stand from Trey and the band, they left a lot of happy phans in their wake as they rolled out of Colorado on their way to the West Coast firing on all cylinders.
SETLIST:
Set 1: Sample in a Jar, Mountains in the Mist, The Horse > Silent in the Morning, My Friend, My Friend, Runaway Jim, Carini, Wilson, Shine a Light, Wading in the Velvet Sea*, Stealing Time From the Faulty Plan#, Hey Ya!%, Push On 'Til the Day&
Set 2: Cayman Review, I Done Done It, Valentine, Money, Love and Change, Drifting, Small Axe, Burn That Bridge, Mozambique, Simple Twist Up Dave, Windora Bug, Goodbye Head, Sand, Show of Life
Encore: The Birdwatcher, Black Dog
* Trey acoustic with Jen and Natalie
# Trey acoustic with Jen, Natalie, and Russ Remmington
%Trey acoustic with full band
&Trey electric with full band
Energy: A-
Sound: A
Musicianship: A-
Stage Presence: A-
Set/Light Show: A-
Overall: A-
Music has always been a part of my life. It probably all started listening to old Grateful Dead, Peter Paul & Mary, and Simon & Garfunkel records that my parents had, but it wasn't long before they were taking me to concerts like Starship, Crosby, Stills & Nash, and Huey Lewis & The News. I got the bug to write about music after reviewing an Eric Clapton concert for a creative writing project in high school but didn't really take it up seriously until 2002. Since then I have published countless articles in The Marquee Magazine and done some work for Jambase.com, SPIN Magazine, and various other outlets. I started Listen Up Denver! as a way to share the music information that is constantly spilling out of my head with people who care. Please enjoy!