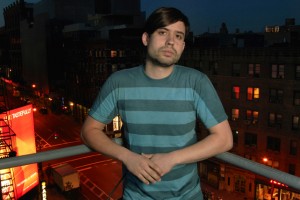 The Scene: Last Wednesday night the Fox Theatre in Boulder was taken over by the sounds of multiple local electronic acts and the nationally recognized electro-funk artist Eliot Lipp. One of the best parts of this state's music scene is the fact that regardless of what night of the week it is, people will show up in full force to support artists. That was no different for this gig.  The theater slowly filled up to a much larger crowd than I had anticipated coming out, but there was still plenty of room to dance and move around which made for a really happening night of music.
Slim Thugz: I had never heard of Slim Thugz before and honestly had no idea what to expect. All I knew was that these two guys are from Boulder, and what that meant to me was that there was a huge possibility they were either going to blow me away or bore me with generic college town beats sandwiched around abrasive bass drops. Fortunately they brought a unique sound that seemed fresh and original.  Their beats combined many different elements from the electronic world, while staying true to the Hip-Hop sound that I personally love. They mixed original tracks with glitchy Rap vocal samples while manipulating live instruments in order to add a layer of improvisation that really made the performance stand out to me. Their brand of highly danceable "Jazz-Step" is something I haven't quite heard before and I really look forward to catching these guys again in the future.
Eliot Lipp: Eliot Lipp has been on my radar for a while now. He is a Los Angeles based producer who made a name for himself when his work was picked up by Scott Herren of Prefuse 73 and he has been rapidly becoming a rather large name in the electronic music world since. He utilizes vintage equipment as well as sounds from decades past that may have been forgotten by this fast paced music world in order to create an all new form of dance music. Don't for a single second think that this guy is your run of the mill "press play" DJ. With a live drummer set up next to his table of tools, Lipp brought a funky fresh feel to the stage while blending House, Hip-Hop, and many other styles of sounds you wouldn't normally hear mixed together.
When Lipp finally took the stage at 11:45, the crowd had multiplied and the Fox Theater was about as full as you could expect it to be in the middle of the week. Most electronic shows are hard for me to find words for. Mostly because I end up leaving let-down and confused about what just happened and wondering why there were so many wide eyed kids digging choppy beats and played out rhythms. That was far from the case with Lipp. Though I still left the show struggling to find words for what just happened, it was not because I was let down in the least bit. His set reconfirmed why I have had him in my sights to check out for so long, and absolutely justified all of the praise the music world has given him.
Not once during his set did I find myself bored or confused with what he was doing on stage. He was able to string together so many different sounds and tempos in a masterful way. He has the ability to take everyone in the room on a musical journey that spans countless genres and overall his sound is somewhat indefinable. I told myself I would show up, catch a few tracks and get out early since work was inevitable the next morning. When 2 o'clock rolled around I found myself still moving to the groove and ultimately wanting more funky Break Beats and heavy bass lines. Luckily for me and everyone else, Eliot Lipp finds himself out in Colorado quite often. By far one of the better electronic sets I have seen in a long time and I look forward to catching him again as soon as I can. He, without a doubt, deserves far more recognition in this scene than he has. I'm sure in due time we will be seeing Eliot Lipp headlining festivals and solidifying his name as one of the top performers in the electronic music scene. Keep your eyes out for this guy.
Energy: A
Sound: B
Musicianship: B
Stage Presence: C+
Set / Light show: B-
Overall: B

I rode my skateboard from school in 7th grade to my buddy Vince's house where he put on the song "Perfect Government" by NOFX and I was hooked. The next day I bought the album Duh by Lagwagon. The next year I saw Against Me! at the Starlight Theater in Fort Collins, my mom dropped me off. I've since devoted every waking hour to anything done with passion. My speakerbox bumps everything from Lil' Wayne to Pablo Casals. I was never very good at making music, but I am damn good at listening to it. I've been filling up yellow notepads with random thoughts and misspelled words for as long as I can remember. I enjoy whiskey of all sorts, Newport cigarettes and the company of my family. I've got an addiction to run-on sentences that I'll probably never cure. A solid handshake with a stranger who has become a friend over a few beers means the world to me. You'll often find me wide eyed and wandering with an ear to ear grin. I live for funky break beats and spreading the love.