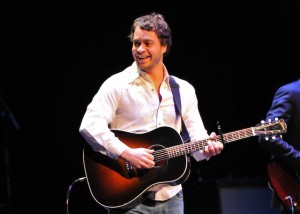 Photos by Kit Chalberg
The Scene: As I walked up to The Denver Center for The Perfoming Arts, I started to wonder if there was a dress code attached to the evening. Luckily the camel hair overcoats, expensive jewelry, and American Express "Black Cards" were heading into the Elli Caulkins Opera House while the denim clad patrons were entering the Temple Buell Theatre. The Denver Center is a complete arts complex with multiple theatres and events that draw all walks of life.
The crowd inside the Buell was hip and full of enthusiasm as they leisurely drank in the expansive lobby before settling into their seats. Whether it was the cool parents bringing their kids to see Brett Dennen, or the young professional couples who came to be urged into romance by Amos Lee, they all seemed cool to me. As an usher dressed in black guided me to my seat, I felt as if I should have tipped for the great service. Most people were sure to arrive early in order to catch Brett Dennen, who is well known and loved around these parts! It seemed as if Dennen and Lee had two different goals for the evening: Dennen's was to keep it loose and Lee's to keep it tight.
Brett Dennen: Dennen walked on the stage looking sensitive, intelligent, and slightly disheveled. His bare feet, plaid shirt, and tapestry guitar strap are great images that reflect his sound. As he opened up with "Ain't No Reason," the crowd was immediately captured by this man's presence and presentation. His whole set was filled with people yelling out requests, I love you's, and thanks. Dennen has always been very connected to his audience and he seemed genuinely thankful for all the praise.
He bounced into "Dancing At A Funeral" and started wiggling his hips and bending at the knees like a intellectual hipster Elvis. His bright high voice and clear picking and strumming rang through the vastness of the room and really got the crowd worked up! It was the little girl who yelled out "Oh Yeah!" during one of Brett's dance moves that summed it all up for me. This dude is just plain adorable. I can't explain it any other way.
It was during his performance of "San Francisco" that I realized why I love his sound so much! It reminds me of my time in the Bay Area of California. His songs sound just like the sunny days, bookstores, coffee shops, and hilly sidewalks that inspired them. After Brett closed with "Comeback Kid (That's My Dog)" he got us all on our feet for a standing ovation and not one of us wanted to see him leave the stage.
Amos Lee: When Amos Lee and his band took to the stage the ladies seemed very pleased. This guy is as smooth and sexy as his voice and he didn't let some brief sound issues cause him to lose his cool. As he started off with "All My Friends," I got to hear the Jazz, Blues, and Folk influenced sound that originally drew me to Lee's music, but the night brought so much more. Songs off of his new album Mission Bell, like "Cup of Sorrow," had a country twang and a bit of gospel soul thanks to his amazing backup singers.
"Keep it Loose, Keep it Tight" sounded stellar as Lee's precisely fingerpicked intro led into the sultriness of the vocals. This song made arms go around partners, and had such an effect that I almost put my arm around the stranger next to me! For those people that came for the romantic vibe, they got it. While he played songs like "Sweet Pea," "Flower," and "Arms of a Woman" to satisfy that craving, it was some of the harder and more energetic songs that really stood out to me.
About halfway through the show, Amos Lee strapped on a hollow body electric guitar and wailed into a song I could not identify, even after quite a bit of research. It started off with the lyric "I met this girl Lula, down in Missoula" and was a dark, swampy, and powerful song that was performed with aggression! This song was straight-no-chaser blues driven rock. It was a side of Lee I have never seen before. It was killer! Before this there had been a lot of request shouting going on, and some guy thought yelling out "Freebird" for the tenth time was cool. This change in pace might have been Amos Lee's response to the disruptions. My response is: be cool, let the performers perform, and just sit back and enjoy the show…man. No one thinks yelling out "Freebird" is cool anymore; especially your embarrassed wife!
"Street Corner Preacher" also had a lot of tenacity and these more Blues and Rock oriented songs seemed to suit Amos well. I could see an album strongly influenced by these genres coming out of this guy in the future and I bet it would be well received. I heard a little Ben Harper in "Street Corner Preacher" and visions of the two of them playing in a backwoods roots band together danced in my head.
Lee even threw some humor into the mix! He started off playing his slow jam "Won't Let Me Go" and was joined by the alter ego of his male backup singer, now dressed in a white linen suit. Calling himself "Angel," this dude put some Chef from South Park-like lyrics over the song. Lines like "I just want to get up in your rocky mountains of love" and "take a sip from my love fountain and let's get freaky in the rocky mountains" had me rolling!
I love the fact that Lee and crew took their time, figured out some unrehearsed material in front of us, and just went with what he was feeling. His set was full of great musicianship and diverse vocal styling. I expected the show to be smooth and jazzy the entire night and was glad he mixed up the flavors so much! He and Dennen couldn't be more different in appearance and musical style, but it was that contrast that made the night so great. We got warmed up with the sunny sounds of San Francisco and then got a lesson on how to be cool.
Energy: B
Sound: A
Musicianship: A
Stage Presence: A-
Set / Light show: B
Overall: A-
Brian Turk grew up in the shadow of the Catskill Mountains, near Woodstock, NY. He comes from a family of music lovers, audiopliles, Dead Heads and avid concert goers.The musical magic that can only be created in the Catsklills, both past and present, is what Brian cosiders the epicenter of his music addiction. The music of The Band, and most recently The Levon Helm Band, is the soundtrack of home for him. Brian's mother took him to his first concert at 5years old...it was Johnny Cash and Roseanne Cash at Jones Beach Amphitheatre. For Brian, music is a family affair. He feels the same way about live music...we all convene to celebrate together. Brian's writing life started when he wrote his favorite author, southern fiction writer Clyde Edgerton, a fan letter at age 13. When most kids were idolizing baseball players and television, he was worshipping writers and musicians. The two became friends and Clyde shared his craft with Brian. The next year Brian attended Duke University's Young Writers Camp. This is the extent, of what Brian considers, his "formal" training in writing. From then on his goal was to capture snapshots of life through words. Brian has been involved with live music in various facets over the years, and combined with his enthusiasm and love for Denver's music scene, he creates a vivid description of what he sees and hears. If you see him out at a show, dancing with a notebook in hand, say hello.