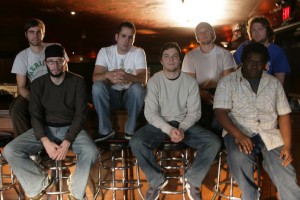 Photo by Mark R. Sullivan
The Scene: With a capacity of 700 people, the Fox Theatre has the potential to become very reminiscent of a sardine can. That potential was met this past Saturday night when third wave Ska giants Reel Big Fish and Streetlight Manifesto came into town with their one-of-a-kind show. Old punk rockers and youngsters in checkered suspenders filed into the sold out theater early in order to find a spot before Reel Big Fish took the stage.
Reel Big Fish have been on the scene for two decades while Streetlight was formed in 2002 after lead singer Tomas Kalnoky left the band Catch 22. Their followers are die-hard and with good reason. The show had been sold-out for days beforehand proving that this scene that is often overlooked is still very much alive and well.
Reel Big Fish: Reel Big Fish have been blasting horns and ripping guitars since before most of the people in the building Saturday night had even made it to the 3rd grade. Although the line-up has changed many times, their sound has remained relatively the same.  Today their band consists of a full horn section backed by drums, bass, and guitar.  Most of their lyrics pertain to things such as putting down ex-girlfriends or just being generally silly.
The horn players coordinated dances to each song made it clear that they have all been playing these songs on stage for a long time. When lead singer Aaron Barrett would scream out "JUMP," hundreds of the kids in the pit down below jumped up and down in perfect unison. For me the biggest draw of this band was their uncanny ability to cover everything from The Specials to Van Morrison. All the while throwing in their own "goofy" flare.
The set was long and massively full of energy. I luckily found a spot right next to the bar and quickly made friends with the bartender. Having seen Reel Big Fish a few times in the past, I came into the show really hoping to see something different. Unfortunately, their show hasn't evolved much over the years. They have been playing the same songs in the same ways and haven't seemed to switch it up much at all. Don't get me wrong, I really dig what they do and not a bad word can be said about their talent or musicianship, but I just couldn't help but come to the conclusion that their stage show has become more of a novelty act. If you have seen them once, I get the feeling you don't really need to see them again. At least that has been my experience.
Whimsy aside, I did have a great time picking up on the lyrics I could relate too and sing along. Although they may be on the gimmicky side of things, their songwriting ability must be commended. Their playing was tight, and overall they put on a fun, happy go lucky, ska-punk dance party.
Streetlight Manifesto: I've been a nerd for Tomas Kalnoky's projects ever since I first heard him in a very little known band by the name of Gimp. Since that project dissolved he has started Catch 22 and now Streetlight Manifesto. Kalnoky is easily one of the greatest unknown songwriters of our generation and this project is a one of a kind band that can't simply be called Punk, Ska or Rock and Roll. He draws influence from many genres and generations of music.
At the start of their set I decided to make my way down to the pit in front of the stage and perhaps relive my youth. That idea lasted only a song or two at most and I soon retreated back to my spot at the bar to enjoy the rest of the set. By this time I'm sure the theater was filled right up to capacity. As the band played, the crowd flowed and moved like a wave, or black hole of sorts. It was refreshing to see that things like this still exist in a world that has slowly been taken over by the sounds of Justin Beiber and the nauseating bass of Bro-step.
The sound that the seven people on that stage were creating is one of the most unique sounds you will ever hear. Their songs appeal to all walks of life, whether you are too hardcore for horns, or too soft for mosh pits, It doesn't really matter.  You will walk away from a Streetlight Manifesto set in complete awe and you will be singing the words back in your head for days after the show. Each member comes from a totally different background and due to this they are able to create a sound that is unmatched by anyone in any genre of music.
I could easily sit and write out the names of each song they played and I could type out all of the lyrics that have been on repeat in my head since last Saturday, but that wouldn't do them justice. To anyone who doesn't know the sheer brilliance of Streetlight Manifesto, they would simply be meaningless song titles and lyrics. Start from the beginning: listen to "Everything Goes Numb," or see them the first chance you get. If you have any appreciation for what is true and right in music, you will understand why Streetlight Manifesto and Tomas Kalnoky are two of the best kept secrets in this vast world of ever changing music.
Energy: A
Sound: A
Musicianship: A
Stage Presence: A
Set / Light show: C
Overall: A

I rode my skateboard from school in 7th grade to my buddy Vince's house where he put on the song "Perfect Government" by NOFX and I was hooked. The next day I bought the album Duh by Lagwagon. The next year I saw Against Me! at the Starlight Theater in Fort Collins, my mom dropped me off. I've since devoted every waking hour to anything done with passion. My speakerbox bumps everything from Lil' Wayne to Pablo Casals. I was never very good at making music, but I am damn good at listening to it. I've been filling up yellow notepads with random thoughts and misspelled words for as long as I can remember. I enjoy whiskey of all sorts, Newport cigarettes and the company of my family. I've got an addiction to run-on sentences that I'll probably never cure. A solid handshake with a stranger who has become a friend over a few beers means the world to me. You'll often find me wide eyed and wandering with an ear to ear grin. I live for funky break beats and spreading the love.