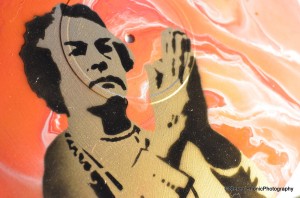 The Scene: The Bluebird Theatre was packed with a good mix of people who all came to feel the BOOM! A good number of the ladies had X's on their hands and most of the dudes rocked New Era baseball hats that were worn to front, back and side, but all the brims were flat. The room was dark the entire night and the light show was simple; more calming than mind blowing. Electronic music comes in many forms (especially in this town) and both Octopus Nebula and Signal Path blend live instrumentation with samples and synth to form a great balance of live music with well formed electronic additions.
Octopus Nebula: I was drawn to this band because of it's bass player, Fleeb Thomas. I first heard him play in  the band Stanky Pockets many years ago and most recently saw him perform with with Polytoxic and company at The Last Waltz Revisited. Octopus Nebula is where Mr. Thomas and his six string bass spend most of their time, and it was great to see the both of them!
These guys blend many different genres while keeping it all on a transcendental plane. Their music wasn't tranquil, but it did have a certain meditative quality to it.  All these words might be misunderstood to imply "boring," but let me make it perfectly clear – that could not be farther from the truth! I am using these terms to describe an almost spiritual vibe in the music that I picked up on. It was a great set filled with unique sounds that would please lovers of all types of music . . . especially psychedelic.
Signal Path: These guys also combine the live instruments with electronic elements, but in a much different way. Their music is more rhythmic and danceable with some thunderous bass and it was filled with intensity and energy from start to finish.  A Hip-Hop vibe was thrown in to the beats, and and a great vibe was thrown in to the crowd! The Bluebird really filled in for Signal Path and they kept our eyes on the stage and our heads bobbing all night.
While electronic music is often too busy for me and can feel more like an assault of synthetic sounds than a concert sometimes, both of these bands come from a background of live instrumentation and threw the electronic factor in later in their development. It is this attention to musicianship that made the night pleasurable for me. The electronic element was added to expand horizons and paint more detailed soundscapes, but both of these bands could rock a stage if their laptops crashed!
Energy B
Sound A-
Musicianship B+
Stage Presence B
Set/Light Show B
Overall B+
Brian Turk grew up in the shadow of the Catskill Mountains, near Woodstock, NY. He comes from a family of music lovers, audiopliles, Dead Heads and avid concert goers.The musical magic that can only be created in the Catsklills, both past and present, is what Brian cosiders the epicenter of his music addiction. The music of The Band, and most recently The Levon Helm Band, is the soundtrack of home for him. Brian's mother took him to his first concert at 5years old...it was Johnny Cash and Roseanne Cash at Jones Beach Amphitheatre. For Brian, music is a family affair. He feels the same way about live music...we all convene to celebrate together. Brian's writing life started when he wrote his favorite author, southern fiction writer Clyde Edgerton, a fan letter at age 13. When most kids were idolizing baseball players and television, he was worshipping writers and musicians. The two became friends and Clyde shared his craft with Brian. The next year Brian attended Duke University's Young Writers Camp. This is the extent, of what Brian considers, his "formal" training in writing. From then on his goal was to capture snapshots of life through words. Brian has been involved with live music in various facets over the years, and combined with his enthusiasm and love for Denver's music scene, he creates a vivid description of what he sees and hears. If you see him out at a show, dancing with a notebook in hand, say hello.