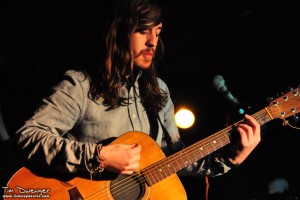 Photos by Tim Dwenger & Ty Hyten
The Scene: The Hi-Dive was packed on Wednesday night.  It was an 18 and over show, which is sorta rare at The Hi-Dive, and hipsters, preppy college kids, yuppies and the usual Denver Music scene faces rubbed shoulders and packed into the dingy room that houses the stage.  I have always loved this club because it feels like the kinda place where up and coming bands should do their up and coming.  It's not outfitted with the best of anything, and it's not the cleanest place in the world, but let's face it, neither are some of the biggest and most popular clubs in this country.  The Hi-Dive is a perfect dirty little Rock and Roll club with everything from $2 beers, to stickers all over the bathroom.  Even thought it may not always sound as good as it could, it typically feels good to listen to music in that room and Wednesday's show with Other Lives was no exception.
Other Lives: The last time I caught Other Lives in Denver was a year and half ago or so at The Hi-Dive and they were opening for someone and I honestly can't remember who that was.  Other Lives made such an impression on me that I ran to the merch table, picked up their CD, and played in the car on the way home completely pushing the headliner out of my head.  As a result, this time I walked in with pretty high expectations for a mind blowing show, and to be honest it didn't quite live up to what I was hoping for.  Don't get me wrong, they sounded good, but the show just didn't pack quite the punch I thought it could have.
For those that may not know, music of Other Lives is on the mellower side.  It has a dark, brooding, indie folk character to it that at times soars to heights that boarder on majestic while never really breaking through into Rock and Roll.  On "For 12″ the quintet's instruments blended together with Colby Owens' ethereal voice to create a rich and powerful soundscape that was the perfect compliment to the impressive range of Jesse Tabish's confident lead vocals.  A Cello, Trumpet, and Violin contributed significantly to the mysterious mood of the music and while the lyrics that flowed from Tabish were at times almost unintelligible, I imagine that was intentional as it only served to build on the mystery that seemed to ooze from tracks like "Desert."
When the band left the stage at 12:20, an hour after they started, I was surprised that they didn't save anything for an encore.  It was a sold-out show after all.  I guess it's possible that they were saving something for the next time they come through this area which will be on March 13th with the one and only Radiohead.  I will say that this show did convince me that these guys will probably be great on the big stage at the 1st Bank Center with all the power of a mega-sound system behind them.  I'm thrilled they will have their chance to win over more fans, like they did me when they opened for . . . oh that's right, I can't remember who they opened for.
Energy: B
Sound: B+
Musicianship: B+
Stage Presence: B
Set/Light Show N/A
Overall: B
Music has always been a part of my life. It probably all started listening to old Grateful Dead, Peter Paul & Mary, and Simon & Garfunkel records that my parents had, but it wasn't long before they were taking me to concerts like Starship, Crosby, Stills & Nash, and Huey Lewis & The News. I got the bug to write about music after reviewing an Eric Clapton concert for a creative writing project in high school but didn't really take it up seriously until 2002. Since then I have published countless articles in The Marquee Magazine and done some work for Jambase.com, SPIN Magazine, and various other outlets. I started Listen Up Denver! as a way to share the music information that is constantly spilling out of my head with people who care. Please enjoy!