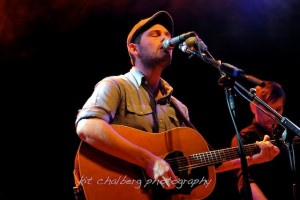 Photo By Kit Chalberg
Why You Should Go: Originally from Johannesburg, South Africa, Gregory Alan Isakov's song-craft lends to the deepest lyrical masterpieces. With hints of his influences, Leonard Cohen, and Iron & Wine, Gregory Alan Isakov has been described as "strong, subtle, a lyrical genius" and has shared the stage with touring artists such as Calexico, Mumford & Sons, Fiona Apple, DeVotchka, and Brandi Carlile. He has performed throughout the United States and Europe and appeared at numerous music festivals such as South By Southwest, Telluride Bluegrass Festival and Rocky Mountain Folks Fest. Gregory has toured solo and with his band "The Freight", and has released a quartet of albums which available at iTunes, Cdbaby, and directly through his website.
Joining Isakov on the bill is Reed Foehl who pulls together the warm touch of country folk with the edgy honesty of intrinsic to modern songwriting.  His landscape of lush tones and solid songs touches the raw truth of love and tragedy, without sinking into saccharine sentimentality or cold remove.  His songs are carved from the full range of human emotion and his enduring songwriting is blended with masterful accompaniment to create a perfectly balanced soup for the soul.
Venue:
The Gold Hill Inn, 401 Main St Gold Hill, Boulder, CO 80302 – 303/443-6461
Doors:
7:00 PM
*Price:
SOLD-OUT
*All times and prices are gathered from other sources and I am not responsible for mistakes or inconsistencies. They are intended only as guidelines. Please, always call the venue if you desire the most accurate information possible.