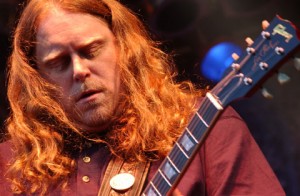 Warren Haynes has announced that he will be taking up residency at Denver's Ogden Theatre in support of his new soul record for two nights on May 24th and 25th.  Tickets will go on sale March 12th.  Joining Haynes will be Ruthie Foster, Nigel Hall, Terence Higgins, Ron Holloway and Ron Johnson.  At these shows, in addition to performing with the band, Warren will be performing a special acoustic set.  Continue reading for some information about Haynes' new record that will drop on May 10th.
Kicking off with Warren Haynes' unmistakable and masterful guitar over gospel-soaked piano, the title track to the dynamic new album Man In Motion functions as a mission statement for the legendary musician and his signature brand of rock, blues and soul. Driving horn blasts and powerful organ punctuate some of the most soulful guitar playing and singing that Haynes has ever recorded. Appropriately, Stax/Concord will release Man In Motion May 10. Check out video of "The River's Gonna Rise" live from Haynes' sold-out Christmas Jam in Asheville, NC below.
Man In Motion is also a snapshot of a creatively restless musician who is constantly in artistic motion himself. "Musicians are students for life. We have to continually take new approaches," affirms Haynes. It's not Haynes' first foray as a soul man, however. "Soul music was my first love," says Haynes. "The first LPs I had growing up in Asheville [NC] were greatest hits compilations from Stevie Wonder, The Four Tops, James Brown, Junior Walker, Aretha Franklin, The Temptations, Wilson Pickett, and The Supremes." 'Man in Motion' contains all original Haynes songs with the addition of original Stax recording artist William Bell's hit "Everyday Will Be Like A Holiday".
The album harks back to another theme of his young life: Haynes started out as a singer before he began playing guitar. "The vocal is more of a centerpiece on 'Man In Motion,'" he says.  Haynes' singing shines on the album, with a bold and emotive delivery that shimmers with his smoky vibrato.
Man In Motion clocks in at over an hour, allowing for its ten tracks to breathe and develop, punctuated by a stellar rhythm section and sophisticated, moving solo guitar work from Haynes. The studio band includes Ivan Neville on background vocals and organ, Ian McLagan on piano, Ruthie Foster on background vocals, George Porter, Jr. on bass and Ron Holloway on saxophone. Haynes recorded the album at Willie Nelson's Pedernales Studios to two-inch tape with vintage tube microphones and everyone playing together in the same room. "We recorded it live to capture the emotion, passion, and spontaneity."
Haynes, a Grammy-winner and 9-time nominee, is ranked 23rd on Rolling Stone Magazine's Greatest Guitarists Of All Time list. He is the front-man for Gov't Mule and is also vocalist and guitarist in The Allman Brothers Band and The Dead.
TOUR DATES
05/12/11 Thu Beacon Theatre New York, NY
05/13/11 Fri Orpheum Theatre Boston, MA
05/14/11 Sat Tower Theater Upper Darby, PA
05/16/11 Mon Park West Chicago, IL
05/17/11 Tue The Pageant St. Louis, MO
05/18/11 Wed Old National Centre (Formerly Murat Centre) Indianapolis, IN
05/21/11 Sat Minglewood Hall Memphis, TN
05/22/11 Sun Uptown Theater Kansas City, MO
05/24/11 Tue Ogden Theatre Denver, CO
05/25/11 Wed Ogden Theatre Denver, CO
Music has always been a part of my life. It probably all started listening to old Grateful Dead, Peter Paul & Mary, and Simon & Garfunkel records that my parents had, but it wasn't long before they were taking me to concerts like Starship, Crosby, Stills & Nash, and Huey Lewis & The News. I got the bug to write about music after reviewing an Eric Clapton concert for a creative writing project in high school but didn't really take it up seriously until 2002. Since then I have published countless articles in The Marquee Magazine and done some work for Jambase.com, SPIN Magazine, and various other outlets. I started Listen Up Denver! as a way to share the music information that is constantly spilling out of my head with people who care. Please enjoy!