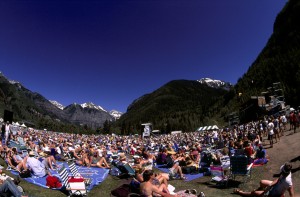 With Christmas nearly upon us, our good friends over at Planet Bluegrass are doing their best to keep images of festivals dancing in our heads with the announcement of the first round of performers for the 39th annual Telluride Bluegrass Festival.  While there aren't too many surprises here, it's great to see one of our favorites, Greensky Bluegrass, make the list again after a two year absence.  Over the next couple of months we are sure to see periodic announcements like this that will build the lineup into it's typical diversely wonderful self.  For now, here's what we've got to carry you through to the New Year!
Alison Krauss & Union Station featuring Jerry Douglas, Sam Bush Band, John Prine, k.d. lang & the Siss Boom Bang, Telluride House Band featuring Sam, Béla, Jerry, Edgar, Bryan & Stuart, Yonder Mountain String Band, Béla Fleck &  The Marcus Roberts Trio, Bruce Hornsby & the Noisemakers, Del McCoury Band, Leftover Salmon, O'Brien Party of Seven, Peter Rowan, Punch Brothers, Greensky Bluegrass, Della Maem, Run Boy Run, And many more still to be announced…
Watch for additional lineup additions in the coming weeks, leading up to the announcement of the complete single-day lineup (and release of single-day tickets) later this winter.