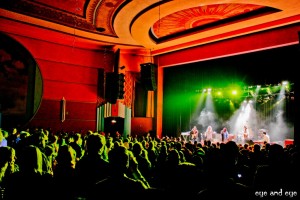 Photos by Ben Wilson's eye and eye photography
For the 9th year, The Boulder Theater gathered a slew of the best musicians from the Front Range, and from the Jamband scene in general, for the annual "Mark Vann Foundation Benefit Concert." The atmosphere of the show was both peaceful and serene. There were no lines out front and only a few folks smoking cigarettes and trying to stay warm. Inside, the front part of the theater was rather full, with much more standing room near the back bar. The theme for the night was "shimmer & shine" and right off the bat you were met by a donation table selling raffle tickets and shiny beaded necklaces for a dollar. All proceeds from the sales went to "There with Care" and "Boulder County Care Connect." Off to either side of the bar were tables with numerous other items both for sale or raffle. Throughout the night instruments, along with many other musical items, were raffled off between bands all for good causes.
Vince Herman was the MC for the whole event which seemed fitting since Mark Vann had been good friends and band members with Vince since the beginning of Leftover Salmon. The Bill McKay Band was just finishing up their set when I made my way to the relatively empty upper balcony to find some good dancing room and after McKay's band had left the stage, it was time for The Contribution.
The Contribution is a massive collection of artists including Tim Carbone of Railroad Earth and Keith Mosely of the String Cheese Incident. While their set was soulful and funky, at times I felt a lot of the people in the room just weren't feeling it. Aside from a few dancers, a lot people were deep in conversation and just generally having good times amongst themselves with the music in the background. While this is not a bad thing, it almost had the feel of a house party of sorts.
Throughout the night Scramble Campell was tucked away back in the corner of the Art Deco Theater capturing the night on his canvas as Vince brought his sons out on stage to turn the event into a family affair when Great American Taxi was about to take the stage.
Upon looking back I don't even recall seeing a banjo be played once during the evening. (Note: I did end up leaving around midnight so I assume that changed when the Banjorchestra took the stage.) I could only guess that this was out of respect to the man we were all there to honor; Banjovi [Mark Vann] himself. Taxi's drummer, Chris Sheldon, did have a new instrument, which I can't say I have ever seen before, that he called the Banjotron. It was a banjo with no strings and a washboard for the neck. He played it upright in his lap with some type of drum sticks. After the Vince Herman Family Jam, Great American taxi took over and turned it into a rockin' party for everyone's dancing pleasure.
Overall it was a very classy event put on for an amazing foundation. It is a great thing to see so many people come out and celebrate life while giving back to people who may not have the opportunity to celebrate themselves. The way music can bring people together, put smiles on faces, and brighten days, is truly spectacular. It has a power to heal what ails you. Bringing together all of these musicians for a night of good tunes and good times was really a special thing that I hope to see continued for years to come.
Energy: B
Sound: A-
Musicianship: A
Stage Presence: B
Set / Light show: C
Overall: B+
I rode my skateboard from school in 7th grade to my buddy Vince's house where he put on the song "Perfect Government" by NOFX and I was hooked. The next day I bought the album Duh by Lagwagon. The next year I saw Against Me! at the Starlight Theater in Fort Collins, my mom dropped me off. I've since devoted every waking hour to anything done with passion. My speakerbox bumps everything from Lil' Wayne to Pablo Casals. I was never very good at making music, but I am damn good at listening to it. I've been filling up yellow notepads with random thoughts and misspelled words for as long as I can remember. I enjoy whiskey of all sorts, Newport cigarettes and the company of my family. I've got an addiction to run-on sentences that I'll probably never cure. A solid handshake with a stranger who has become a friend over a few beers means the world to me. You'll often find me wide eyed and wandering with an ear to ear grin. I live for funky break beats and spreading the love.