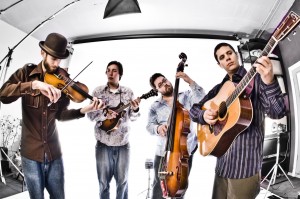 Colorado quartet Head for the Hills has announced their 2012 Winter Tour which takes them through the Midwest, Southeast, & the Mountain West.  Head for the Hills will partner with Boulder, CO based non-profit, Conscious Alliance, for their 2012 Winter/Spring Tour. They will be offering a limited edition tour poster at all shows, with a portion of proceeds going to those in need.
The tour kicks off at the Granada Theater in Lawrence, KS and takes the group through the Midwest, followed by the Southeast. February highlights see the group at Big Sky Big Grass in Big Sky, MT with Sam Bush, The Travelin' McCourys, Emmitt Nershi Band, Greensky Bluegrass & more.  Soon after a hometown performance at the Aggie Theatre in Ft. Collins, Head for the Hills joins The Travelin' McCourys Featuring Keller Williams for a performance at the Boulder Theater. On April 20th,  Head for the Hills visits the Bluebird Theatre in Denver, CO.
The tour comes after the group's previously announced New Years Colorado Mountain run which visits the Sheridan Opera House in Telluride, CO on 12/30 & Warren Station Center for the Arts in Keystone, CO on 12/31 for New Year's Eve.
Complete H4TH Tour Dates
12.30- KOTO Studios-Telluride, CO (In Studio Performance)
12.30- Sheridan Opera House-Telluride, CO
12.31- Warren Station Center for the Arts-Keystone, CO
01.25- Granada Theater-Lawrence, KS
01.26- Vaudeville Mews-Des Moines, IA
01.27- Cedar Cultural Center-Minneapolis, MN *
01.28- Frozen River Film Festival-Winona, MN ^
01.29- Martyrs'-Chicago, IL
01.31- The Bluebird-Bloomington, IN
02.01- Hangar 9-Carbondale, IL
02.03-Smiths Olde Bar-Atlanta, GA
02.04- Jack of the Wood-Asheville, NC
02.07- Uncle Slayton's-Louisville, KY
02.09-Gramophone-St. Louis, MO
02.16- Top Hat-Missoula, MT +
02.17- Big Sky Big Grass, Big Sky, MT #
02.18- Big Sky Big Grass, Big Sky, MT #
02.19- Mangy Moose,-Teton Village, WY
02.25- Aggie Theatre-Ft. Collins, CO –
04.13- Boulder Theater-Boulder, CO @
04.20- Bluebird Theater-Denver, CO
….with more dates tba
*= (w/ Pert' Near Sandstone)
^= (w/ Whiskey Blanket)
+= (w/ Emmitt Nershi Band)
#= (w/ Sam Bush, The Travelin' McCourys, Emmitt Nershi Band, Greensky Bluegrass, Hot Buttered Rum & more)
-= (w/ Henhouse Prowlers)
@= (w/ The Travelin' McCourys Featuring Keller Williams)