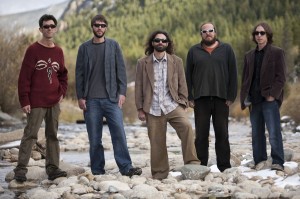 Photo By Drew Beedy
Smooth Money Gesture is infectious Groove Funk with ear twitching space jams, face melting solos, and tight rhythmic changes. Since the new millennium, the band has been honing in on their sound, bringing their music from the East Coast to Alaska before finally landing in Nederland where the band permanently resides. The sextet's sound is rooted in Rock and Roll with elements of Funk, Bluegrass, Metal, and Electronica producing a jam based high energy psychedelic creation all their own. With a variety of musical influences feeding the improvisational groove, and the majority of members contributing vocals and to songwriting, Smooth Money Gesture takes one on an adrenaline rich celebratory journey that never runs out of fuel. The band released their debut CD The Grand Scubian: Evolution this year and with their ever expanding tour schedule, are making forays beyond their homebase of Colorado. Guitarist Doug Dominico sat down with us to answer our 20 Questions and talk a little about the coming year that will see them traverse the Western states and cross the great Mississippi.
Don't miss these guys when the take the stage at Cervantes' next Thursday opening for DeadPhish Orchestra and then again on the 31st when they ring in the New Year at The Lazy Dog in Boulder.  They will be mounting a big tour next year and won't be around the Front Range again until early February.
Listen Up Denver!: How did you come up with your band's name?
Smooth Money Gesture: While living in Alaska from 2002-2005, we were traveling and found a shortcut back to the highway that the drummer referred to as a Smooth Money Gesture.
LUD: What is the line-up of the band?
SMG: Doug Diminico / Guitar & Vocals, Dan Diminico / Bass & Vocals, Scott Llewellyn / Drums & Vocals, Pete Goldberg / Bass & Vocals, Josh Gitlin-Rich / Guitar & Vocals
LUD: How would you describe your sound?
SMG: Our sound is Improvisational Rock. We love Rock & Roll, Blues, Funk, classic stuff.  We also like to infuse small tastes of newer styles and things from the electronic genres.
LUD: Who would you count as major influences on your band?
SMG: The Grateful Dead and Phish are major influences on us all, but we've all got our own individual influences as well.
LUD: How did you guys get started playing together?
SMG: Dan, Josh and I started playing while we were teenagers, the rest of the band was acquired in Colorado. Pete was playing in another band that broke up, and we had wanted a keyboard player. Scott we met through a friend. He was looking for a band and a reason to move to Colorado.
LUD: Does anyone in the band have any formal musical training?  If so, what is it?
SMG: Not totally sure here. Scott has a two year degree in music, Dan took band and music theory classes in high school, and bass lessons for a while, I believe Josh may have taken a few guitar lessons, and I'm not sure about Pete. I took two piano lessons when I was very young, and was in the school band one year.
LUD: Where was your first gig together and how did it go?
SMG: This depends on which version on the band you're talking about. The original SMG's first gig was at Max's Bar & Grill in Girdwood, AK. The current configuration probably played first at Whistlers Café in Nederland, CO. Both were fantastic. I remember the first "first gig"…it was super motivating, I went home and wrote a song that night.
LUD: What's your favorite memory of playing together?
SMG: Once again, not sure here. We've had great times in small places, as well as larger ones. I could say that playing the Fox Theater and just looking around at the other guys was the best, but I know we've also had some jams that we all loved in smaller venues as well. The Stage Stop show where we opened for The JGB had some moments.
LUD: Are you playing any shows coming up that you are particularly excited for?
SMG: We are planning a spring West Coast tour that really excites me.  We also have a whole bunch of dates in the mountains in January and a Mid-West tour slated for February.
LUD: What is your favorite song to cover?
SMG: We all like different covers, I really like "Lonesome and a Long Way From Home."
LUD: What is the strangest request you've had at a show?
SMG: Hmm, I'm sure there's something stranger than what I remember. Probably one or two nights in particular where we ended up playing to the wrong crowd, the wanted Slayer, Metallica, other heavy stuff, but we've also got the classic "Freebird" a few times.
LUD: What was the first song you wrote together as a band?
SMG: The first song and only song that was truly written by the whole band, and not the current configuration, was "The Ongoing Saga of Sir Alexander McKenzie" and instrumental we wrote in 2005.
LUD: Do you still play that song live?  If not, why?
SMG: Yes, all the time.
LUD: Have you released any of your material yet?  If not, do you have any plans to?
SMG: Yes, we released our first album with 8 original songs earlier this year.  It's called The Grand Scubian: Evolution and you can get at our shows and also on iTunes.
LUD: What is your favorite venue in Colorado, and why?
SMG: The Fox Theater in Boulder is great, good sound, good lights.
LUD: If you could play on any stage in the world where would it be and why?
SMG: Any stage with a whole bunch of people who like our tunes in front of it. Having fans that love your music really helps, because it is an exchange of energy. If the fans weren't interested, it would be a lot harder to have fun.
LUD: If you could open for any band or artist, who would it be and why?
SMG: I'm sure we would all love to open for any Grateful Dead incarnation, or Phish. They've just both been the most major influence contributing bands we listen to.
LUD: What is the most outlandish thing your band would consider putting in your backstage rider?
SMG: Umm….not sure
LUD: What is your bands drink of choice?
SMG: We're kind of split on this one, I love a crispy cold coke, but water is great too, some of us like cheap beer.  Water / beer / coke – it's a tie
LUD: Can you name a few local Colorado bands that are really impressing you right now?
SMG: The Motet, Jet Edison, Yamn
Music has always been a part of my life. It probably all started listening to old Grateful Dead, Peter Paul & Mary, and Simon & Garfunkel records that my parents had, but it wasn't long before they were taking me to concerts like Starship, Crosby, Stills & Nash, and Huey Lewis & The News. I got the bug to write about music after reviewing an Eric Clapton concert for a creative writing project in high school but didn't really take it up seriously until 2002. Since then I have published countless articles in The Marquee Magazine and done some work for Jambase.com, SPIN Magazine, and various other outlets. I started Listen Up Denver! as a way to share the music information that is constantly spilling out of my head with people who care. Please enjoy!