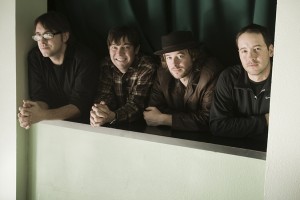 Adam Aijala, guitarist for Yonder Mountain String Band, was kind enough to take some time to sit down with Listen Up Denver! during a break in the band's rigorous touring schedule and before their epic five night New Year's run kicks off in Boulder next Tuesday.  It's been a busy year for the band, and it's looking like there is no slowdown in site as they have already announced plans for their annual Cabin Fever Tour that winds from the South up through the Mid-West in February.  As he wandered DIA on his way to visit family, Aijala talked about the bands recent tour, why they chose to play five nights at The Boulder Theater, and when fans might expect a new album from the band.
Listen Up Denver!: You guys recently got off a big East Coast and Mid-West tour, how did that go for you guys?
Adam Aijala: It went really well, it was a little longer than normal, which makes it a little harder, but it started out with Harvest Fest down in  Arkansas which was really fun then we did a bunch of shows with The Infamous Stringdusters which was great.  We got to do a lot of cross pollination, in terms of picking, backstage and on-stage, it was great.
LUD: There have been a lot of comments in fan circles that you guys seem to be getting along really well up on stage these days, can you comment on that?
Adam Aijala: We are doing good man. We kinda feel rejuvenated.  I don't know what it is, we started writing a lot of new stuff, and I think that just having new material makes it more fun. I was digging through some old stuff recently and found some setlists from '98 and thought 'damn, that could be the first set of something we would do now.'  We've been playing some songs that long.  I do get sick of songs, but you shelve them for a little while and then you do them again and they are fun, but having new material on stage makes it a lot more fun for sure!  I love having new material. Hopefully we'll have some new material, originals and covers for the New Year's run that's coming up.
LUD: Can you expand on that a little bit?  What kind of new songs do you have in the works?
Adam Aijala: We have a bunch of stuff in the pot, so to speak.  There are a bunch of songs that are still stewing and not quite done yet, but we definitely have cool ideas.  Dave has a new one that he wrote and showed me that we are really digging and I really like a lot.  Jeff [Austin] has a bunch of stuff that he does with 30db that he said he wants to start doing with us, Ben [Kaufmann] has a couple, and Dave [Johnston] and I have a ton of instrumentals if we wanted to start throwing those in.  The point is that we have a ton of material and there will be new stuff above and beyond what people have already been hearing.
LUD: You guys are about to kick-off your 5 night New Years run at The Boulder Theater. What led you to book 5 nights in a row in Boulder?
Adam Aijala: We love The Boulder Theater.  It is just one of those places where everyone packs in there.  Definitely as a person in the crowd I prefer smaller venues, but I also prefer it from the point of view of being on stage.  I enjoy playing small places and I think it's always cool when you can see everybody out there.  We also think it kinda turns it into more of an event when you play five nights in a row. We do five nights in a row on a tour, so this is even easier since it's the same venue and it's home.  I have to admit I also love to be able to sleep in my bed.  I think it's been 12 or so years since I slept in my bed on New Year's Eve.
LUD: You've announced that some special guests will be joining you over the course of the NYE run.  I was wondering if you might be able to comment on why you invited each one of these guys and what unique elements you hope for them to add.
Adam Aijala: When we decided to bring in guests, one of the things we didn't want to do was bring in someone that played the same instrument as one of us in the band.  So that rules out Banjo, Bass, Mandolin, and Guitar so obviously Dobro and Fiddle are the clear choices from there.
For Dobro, Andy [Hall of the Infamous Stringdusters] sat in with us in February when Dave broke his hand in Nashville and he just crushed it with no rehearsal.  So he was an obvious choice.  That guy is amazing.  And for Fiddle Darol [Anger] was the obvious choice, he's kind of our go-to guy.  We like playing with other fiddle players as well, but Darol is the fifth member of the band so to speak.
LUD: What about Rushad Eggleston and Futureman?
Adam Aijala: We first met Rushad [Cello] through Darol when we were playing Boston a few years ago.  He said 'put Rushad on the list and have him come down and pick with you.'  So we did.  Then, this past September we played up in Western Mass and most of the guys flew home but we had four days before our next show and I went down to visit my folks on the Cape to play golf with my Dad.  My Mom had been at some of those shows in Boston when Rushad had played with us, and just killed it, and she was like 'hey do you ever play with Rushad anymore?'  So that put it in my head.  We hadn't played with him in ages but I called him and I was like 'I don't know if you are interested,' and he came back with 'that would be great!'  So I guess that part of it was my Mom's idea.
We picked with Futch, Futureman [Syntax Drumitar], at The Sheridan Opera House and we hadn't played with him in a while and it felt really good, so that seemed to be right.  Ted, our lighting guy, used to work with The Flecktones and told us they weren't doing anything for New Year's so he was available and we asked him.  He is a totally cool dude and a really fast learner as all these guys are.  There are no curveballs, you throw anything at them and they can hit it, it's pretty amazing.
We told all these guys 'we have five nights and we don't want to repeat anything, so if there is any song specifically that you guys do or that you want to learn, let us know and we can make room for a song or two a set.'
LUD: Can you share with us who will be playing on which nights?
Adam Aijala: There are four people, five nights, so we don't really know how it all will play out just yet, but there will be guests every night.
LUD: There have been some rumors this year that you guys are going to be releasing a new record soon.  Can you talk about what plans you have to release some new material?
Adam Aijala: We definitely have the material for a new record, that's not an issue at all, there is nothing ready to go at this point.  In fact, Jeff came up with this and I think it is really funny, he said 'we're gonna be the reverse Beatles, we are only gonna tour and never release any more albums.'  He's half joking, but a part of us is like 'we release every show that we do,' so to us we always have new stuff coming out. Granted an album is a little bit better from the standpoint of something to push as far as publicity and press and stuff like that go.  When you have something new you tend to get a little more attention.
LUD: So, have you guys even gotten as far as starting to record any of the new material yet?
Adam Aijala: This past January we recorded some stuff in Boulder.  Then we did a little pre-production at my house in May where we laid down a bunch of the new stuff that we've been playing on three tracks, one for the bass, one for the guitar and one for the group.  I recorded it and we did a quick mix down.  It was one take for everything, and there were no edits or anything.  I would just boosts volumes on different tracks if there was a solo or something.
LUD: So what's the next step?
Adam Aijala: There is the whole planning of the CD that we have yet to do.  Like do we want to get a specific producer?  Do we have anyone in mind?  Where do we want to do it?  Do we want to invest a lot of money into it?  Do we want to do it on the cheap? You know, just trying to figure out all the details.
We actually have some time on the schedule to talk about what we want to do; really think about it and try to come to a conclusion.  I think a new Yonder album sometime next year would probably be a safe bet.
Music has always been a part of my life. It probably all started listening to old Grateful Dead, Peter Paul & Mary, and Simon & Garfunkel records that my parents had, but it wasn't long before they were taking me to concerts like Starship, Crosby, Stills & Nash, and Huey Lewis & The News. I got the bug to write about music after reviewing an Eric Clapton concert for a creative writing project in high school but didn't really take it up seriously until 2002. Since then I have published countless articles in The Marquee Magazine and done some work for Jambase.com, SPIN Magazine, and various other outlets. I started Listen Up Denver! as a way to share the music information that is constantly spilling out of my head with people who care. Please enjoy!