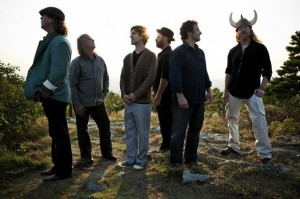 Railroad Earth kicks off a three night run at The Ogden Theatre here in Denver on Thursday.  While the first night will feature opening performances by Dirtfoot and Andrew McConathy & The Drunken Hearts, the second night opens with Dumptruck Butterlips and will feature Kyle Hollingsworth of The String Cheese Incident as a special guest with Railroad Earth over the course of the evening.  The run wraps up on Saturday with "An Evening With" to ring in the New Year.  Towards the end of the band's fall tour, frontman and guitarist Todd Sheaffer took some time out with us for a relatively rare interview.  As he wandered the streets of Cleveland, he talked about the New Year's run and discussed the evolution of the band.  While he remained pretty tight lipped about any plans the band might have for recording a new record, he did give some insights pretty specific insights into his songwriting process.
As you get primed for the shows later this week, join us below and see what Sheaffer had to say.
LUD: So, you guys are coming back to The Ogden here in Denver for your second New Year's Eve run in as many years.  Why did you guys decide to come back here?
Todd Sheaffer: People seem to love us there and we really love playing there.  We have a lot of fans in Colorado and it's a great place for our music.
LUD: The Ogden specifically or just Colorado in general?
TS: Colorado in general, but we love that room too.  It's big enough to house the fans that want to come see us, but it also has an intimate feeling.  It's a lot of fun, it allows for a real connection with the fans.
LUD: I understand that Kyle Hollingsworth of String Cheese Incident will be joining you guys on the 30th.  Can you talk a little about how that came together?
TS: To be honest, we haven't played a whole lot with keys since the release of our second album, Bird In The House, so it should be interesting.  Over the years we have gotten to know the guys from String Cheese, and this year we wanted to do something a little different on the New Year's run.  We wanted to have a little exploration, and try some different ideas, and Kyle is a wonderfully sympathetic player who can hang with pretty much anything we throw at him.  We have a few different ideas we are working on so I think it's gonna be a fun collaboration.  I'm looking forward to a really fun night with him!
LUD: You guys have any other special guests on tap for the run, or anything else special that people can look forward to?
TS: There is nothing formalized, and nothing that we are going to be announcing like the Kyle sit-in, but we have lots of friends in Colorado and there are a lot of great musicians out there so you never know who is going to stop by.  Last year we had a bunch of people stop by and sit-in.  We've had horns, we've had background singers, we've had other string players sit-in, so I would be really surprised if there aren't other sit-ins.
LUD: I know a lot of folks who walked away from your opening set for Yonder at Red Rocks this past summer saying "damn, those guys should be headlining this place!"   Any chance that might happen in the near future?
TS: [Laughter]
LUD: It's not that funny!
TS: They will have to tell some of their friends about the band and then maybe we can justify playing a big place like that on our own.  We would love to, but of course it comes down to the economics.  It's an absolutely magnificent venue, and interestingly despite the size of it, it maintains an incredible intimacy.  It's a really wonderful place to play and I hope we can get to the point where we are headlining there for sure!
LUD: You guys have been together for just over 10 years now and, while Red Rocks is still a goal, when things first got rolling did you think that you'd make it as far as you have?
TS: To tell you the truth, where we would be right now wasn't even a thought that crossed my mind.  This project for me started pretty simply.  My old band had just called it quits after 10 years, and I became interested in Bluegrass and wanted to explore that style and dig a little deeper into American Roots music.  So I went up to the Grey Fox Bluegrass Festival in New York and I ran into John Skehan.  We started picking and hanging out and a few months later I got a call that he was having a Bluegrass get together.  I went to it . . . and the rest is history.
But honestly, at that point I didn't even have any real desire to be in another band and take on all that it entails but we made our first demo and sent it out to see what kind of response we would get.  Apparently it really struck a chord with a lot of people in the Bluegrass community.  To name a couple, the Telluride Bluegrass Festival, and the High Sierra Festival, and we immediately got those two bookings.  One in Colorado and one in California.  We linked those two together, got ourselves a tour, and we've been at it ever since.  Those are still two of our familiar haunts that we go to a lot and where we have strong support.
LUD: Was there a point where you knew that Railroad Earth was really going to work?
I'll tell you a moment where I knew there was something going on with this group of musicians.  We recorded our demo at our friend Don's studio and we did the song "Black Bear."  After the take I went into the control room to listen back to what we had done, and as soon I heard that music coming out of the speakers I remember actually saying to everybody there: "Woah!"  We had captured lightning in a bottle and you could feel it.  You got those chills down your spine and we all just had that feeling that we had really captured a moment.  So right there I knew that there was something going on with this music.
LUD: The first time that I caught you guys was at The Telluride Bluegrass Festival back in 2001. Can you talk about how the band has evolved since that performance?
TS: As an entity we've grown enormously.  In addition to the musicians, now we have a sound engineer we've had for most of the bands history and we have a pretty big crew that is part of the enterprise and the Railroad Earth family.  We have a monitor engineer, tour manager, merch manager, lighting director, it's a pretty big group at this point.  What started out as hopping in our van with our instruments to go play, is now cruising around with a bus and trailer and crew and the whole nine yards.  So the business and the enterprise has grown enormously.
Musically we still touch on the thing that brought us together in the first place, which is a string band playing some bluegrass, but it's become a little bit more of a rock show.  We've consciously worked on our sound and of course the material has grown and evolved as well, but it's a bigger sound and I don't think you can really call us a Bluegrass band anymore.  We've worked really hard over the years to adjust our sound to create the sound that you hear in the theatre. It's very unique.  It's come a really long way and I'm proud of that.  I'm proud of what we've done and we couldn't have done it without Mike [Partridge] our Sound Engineer.  He's been a big part of that.
Our new bass player has really changed some things as well.  His name is Andrew Altman and he has been with us about two years now.  He plays electric bass which we've never done before and of course that beefs up the sound in a certain way.  He's a really fluid, inventive, and creative player and he has changed the bottom end quite a bit since he joined.  As a band we are doing much deeper musical explorations.  Andrew opened up a whole new world with this band.   He's been remarkable because he can not only cover the subtleties of the quieter things, and hit the mood on those, but he has also brought a power and inventiveness for the rock songs.  He is a great fit, we were lucky to find him.
LUD: What was his background.
TS: He's from Florida and grew up there.  We heard him, and met him, when he was playing with The Codetalkers.  It's funny, we actually advertised that we were looking for a new bass player and had open auditions.  We had a bunch of people respond and went into the studio with the people we thought might be a good fit.  Andrew showed up and knew the material better than we did.  [Laughter]  We'd be like let's do "Mighty River," and he'd be like "do you guys want to do the version you were doing before 2004, or the version you were doing in 2005 and after that?"  He knew every version, every arrangement, he really did his homework.  He is a great musician and a really good guy, so it's been great.
LUD: You guys have released an album in every even numbered year of this Millennium so far, do you have plans to keep that streak alive next year?
TS: That's a TBA right now . . . to be announced.   I don't know.  I'm always writing stuff, but we don't have any studio time booked at the moment.
LUD: So what are the plans for next year?  Just going to keep touring?
TS: We are touring through February as of now, and then we'll reassess where we are at.
LUD: What kinds of things inspire you to write, and how do you go about writing a song?
TS: What inspires me to write?  That's an interesting question because it could be anything.  I guess life inspires me to write.  Life experiences, moments in life that move you, love of course, and . . . trains [laughter] . . . I'll tell you one thing now that we've hit that subject.
Take the song "The Jupiter and The 119″ for example.  I didn't sit down and say "today I'm going to write about the transcontinental railroad."  My process is that I tend to write with a guitar and I just sit down and start playing.  If a riff, or a theme, or melody, or mood, will start to surface, I sing to it.  I'll sing until something kind of illuminates a moment and turns a light on allowing me to see what it will be about.
In the process of playing that guitar part, which has an emotion to it, it might evoke a train heading across the plains and I'll start singing to that idea.  I was familiar with the story of the transcontinental from reading books and just living in America I guess, but at some point I was like "I'm going to make this song about the transcontinental railroad."  A lot of it is like a "vowel movement," so to speak.   – I've heard Mick Jagger describe that way which is kinda funny – It's the melody that dictates the flow of the vowels and the words come from there.  Maybe I sang the words "The Jupiter" and I was like "oh The Jupiter!"
I was writing that song when Obama was campaigning across the country and there was this kind of optimism and hope in the air.  I think that made its way into that song because I was thinking "maybe this song can capture that unique American spirit and that spirit of union that was bringing the country together at the time."  It seemed timely and like it had a purpose other than just talking about a train.
So that's a little insight into that song.  There are a lot of things that go into the process while something like that is being created.
LUD: While you obviously have built a career on your original music, you guys are known for putting your own unique spin on most of the cover songs that you do.  "Roadhouse Blues" at the Ogden last year comes to mind.  What covers are you having the most fun with recently?
TS: "Roadhouse" is one for sure!  We play it every now and again when it fits the mood and it's just a hoot!  I get to play Jim Morrison and that is always fun.
At Halloween we hosted our first festival and it was called the Hangtown Ball out in Placerville California.  This was a town where there were many hangings back in the Wild West days and for that we did "The Gallows Pole."  It's a tune that was popularized by Led Zeppelin but is actually an old traditional folk song that has been around forever.  It fit the Halloween scene there.
LUD: You did "Fisherman's Blues" when you were out here last year, right?
TS: Oh did we?  That's a song that just fits our sound and I have a blast singing that.  It's right in my wheelhouse vocally so I can swing for the fences on that one.
For New Year's we've always tried something new, so who knows what this year has in store!
Music has always been a part of my life. It probably all started listening to old Grateful Dead, Peter Paul & Mary, and Simon & Garfunkel records that my parents had, but it wasn't long before they were taking me to concerts like Starship, Crosby, Stills & Nash, and Huey Lewis & The News. I got the bug to write about music after reviewing an Eric Clapton concert for a creative writing project in high school but didn't really take it up seriously until 2002. Since then I have published countless articles in The Marquee Magazine and done some work for Jambase.com, SPIN Magazine, and various other outlets. I started Listen Up Denver! as a way to share the music information that is constantly spilling out of my head with people who care. Please enjoy!