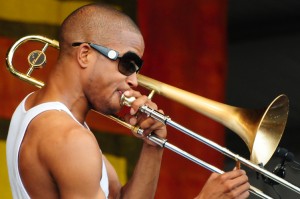 Why You Should Go: Since the release of their Grammy®–nominated 2010 debut album, Backatown, Trombone Shorty & Orleans Avenue have grown creatively while winning hordes of new fans performing nonstop on five continents. Their new album, For True (Sept. 13, Verve Forecast), offers substantive proof of their explosive growth, further refining the signature sound Troy "Trombone Shorty" Andrews has dubbed Supafunkrock.  The band—Mike Ballard on bass, Pete Murano on guitar, Joey Peebles on drums, Dwayne Williams on percussion, Dan Oestreicher on baritone sax and Tim McFatter on tenor sax—stirs together old-school New Orleans jazz, funk and soul, laced with hard-rock power chords and hip-hop beats, and they've added some tangy new ingredients on For True as they keep pushing the envelope, exploring new musical territory.
On top of that, two of Denver's most fun party bands will be opening the shows.  On Wednesday Kinetix will take the stage early, and on Thursday The Fox Street Allstars will be the ones to kick the evening off.
When all is said and done on Thursday, don't forget to stop by the Listen Up Denver! After Party at Goosetown Tavern, right across the street from The Bluebird.  Greensleeves from another favorite Denver party band, Broken Tongues, will be serving up some tasty funk, and we will all be getting down with some $1 PBR's.  Don't miss it!
Venue:
The Bluebird Theatre, 3317 E. Colfax Ave, Denver, CO 80206 – 303/377-1666

Doors:
8:00 PM – Both Nights
*Price:
$27.00 Adv & $32.00 Door
Buy Tix
*All times and prices are gathered from other sources and I am not responsible for mistakes or inconsistencies. They are intended only as guidelines. Please, always call the venue if you desire the most accurate information possible.