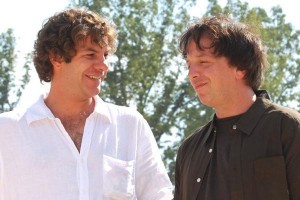 Mickey Melchiondo may as well be a walking dichotomy, because on a mid-November day, the Ween founder and lead guitarist (aka Dean Ween) comes nothing close to resembling the rock star that he is.
For starters, Melchiondo had just stepped out of his son's Cub Scout meeting in Pennsylvania, to take a phone interview with The Marquee. If that weren't enough, Melchiondo jump-started his day by getting up at 4 a.m. to take a group fishing in New Jersey on his boat The Archangel, from which he guides.
Several years ago, Melchiondo, who lives on the Delaware River in New Hope, Pa., — an adorable, artsy community right on the banks of the river that separates Pennsylvania and New Jersey — took his hobby of fishing to new heights when he started the guide service. Having spent years "down the shore" with his father fishing and being on the Delaware, fishing has been a part of the guitarist's life as long as music has been.
The 4 a.m. start time for the charter service is much closer to his bedtime when he's on the road fulfilling the necessary requirements of his "night job."
"It's usually not until 7 a.m.," a laughing Melchiondo said of his touring bedtime. "You know, I just juggle the two. I just do it. I think years of being in Ween has really made me a master at functioning at my peak while going sleepless for days at a time. I'd prefer to get a night's rest."
But that's not always the case for Melchiondo, who has been a charter captain and licensed guide the past few years and an avid fisherman since he was 10.
Finish This Article Over At The Marquee Magazine Site . . .

Catch Ween Live:
The Fillmore :: December 29, 30, & 31
The Marquee is an independent, Colorado-based, PRINT & ONLINE Free Music Magazine. The Marquee strives to be the Farmer's Almanac of the regional music scene — providing readers with facts, tid-bits, in-depth feature stories and a Calendar section that is unparalleled on Colorado's Front Range, covering every live music venue from large venues such as Red Rocks Amphitheatre to small clubs and coffee shops.