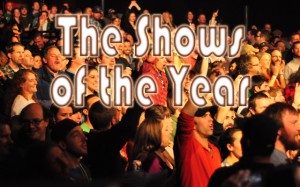 2011 was one hell of a year for music on the Front Range and for us here at Listen Up Denver!  As many of you know, I got this site up and rolling early in the year and things took off much quicker than I ever expected.  I was soon joined by several very talented writers and photographers and we are slowly but surely building Listen Up Denver! into one of Colorado's best music resources.  Over the course of this year we have covered more than 150 shows between us and published close to 50 feature articles.  Fingers have been flying on keyboards, and rapidly snapping shutters all over this state as we strive to keep you, our readers, informed about what's going on musically in our state!
Though we have all attended countless shows this year, we've tried to narrow it down to a few choice picks for our "Shows of the Year."   Some of the biggest bands in the world stopped in Colorado this year, but this list proves that we have some exceptional local talent well.  Featured prominently on this list alongside some of the biggest names in the business like Phish, The Arcade Fire, and Deadmau5, are local favorites, The Motet, Gregory Alan Isakov, Adam & Ben of YMSB, Elephant Revival, and String Cheese Incident.
Please note the links to our reviews beside these selections (where available) and sit back and enjoy a fascinating look back on some of the best concerts of 2011.  See you all out there in 2012!
Rocky Mountain Folks Festival – Aug 19-21 – Planet Bluegrass Ranch (Read Review)
Phish – Sept 2nd – Dick's Sporting Goods Park (Read Review)
Crooked Still – Sept 15th – L2 Arts Center (Read Review)
Gregory Alan Isakov – Oct 21st – The Fox Theatre (Read Review)
The Wood Brothers – Sept 23rd – L2 Arts Center (Read Review)
Gregory Alan Isakov – Oct 21st – The Fox Theatre (Read Review)
John Butler Trio, NEEDTOBREATHE and Brandi Carlile – July 11th – The Fox Theatre
Ray LaMontagne – June 17 – Red Rocks Amphitheatre
Ben Harper – June 6th – The Ogden Theatre
Matt Morris – May 6th – The Bluebird Theatre
My Morning Jacket – Aug 4th – Red Rocks Amphitheatre (Read Review)
The Decemberists – Feb 10th – The Ogden Theatre (Read Review)
Queens of the Stone Age – Apr 8th – The Ogden Theatre
The String Cheese Incident – Mar 12th – 1st Bank Center (See Photos)
Phish – Sept 2nd – Dick's Sporting Goods Park (Read Review)
Phish – Sept 2nd – Dick's Sporting Goods Park (Read Review)
Furthur – Oct 2nd – Red Rocks Amphitheatre (Read Review of Oct 1st Show)
The String Cheese Incident – Dec 10th – Chicago (See Photos)
The Travelin' McCoury's w/ Scott Law – Aug 6th – Yarmony Grass (Read Review)
Umphrey's Mcgee – July 4th – The Boulder Theater
Andrew McConathy and The Drunken Hearts – Aug 6th – Yarmony Grass (Read Review)
Amon Tobin – Oct 19th – The Ogden Theater
Trampled by Turtles – July 15th – Mishawaka Amphitheater (Read Review)
Deadmau5 – Aug 27th – Red Rocks Amphitheatre (Read Review)
Boombox – Oct 5th – The Aggie Theater (Read Review)