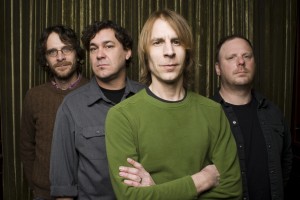 Why You Should Go:  Nirvana may have been the band that put an entire generation in flannel, and Pearl Jam and Soundgarden both sold a lot more records, but Mudhoney was truly the band who made the '90s grunge rock movement possible. Mudhoney was the first real success story for Sub Pop Records; their indie-scene success laid the groundwork for the movement that would (briefly) make Seattle, WA, the new capital of the rock & roll universe; and they took the sweat-soaked and beer-fueled mixture of heavy metal muscle, punk attitude, and garage rock primitivism that would become known as "grunge" to the hipster audience for the first time, who would in turn sell it to a mass audience ready for something new. Though Mudhoney never scored the big payday some of their old-running buddies did, their importance on the Seattle scene cannot be underestimated, and their body of work — big, loud, purposefully sloppy, a little bit menacing, and even more funny — has stood the test of time better than their well-known colleagues. – Mark Deming, allmusic.com
This show is being staged as a benefit for the Kulwicki Twins Foundation.  Rick Kulwicki was a longtime and beloved member of the Denver music community. In addition to his groundbreaking work as a guitarist of legendary Denver band The Fluid, he also contributed to the Frantix and the Buckingham Squares. Ricky's life revolved around his twins sons, Richard and Roman Kulwicki, who were with him everywhere and always, and their well-being and happiness was important to him above all else. He instilled in them a love of people, music, skating, athletics and so many other things. He was proud of their excellent academic achievements, their band, Purple Fluid, and their profound kindness. The fact that they were growing up to be individuals who were wonderful beyond his imagination filled him with amazing happiness.
Venue:
The Bluebird Theatre, 3317 E. Colfax Ave, Denver, CO 80206 – 303/377-1666

Doors:
8:00 PM
*Price:
$25.50 Adv & $30.00 Door – Buy Tix
This show is a benefit for the Kulwicki Twins Foundation
*All times and prices are gathered from other sources and I am not responsible for mistakes or inconsistencies. They are intended only as guidelines. Please, always call the venue if you desire the most accurate information possible.