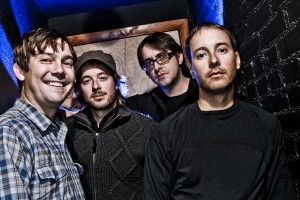 The Scene: For most people, New Year's Eve is a party that happens only one night a year. For the Kinfolk of Yonder Mountain String Band, New Year's was a week-long celebration this year. It's been two years since the Yonder Boys blessed the fine folks of the Front Range with their presence on the stage at The Boulder Theater. Due to that, the band managed to sell-out all five nights of the run which was announced at their annual Red Rocks shin dig in August.
While the lines were long leading into theater this past Tuesday night, spirits were so high it was almost hard to believe that it was a Tuesday night. The entire theater was packed shoulder to shoulder from the front of the stage all the way to the back of the room. While  a section of older folks, very well dressed and behaved, sat on one side of the balcony, the rest of the theater contained the makings of a regular old hootenanny.  With no opening act, everyone crammed in tight and early for what was about to be the first three hours of music during a five night run meant to bring in the New Year in grand fashion.
The stage was completely decked out in well over 20 different types of house lamps, including the iconic leg lamp from every one's favorite holiday movie A Christmas Story. From the top of the stage hung multiple chandeliers and quite a few light bulbs. Each lamp, chandelier, and light bulb was wired directly to the light board and controlled separately throughout the night. All of this combined led to one of the most unique light shows I have ever seen.
Before the run, the band had promised their fans that not a single song would be repeated over the five nights. On top of that they had been taking song requests on their Facebook page during the days leading up to the first night of the run. It's no secret that the followers of Yonder Mountain String Band party hard and, much like the band, hold nothing back. This always makes for memorable shows and raucous good times.
Yonder Mountain String Band: The boys came out firing on all cylinders with "Dawn's Early Light" accompanied by Infamous Stringduster Andy Hall on the Dobro. The first set was exactly what you would expect of Yonder Mountain; fast picking, tight playing and high energy. With two songs made famous by The Grateful Dead, "Deep Elum Blues" and "Mississippi Half-Step Uptown Toodeloo," and the Bob Dylan classic "Spanish Harlem Incident," the set list fit in perfectly with the set itself. Along with the countless lamps, the stage was also littered with couches, love seats, and chairs of all sorts with window frames hanging crooked in the background. All of which reminded me of what Salvador Dali's living room might look like with a barn burning bluegrass band playing in the middle of it.
After over an hour of tight harmonies and well played bluegrass riffs the band took a short break, that allowed everyone to catch their breath and some get some fresh air. The second set started with crowd favorite "Looking Back Over My Shoulder" then went into a "Fireball" which was a number written and sung by Hall. Part of the draw of this five night run was that the band had promised to bring out a friend and fellow musician each night. Andy Hall was a more than perfect fit, adding an entirely new element to the classic Yonder sound with his immense skills on the Dobro.
By the second set it was obvious that that audience was loosened up, whether by the whiskey or the dancing. It was also clear that the band was loose as well. After the Andy Hall lead song they went into a personal anthem of mine, "If There's Ramblin' in the Rambler," that was sandwiched around "In the Woods with the Munchies;" a song sung by guitarist Adam Aijala that is not often played these days. The second set definitely got everyone in the place moving and at times was rolling so fast the wheels almost fell off. That is one of the biggest draws to Yonder Mountain String Band. Although they may not be the most technical of musicians in the bluegrass scene, the passion and raw energy they bring with them everywhere they go is undeniable. Even when you think a "jam" might completely fall apart, they somehow reel it back in every time.
The boys wrapped up the first night of the run by bringing out cellist Rushad Eggleston. Eggleston, who was the featured guest for the second night of the run, is a founding member of Crooked Still and a current member of a new project called Tornado Rider. His unique style of playing a cello strapped to his chest as if it were a guitar, while still using a bow, is a method he developed himself. With him on stage, the 6 piece string ensemble stretched out the Bill Monroe classic "Kentucky Mandolin" to almost 10 minutes.
After all was said and done it was hard to believe that they had four more nights planned. Not only four more nights, but four completely different nights of themes and music. All this to give back to the people who many could argue are the reason Yonder Mountain String Band has become one of the largest forces in the progressive Bluegrass scene.  It's no wonder their fans on the Front Range, and across the country for that matter, have nothing but the utmost love and respect for the boys of Yonder Mountain. They have developed a unique niche and don't seem to be slowing down any time soon. It's almost safe to say that they have a new found energy about them; a new light that is going to rocket them even further into the bluegrass stratosphere. There really was no better way to start my New Year celebrations than with a sold-out theater of all my closest kinfolk listening to a band that found their name and grew to what they have become no more than twenty minutes away from the stage that they stood on last Tuesday night.
12/27/11 (Tue) Boulder Theater – Boulder, CO 
Set 1: Dawn's Early Light> Cuckoo's Nest, 40 Miles From Denver, Spanish Harlem Incident, Little Lover, Deep Ellum Blues, What The Night Brings, Rain Still Falls, Mississippi Half Step, High Cross Junction> Mother's Only Son 
Set 2: Looking Back Over My Shoulder, Fireball, Ramblin In The Rambler> In The Woods With The Munchies> Ramblin Reprise, Mason's Children, Bolton Stretch, Yes She Do (No She Don't), Don't You Lean On Me, Hit Parade Of Love, Only A Northern Song> Peace Of Mind
Encore: Kentucky Mandolin(1) 
Comment: Andy Hall on dobro & vocals entire show 
(1) = Rushad Eggleston on cello
Energy: A+
Sound: A
Musicianship: A
Stage Presence: A
Set / Light show: A+
Overall: A

I rode my skateboard from school in 7th grade to my buddy Vince's house where he put on the song "Perfect Government" by NOFX and I was hooked. The next day I bought the album Duh by Lagwagon. The next year I saw Against Me! at the Starlight Theater in Fort Collins, my mom dropped me off. I've since devoted every waking hour to anything done with passion. My speakerbox bumps everything from Lil' Wayne to Pablo Casals. I was never very good at making music, but I am damn good at listening to it. I've been filling up yellow notepads with random thoughts and misspelled words for as long as I can remember. I enjoy whiskey of all sorts, Newport cigarettes and the company of my family. I've got an addiction to run-on sentences that I'll probably never cure. A solid handshake with a stranger who has become a friend over a few beers means the world to me. You'll often find me wide eyed and wandering with an ear to ear grin. I live for funky break beats and spreading the love.