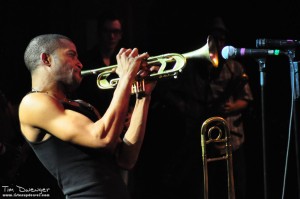 Photos by Kit Chalberg & Tim Dwenger
The Scene: The Bluebird felt like New Orleans for two nights last week.  The mood was complete with balmy air, beer soaked floors and patrons, sweaty dancers, and blaring horns…all thanks to Troy "Trombone Shorty" Andrews and Orleans Avenue. The crowd had Grandmas sitting on stools, little kids holding their parents hands, well dressed middle aged funky horn lovers, Cougars on the prowl, and lots of other music fans who were ready to start celebrating the New Year early. For the most part the crowd seemed to appreciate music on a more discerning level than most as they reveled in the sounds of a stage full of people who really knew how to play and perform. These were shows where music lovers from all walks of life could find true joy in the sounds of Funk, Blues, Soul, Rock and R&B. Denver has always had an affinity for the music of New Orleans, as proven by the number of bands with that sound who constantly pack houses and provoke parties, but Trombone Shorty might well be adopted as this town's new favorite. Maybe that's why Governor Hickenlooper showed up the first night… to perform a backstage coronation.
Kinetix: The Wednesday night show was opened by local Funk rockers Kinetix. Their whole set was an explosion, and the rumble of Josh Fairman's bass provided plenty of aftershock. The groove was Funk, the vocals ranged from Pop-Rock to Rage Against the Machine-like, and the guitar licks were aggressive. It might have been too much for some of the older crowd to really get into as I don't think they expected such a "heavy" opener, but once the initial blast registered, they won quite a few people over with the passion and energy they poured into their performance! Kinetix is a tight group of guys who in some cases have played music together for more than a decade. That experience and comradery showed as they proved why they are not only a mainstay on the scene here in Denver, but are building a national fanbase as well.
Fox Street Allstars: To me the Fox Street Allstars are the perfect blend of New Orleans and the Rockies, and night two was started with their Mile High Bayou Boogie. These boys have Creole Blood pumping through their veins, and they keep it flowing with their yearly band trip to Jazz Fest where they must get voodoo transfusions of gator blood, swamp water, and snake oil. Funk, Soul, and Roots Rock with growling and soulful vocals, Fox Street Allstars are my new favorite band in town. They are nothing but fun and bring a high caliper of musicianship to the stage. You will dance the whole set but still remain focused on each members impressive chops, all the while wondering why you didn't know more about these guys.
Trombone Shorty Andrews & Orleans Avenue: For two nights, and over four hours, this band put smiles on almost a thousand different faces. Sure the band repeated songs like "For True," "Backatown," "Something Beautiful," and "Hurricane Season" among others, but they played them each night with a fresh perspective. While both shows blazed, I think the Wednesday night show stood out a little more. Maybe it was because it was the first night of the run, or maybe it was that the altitude took a little out of the band for night two, either way, the band fueled huge parties both nights.
All between the ages of 23 and 30, this band has talent way beyond their years and they showed it as they warmed the crowd up each night before Andrews emerged from the shadows, horns held high in triumphant fashion, ready to rock the room with his takes on classics like "St. James Infirmary" alongside new tunes like "Roses" and "The Craziest Things."  He even quoted Snoop Dogg at one point on Thursday night.
Coming from a musical family, Andrews started playing before most kids can read.  He earned his nickname because the length of his trombone exceeded his height for the first few years he was playing. Conga player Dwayne Williams has known Shorty his entire life and started playing around the same time, and the rest of the band have all been serious musicians since at least middle school. They broke out in 2010 with their Grammy nominated, major label debut Backatown, and haven't stopped since. Touring constantly and releasing follow-up, For True, this year, this group of musicians are winning the hearts of fans and critics alike with their hard charging sound.
The Orleans Avenue sound is rooted in New Orleans traditions, but it is modernized with the beats of Hip-Hop, the vocals of Soulful R&B and just the right amount of Funk. Both nights were kicked off with the shredding notes of Pete Muranos guitar, but even though his playing is fueled by Rock, his formal training and Jazz background were very noticeable. Drummer Joey Pebbles looked like Animal from The Muppets, but true to the bands high caliper of musicianship, he pounded the skins with precision. Some of that precision might have spawned from attending jazz camp in eighth grade, where Pebbles first met bass player Michael Ballard. When I saw Ballards's five string bass and gloved hands, I knew he was going to put the stank on it, and man did he ever. From subtle to full on slapping, Ballard brought the Funk.
Andrews plays the trombone like it is simply an extension of a soulful breath. It is as if he and his horn are one, dancing and triumphantly declaring freedom through music. While performing, he is simply captivating. He sings, he dances, he wails, and he smiles. As a matter of fact the whole stage was nothing but smiles. The Orleans Avenue sound has more brass than Andrews, as Dan Oestricher and Tim McFatter both blew their saxes in a celebratory and well honed fashion. What really showed the level of talent this band holds was when each person grabbed another's instrument and played a full song on Wednesday! This was no dog and pony show, they all had the chops to do it, and do it right.
I couldn't think of a better way to kick off the New Year's festivities and everyone left each night in the mood to party! It was a good thing that night two was followed by a Listen Up Denver! after party at the Goosetown tavern! As people flowed from the Bluebird to Goosetown, Greensleves from Broken Tongues kept the sounds of New Orleans going on the turntables. The night eventually had to end, but not before Listen Up Denver! made a bunch of new friends.
Energy: A+
Sound: A
Musicianship: A+
Stage Presence: A+
Set / Light show: B
Overall: A 
Brian Turk grew up in the shadow of the Catskill Mountains, near Woodstock, NY. He comes from a family of music lovers, audiopliles, Dead Heads and avid concert goers.The musical magic that can only be created in the Catsklills, both past and present, is what Brian cosiders the epicenter of his music addiction. The music of The Band, and most recently The Levon Helm Band, is the soundtrack of home for him. Brian's mother took him to his first concert at 5years old...it was Johnny Cash and Roseanne Cash at Jones Beach Amphitheatre. For Brian, music is a family affair. He feels the same way about live music...we all convene to celebrate together. Brian's writing life started when he wrote his favorite author, southern fiction writer Clyde Edgerton, a fan letter at age 13. When most kids were idolizing baseball players and television, he was worshipping writers and musicians. The two became friends and Clyde shared his craft with Brian. The next year Brian attended Duke University's Young Writers Camp. This is the extent, of what Brian considers, his "formal" training in writing. From then on his goal was to capture snapshots of life through words. Brian has been involved with live music in various facets over the years, and combined with his enthusiasm and love for Denver's music scene, he creates a vivid description of what he sees and hears. If you see him out at a show, dancing with a notebook in hand, say hello.