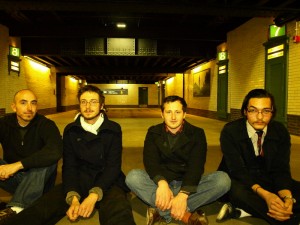 ACHILLE LAURO
w/ Mercuria and the Gems
& Land Lines
Friday, February 10th
The Hi-Dive
Tickets: $8 ADV, $10 DoS
PURCHASE HERE
Imagine yourself soaring on the wings of an eagle.
Flying high, without a worry in sight.
With the freedom to simply fly away from any potential danger.  Be it physical, emotional, psychological, or even intellectual.
No worries.  No danger.  No sympathetic nervous system fuckin' with your systems.  No Walter Cannon being all like "Whoa!  You should have like all kinds of catecholamine hormones blowing out your dome piece.  A little bit of adrenaline.  A little bit of noradrenaline.  Your mouth outta be dry as shit and that heart of yours should be on the verge of popping out your chest like in that James Cameron flick!  What's it called?…….It's got that tough bitch in it???????  Oh yeah, Alien…….But irregardless, you gots a decision to be made.  You gonna fight or you gonna flight?"
No.  Up there, there's no Walter Cannon.  None of that.  Just you.  Just you and your peace.  Just you and your peace and that eagle your hitching a ride from.  Take that feeling.  Take that gorgeous feeling of complete control and safety and multiply it by at least nine.  Then divide it by six and you've got Achille Lauro's Newest Album Flight or Flight to be released February 10th at the Hi-Dive.
This new full length is coming at ya on both CD and Vinyl with a digital download that contains a remix of Achille Lauro's previously released track "Cardboard Divas".
Who needs 'fight' when you've got Achille Lauro's Flight or Flight?