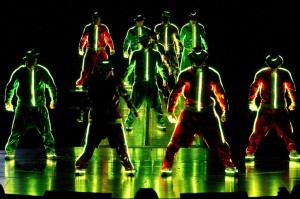 Photos Courtesy of Cirque Du Soleil
On June 25th, 2009, Michael Jackson, The King of Pop, was pronounced dead in Los Angeles as he was preparing for a massive 50 show residency in London.  For many it was the end of an era.  Never again would they get to see their hero moonwalk across the stage, never again would they see that single sequined glove raised high at the end of a stunning performance, and never again would they get to hear Jackson's amazing voice delivering some of the biggest hits the music world has ever known.
Enter Cirque Du Soleil, the surreal "circus" troupe who are true masters of turning dreams into reality.  Their shows take audiences on mystical and fantastic journeys deep into that hazy netherworld where no one is quite sure what is real and what is imagination.  "Michael Jackson himself was a huge Cirque Du Soleil fan and he had seen a lot of our shows over the years," said Maxime Charbonneau, Cirque's touring Publicist for the production, in a recent phone interview with Listen Up Denver!  "He had a lot of admiration for Cirque, and all the creativity and the work that is put into a Cirque Du Soleil production, and he always said that one day he would like to do something with Cirque.  It never happened, but it's something that we kept in mind.  We were in touch with The Jackson family and the estate so when Michael passed away it was something that came back to us and we decided to partner and work together to create this production that is the first estate authorized Michael Jackson tribute."
With the full support of the Jackson family behind them, Cirque dove into the project in the way that only they can.  They enlisted the help of director Jamie King; one of the leading concert directors in the world of pop music, who spent his early years working for both Jackson himself and Prince.  "Jamie King knew Michael, danced with Michael, toured with him in the 1990's and had that knowledge and connection with Michael," Charbonneau said.  "King brought on board some people that he knew and people who had worked with Michael including Zaldy Goco, the costume designer who was doing the costumes for This Is It."
In addition to all the behind the scenes knowledge of how Jackson worked, and how he might have wanted a production like this to be staged, Cirque was also able to enlist the help of several musicians who were slated to be part of the band for the This Is It concerts.  "We have five band members who played with Michael for most of his career, including Jonathan 'Sugarfoot' Moffett who was Michael's drummer for more than 25 years and even played with The Jackson Five," Charbonneau said.  The band that Cirque built around Moffett is 12 members strong and showcases three vocalists a drummer, a percussionist, a keyboard player, bass, two guitar players, a trumpet, a saxophone, and cello.
While the band will be on stage for the duration of the show, the central element of the music will be taped and piped through an enormous sound system. "We had access to the original recordings of Michael's music through Sony so you'll hear Michael's voice on all the tracks.  We didn't want to have people singing Michael's parts because Michael is unique, but we do have vocalists accompanying him in most of the songs," Charbonneau said.  "What the musical designer did was that he extracted Michael's voice from the recordings and then we redid the tracks.  We included horns and various other instruments but we were careful not to redo all of Michael's music.  His music is what people are coming to the show for.  They want to hear the classic, iconic songs, but at the same time we updated and tweaked some of them a little bit."
The result is a bit of a genre bending production that walks the line between a Pop-Rock concert and a typical Cirque Du Soleil show.  Audience's can expect death defying circus acts and world class dancing to be woven together seamlessly to the soundtrack of the one and only King of Pop.  It's the kind of production that only Cirque Du Soleil is capable of staging and the reaction from critics, fans, and even the Jackson family has been extremely positive.  "The reaction from the Jackson family has been great!  They came to the world premiere on October 2nd and they also came to the premier in Las Vegas so it's been amazing to have the Jackson's around.  They really embrace it and have been truly moved by the production.  They said that Michael would have enjoyed the show," Charbonneau said.  "At a press conference after the Vegas premier, Michael's brother Tito was asked what he thought of the production and he said 'I love it, I think it's great.  It's an amazing tribute to my brother but at the same time I still feel sadness because that won't bring my brother back.  My little brother is gone."
While sadly this is true, Cirque Du Soleil has done their part to keep the legacy of Michael Jackson alive and well and, in a way, Immortal.
Michael Jackson THE IMMORTAL World Tour stops in Denver this weekend for three shows (Jan 6, 7, 8).  Tickets are still available for the Saturday and Sunday performances.  Purchase here.
Music has always been a part of my life. It probably all started listening to old Grateful Dead, Peter Paul & Mary, and Simon & Garfunkel records that my parents had, but it wasn't long before they were taking me to concerts like Starship, Crosby, Stills & Nash, and Huey Lewis & The News. I got the bug to write about music after reviewing an Eric Clapton concert for a creative writing project in high school but didn't really take it up seriously until 2002. Since then I have published countless articles in The Marquee Magazine and done some work for Jambase.com, SPIN Magazine, and various other outlets. I started Listen Up Denver! as a way to share the music information that is constantly spilling out of my head with people who care. Please enjoy!