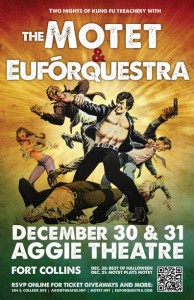 The Scene: An eager, party hungry, crowd gathered at The Aggie Theatre Saturday evening to celebrate the end of 2011 with one of the most revered bands in Colorado music today, The Motet. 2011 was an amazing year for live music and I've been fortunate to catch these guys several times including on Halloween when they wowed the Aggie crowd with their Funk is Dead set. This time though, they would be jamming a true Motet set full of horns, soul, and plenty of Colorado flavor.
The crowd was hyped from the start as Euforquesta began to take the stage around 10 PM. I've always loved the Aggie when its packed and you can really feel the energy of coursing through the intimate venue. I knew tonight was set to exceed all my expectations.  As partygoers, young and old, began crowding towards the stage I was ready to ring in the New Year in style. While my recollection of the evening is a bit hazy, I'll do my best to describe the experience as vividly and accurately as my mind will allow. What can I say? It was another splendid New Year's Eve in Colorado!
Opener: Euforquestra.  These guys took the stage around 10 PM and unfortunately it didn't seem like they had the audience's full attention.  Chalk it up to drinking or just socializing, but the crowd just hadn't turned their minds towards the stage yet.  Euforquesta recently dropped a new album, Soup and this was the first time I heard many of those tracks. As per usual with Euforquestra, everything sounded crisp, clean, and under control.  Unfortunately being the opening band on New Year's Eve often comes in conflict with people's pre-concert festivities, and tonight was no exception.  Mike, Austin, Ryan, Adam, Matt, Ben and Matt having been making waves in the Colorado music scene for years and I always look forward to them coming home to Fort Collins.  As they closed down another set of global jams, the crowd was abuzz and ready to party like it was 2012.
The Motet: The Motet took the stage in typical glorious fashion with horns blasting and smooth yet soulful vocals. Although it's a revolving group of musicians, Dave Watts, Garret Sayers and Joey Porter are the core of this a collaboration that has released six albums and presided over countless good times.  I've seen them play the music of the Grateful Dead and Earth Wind and Fire, but nothing really compares to their own sets of music where they are far less constrained and more willing to jam freely.
As the party began to take shape, they started a whirlwind tour through the world of Funk, Jazz, and classic Rock and Roll.  While they teased at David Bowie's "Fame" and several James Brown classics, this was truly a jam from start to finish.
It was lengthy set, clocking in at well over 2 hours, but they only cut the music a few times, instead opting to melt peoples brains with mind bending transitions. This is how music should sound, cultivated honestly and openly on stage. The Motet are masters of free form improvisation and it was truly a sight to behold.
While this show threatened to slip from my memory, I now know it will remain entrenched for years to come. I have always thought of the Motet as a band that likes to have a specific project or purpose in mind when they take the stage but tonight they just seemed looser and more alive. As 2011 slowly slipped away, they entered a long countdown complete with wacky visuals and more scintillating horns. 2012 arrived with a jam of epic proportions!
I had many choices for celebrating the end of another great year but I choose the Motet because there is no better band to represent the true Colorado spirit.  Quite simply this was one of best jam and free form concerts I've ever been witness to.  To the Motet, we raise our glasses once again! Happy New Year!
Energy: A
Sound: A
Musicianship: A
Stage Presence: A –
Set/Light show: B +
Overall: A

I've worked various positions in the music industry with Madison House, Rock The Earth and Bohemian Nights. My dream is to travel the world and seek out all the good tunes, beer and food that make life so special. I have a healthy obsession with live music and I'm thrilled to share the epic moments with you.