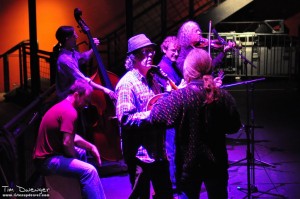 Photos by Tim Dwenger
 Listen To Show Here While You Read

The Scene: Last Friday afternoon, as the New Year's Eve weekend loomed huge on the horizon, some music fans were warming up by doing their part for the environment.  With one show already under their belts, most Railroad Earth fans were resting up for a second night of boogieing while a hundred or so filed into The Ogden at 5pm for a special acoustic show benefiting Rock The Earth.  With tickets priced at $75, this show was for the hardcore fans and those who might not be able to make the night show due to family responsibilities and the like (we saw several Moms and Dads dancing with young children in their arms).  Whole Foods, New Belgium Brewing, and Dogwood Cellars provided food and beverage that was included in the ticket price and while New Belgium and Dogwood held up their end of the bargain nicely with some great tasting drinks, the spread of food dried up VERY early on leaving many folks to go hungry.
Railroad Earth: While the Railroad Earth boys spent most of the weekend on the stage of The Ogden, Friday afternoon they moved down and set up on the second riser of the theater under a set of purple lights.  With only a few microphones at their disposal, the band was introduced by Rock The Earth's Marc Ross and took to their makeshift stage at just after 5:30.  With just over 30 minutes to play, they got right down to business with a raw version of "Cold Water" that stayed very true to the original that appeared on The Black Bear Sessions back in 2001.  From there Todd Sheaffer and company ventured off into the instrumental realms of "Old Dangerfield" before returning to a lyrically based format for the relatively rare "Sing For Me."
Before the band slid into a twelve minute version of "Black Bear," Sheaffer dedicated the song to "our neighbors in Stoke State Forest back in Jersey, the Black Bears," and went on to talk about how hunter's in this year's controversial state bear hunt had taken the biggest Black Bear ever at 870 pounds.  The boys did that bear proud with a haunting version of the song that featured a stellar Bass solo from Andrew Altman and didn't suffer from lack of electric instruments for one minute.  You could see the emotion on Sheaffer's face as he sang and it was conveyed all the way to the balcony where a few dancers spun and danced, overflowing with joy.
As the 6 o'clock hour approached, Sheaffer introduced "El Cumbanchero" as "a song that was written by Ricky Ricardo," and lo and behold it was true.  As the intimate crowd laughed, band tore into the song and we were off on a Latin tinged journey that proved to be the most upbeat song of the set.  As it ended and the band waved, bowed, and said their goodbyes, I was stuck by how good they had sounded.  What was lacking in terms of crowd energy and volume as compared to their nighttime shows, was made up for with amazingly precise playing.  It was a treat to see these guys serve up an acoustic show in close quarters and I can only hope that they do this kind of thing more often so that more people can have the same experience that we did last week.
Setlist: Cold Water, Old Dangerfield, Sing for Me, Black Bear, El Cumbanchero
Energy: B
Sound: B+
Musicianship: A
Stage Presence: A –
Set/Light show: B
Overall: B+
Music has always been a part of my life. It probably all started listening to old Grateful Dead, Peter Paul & Mary, and Simon & Garfunkel records that my parents had, but it wasn't long before they were taking me to concerts like Starship, Crosby, Stills & Nash, and Huey Lewis & The News. I got the bug to write about music after reviewing an Eric Clapton concert for a creative writing project in high school but didn't really take it up seriously until 2002. Since then I have published countless articles in The Marquee Magazine and done some work for Jambase.com, SPIN Magazine, and various other outlets. I started Listen Up Denver! as a way to share the music information that is constantly spilling out of my head with people who care. Please enjoy!