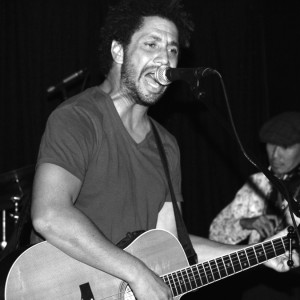 I was first introduced to Andy Palmer and Grub Street Writer [GSW] when they took part in Jonah Wisneski's CD release party for Lights (read review here) a little over three months ago. There was something about Palmer's Alt-Folk-Rock that drew me in, so I decided to look further. It turned out he was having a CD release party of his own for Sometime Around, so I reviewed the album a few days before heading to the show. Since then I have stayed in touch with Palmer and GSW, and it seems as if I am not the only one to have taken notice of his music.
As you are reading this Andy Palmer and Dan Kern of GSW, and Jess Denicola of John Common and Blinding Flashes of Light are in good company in an LA studio. Famed producer and engineer Warren Huart (Aerosmith, The Fray, Matisyahu, James Blunt, Korn) summoned Palmer and friends to the left coast so he could record four more of Grub Street Writer's songs for an EP. I spoke with Andy the day before they took off, and he seemed extremely excited, focused, and ready to take advantage of this huge opportunity. While we were sitting in my office (aka Goosetown Tavern), he also told me some other news. A three track EP called On the Road to Crazy, which Andy recorded before hooking up with Kern, is ready for release this month. This guy obviously has a fire in him, and when I asked if Listen Up Denver! could be the first one's to take a listen, he agreed.
On the Road to Crazy is an eclectic representation of Palmer and GSW presented in less than twelve minutes. The first track, "Lizzie Rose," may be extremely simple lyrically but it is filled with some great pedal steel, a hauntingly catchy hook, and the gruffness and darkness of Palmer's voice.  "I Owe You" is a bouncy and upbeat ditty that sounds light and frivolous while speaking of sharing the joy of flesh. Palmer gets down on the ukulele, guitar, and harmonica for this one and he and Megan Fong blend their voices well and give the song a joyful mood.  This mood is darkened by the last track, "Moving On," and its talk of getting over past love. Kailin Yong adds some drama with his violin as Palmer clearly and softly flat picks, letting his gritty vocals take the lead.
I hear a lot of music and love seeing something come at me out of nowhere. Right now that something is Andy Palmer and Grub Street Writer. After listening to On the Road to Crazy, I decided to see if Palmer would extend this experience to the rest of Listen Up Denver's Readers. Well, here it is! Click on the link below for a free download of Any Palmer and Grub Street Writer's new EP. This is only for a limited time.
Free Download – Andy Palmer and Grub Street Writer – On the Road to Crazy
Brian Turk grew up in the shadow of the Catskill Mountains, near Woodstock, NY. He comes from a family of music lovers, audiopliles, Dead Heads and avid concert goers.The musical magic that can only be created in the Catsklills, both past and present, is what Brian cosiders the epicenter of his music addiction. The music of The Band, and most recently The Levon Helm Band, is the soundtrack of home for him. Brian's mother took him to his first concert at 5years old...it was Johnny Cash and Roseanne Cash at Jones Beach Amphitheatre. For Brian, music is a family affair. He feels the same way about live music...we all convene to celebrate together. Brian's writing life started when he wrote his favorite author, southern fiction writer Clyde Edgerton, a fan letter at age 13. When most kids were idolizing baseball players and television, he was worshipping writers and musicians. The two became friends and Clyde shared his craft with Brian. The next year Brian attended Duke University's Young Writers Camp. This is the extent, of what Brian considers, his "formal" training in writing. From then on his goal was to capture snapshots of life through words. Brian has been involved with live music in various facets over the years, and combined with his enthusiasm and love for Denver's music scene, he creates a vivid description of what he sees and hears. If you see him out at a show, dancing with a notebook in hand, say hello.