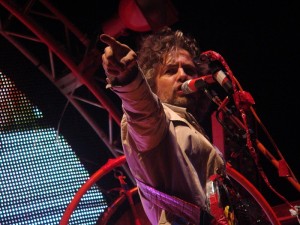 Photo By Tim Dwenger
This Article Originally Ran In The Marquee Magazine
Since 1983, The Flaming Lips have been pushing boundaries, both musically and technically, to create some of the most original music the industry has seen. In many ways, their willingness to take risks and think way outside the box gave rise to the indie rock movement as it exists today, with one major difference — The Flaming Lips have been signed to Warner Brothers Records for more than 20 years.
In that time, they have released a couple of songs that can be called "hits," in the Billboard sense of the word, including "She Don't Use Jelly" and "Do You Realize," but a vast majority of the music they have released has never, and in some cases could never, be played on the radio.
When we caught up with The Lips frontman Wayne Coyne by phone from L.A. to discuss the band's tenure at Warner Brothers and a few of the new concepts the band is rolling out this year, he was about to step into a lunch meeting with the new president of the label. Though this signified a regime change of sorts, Coyne was confident that things were not going to change for his band.
"The woman who signed us was 'crazy,' and I mean that in all the best senses of the word. She had signed Van Halen, Devo, Dire Straits, K.D. Lang and others. She had brought a lot of very adventurous music to the label," Coyne said.  "As she brought The Flaming Lips in, I think her concept was, 'We'll leave these guys alone, they are already great, let's just be glad they are here with us,' and that's kind of the way that it is has worked since then."
While they didn't always have much, if any, direction from Warner, the partnership has worked well for both parties over the years.  "A lot of it is just luck. We got lucky that at the times when it seemed like this relationship might not work, we would sell a lot of records and we'd make money," Coyne admitted. "Those things matter, I would never want to discount the fact that making money, selling records, being a popular group, matters. I think we've been really lucky that the good things that have happened have always happened at the best possible times."
Nestled in and around the huge successes of The Lips 1993 single "She Don't Use Jelly," and 2002's albumYoshimi Battles The Pink Robots, the band has found time to release projects like 1997's Zaireeka, a concept album that required 4 CDs to be played on separate players at the same time. Though Zaireeka was clearly a technical and creative stretch, Coyne revealed that they had the full support of Warner Brothers executives. "By the time I sat down with them and said, 'Here's what we think we are going to do,' they said, 'Yeah, we know. We are used to this, we kinda figured you were going to do something like this,'" said Coyne. "I find that they are almost more receptive when we want to do something that no other group would want to do. They are like, 'YES! that's why you are on Warner Brothers. We want to do these things that only you would do.'"
On Valentine's Day, The Lips released an update of sorts to Zaireeka in the form of a song called "Two Blobs Fucking." The release is made up of 12 unique YouTube clips with the intent that they be played in just about any combination on a variety of internet connected devices ranging from iPhones and other mobile devices, to desktop computers. "I have this fascination, and I know that Steven has it as well, with these floating tracks that interact with each other. When I say 'floating' I mean that they are not sealed in like a stereo mix, they have a different dimension of space about them. It's not something that you are really able to do with recordings most of the time because most recordings just come out of these little speakers in your headphones or out of your stereo system and it's a fixed space. Steven and I know how remarkable and what a unique experience it is when you are 'in' the music, as we are when we are performing because the music is really coming from all around us," said Coyne.
Coyne stressed that while the project does have its pitfalls, they aren't as significant as the difficulties involved with Zaireeka and after all, it's all part of the experience. "The 'Two Blobs Fucking' track has some horrible technical quagmires," he said. "I'm not saying that it's the greatest thing ever; in fact, I think it's a very strange way to listen to music but I allow that there should be a lot of ways to listen to music. Why do we have to be restricted to whatever's available. Let's make a new way, who cares?"
Coyne went on to admit that even he has not been part of a group that played all 12 parts simultaneously on 12 different devices. "When we were seeing if it would actually work I think there were several times where we would have six or seven people with iPads and computers on their desks and holding iPhones," he said. "We didn't really feel like you would really be able to squish twelve people into an area. So we always thought there would be twelve available but I don't know that we ever really planned to have them all be played at the same time."
While he is aware that there are several websites out there that make it possible to start all 12 YouTube clips at the same time to hear the track in its entirety, he stressed that doing that is missing a major part of the point of the project. "We don't really want you to hear them all in the one space or without other people being there. For us, part of what makes it exciting is that other people are doing it with you. It's this shared experience, it's not a song that just gets played," said Coyne.
"Two Blobs Fucking" is only the first in a series of releases that fans can expect from The Flaming Lips throughout 2011. In fact, they plan to release something new each month and Coyne revealed some details about what the March release will entail. "Yesterday, Michael [Ivins] drove four tracks that are going to be released in March down to a record pressing plant in Dallas, Texas. And I think that they are going to be pressed Monday or Tuesday onto various colors and weights of vinyl."
While it's not a new Flaming Lips record, and some fans might be disappointed about that, it's The Lips doing what they do best, making music that bucks the system. "The thing that I would get frustrated about with records sometimes is that I don't really want to take two years to make a new album," Coyne said. "So I just thought, why don't we just put the songs out as we make them. If we record a song on Saturday, let's put it out next Saturday. That's a little bit impossible, but this idea of doing a song or whatever we want, a month, to me sounded like a great mandate. It's about the idea that the music will be as fresh as we can make it. A year from now it may not be a good idea, but it is a marvelous idea right now and music moves like that, art moves like that. They don't have to stay the greatest thing ever, they can be the greatest thing ever for a little while. For me, that's what's so great about this new way people get music. You can get it and decide."
When The Flaming Lips arrive in Colorado this month, they will be headlining the final day of the first-ever Snowball Music Festival in Avon. While Coyne admitted that the prospect of playing a set after dark in March in the mountains of Colorado worried him a bit, he was adamant that his band was going to put on the show they have become famous for. "I hate it when people think the conditions have to be perfect. It's a more memorable experience when it's not perfect. The fact that it could be snowing on us and the audience could be great," he said. "What we worry about is the audience. If the audience wants to be there when it's 15 degrees outside, fuck, The Flaming Lips will be there! We don't care if it's cold, we'll fuckin' jump around more and make it hot. To me, that's part of the fun of it. I'm in it with them, it can never be too cold or too rainy. If they are there, we'll play."
By Tim Dwenger

Music has always been a part of my life. It probably all started listening to old Grateful Dead, Peter Paul & Mary, and Simon & Garfunkel records that my parents had, but it wasn't long before they were taking me to concerts like Starship, Crosby, Stills & Nash, and Huey Lewis & The News. I got the bug to write about music after reviewing an Eric Clapton concert for a creative writing project in high school but didn't really take it up seriously until 2002. Since then I have published countless articles in The Marquee Magazine and done some work for Jambase.com, SPIN Magazine, and various other outlets. I started Listen Up Denver! as a way to share the music information that is constantly spilling out of my head with people who care. Please enjoy!