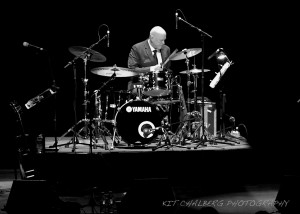 Photos by Kit Chalberg
The Scene: Walking up to the Ellie Caulkins Opera House, I was greeted by a woman wearing a long and ornately embroidered wool coat. As she outstretched her arm to usher me into the Ellie, I realized what a gift it is to be able to see great music in such a refined setting.  A Dale Chihuly hand blown chandelier highlighted the gray hairs and scarf collections of a mostly over 40 crowd as we found our way to some of the best seats in the house; dead center and seven rows back. This was to be my first time seeing Lyle Lovett live, but on either side of me were some die-hard fans. On my right was an auditing accountant in town on business from L.A. who had seen Lyle more than ten times, and always catches live shows while on the road, and to my left was local singer songwriter Megan Burtt who "grew up on Lyle." Their beaming enthusiasm for the night was as much a part of the experience as the music and the room itself.
Lyle Lovett and His Acoustic Band: While mainstream Country music is something that I don't really enjoy, I have to admit that I do love me some good 'ol fashioned Texas bred singer-songwriters. There is something about the open plains, freight trains, and highway lanes of the lone star state that has inspired some musicians to develop their own brand of country music that thrives in West Texas. At the top of that list are Townes Van Zandt, Guy Clark, Steve Earl, Lucinda Williams, John Prine, Emmy Lou Harris, and, of course, Lyle Lovett. They are country to the core, but incorporate folk and traditional sounds to tell their amazingly well written stories.
On this night Lovett's stories were told on acoustic instruments wielded by five extremely talented men in black suits. Lovett must have introduced and thanked his band five or six times during the night, but I will only do it once. On the fiddle was Luke Bulla, who also lent some amazing R&B tinged vocals to the mix, the bass was held by Viktor Krauss, at the drums sat the legendary Russ Kunkel, and Keith Sewell worked the guitar, mandolin and microphone. These men are all worthy of introduction and accolades twenty times over!
The set started off with a couple dirty ditties, "Girl with the Holiday Smile" and "Choke My Chicken."  Both tunes were filled with Lovett's trademark wit and were presented with stellar musicianship. As a matter of fact, humor, wit, and intelligence were present throughout the night as Lovett's blended his musical stories with spoken stories between songs. I laughed as often as I was astounded by the playing, and both happened a lot!
The audience went as wild as you can in an opera house when Lovett played "Cowboy Man," the first song on his self-titled 1986 debut. Most of the crowd probably bought the album on the shiny and newly invented compact disc format the day it came out, and had to wait until they got home to hear it because their car only had a tape deck. I think hearing it in the Ellie gave them the same satisfaction as finally getting home and fighting their way into that CD case!
The smoothness of Lovett's voice really shined in "She's No Lady, She's My Wife" as Luke Bulla subtlety finger plucked the strings of his fiddle and the Jazz and Blues side of these guys came out. The blending of Lovett's song "I Will Rise Up" with the traditional "Ain't No More Cane"  found Bulla, Lovett and Sewell creating some fine three part harmonies and brought a little gospel into the night.
If it were a juke joint, "Cute as a Bug" and "My Baby Don't Tolerate" would have had boots scooting, but there is no dancing in the "Golden Circle" at the opera house. These guys looked like a Texas Road House rat pack as they got into some really clear and expressive solos. Since there was banter and stories between almost every song, it was easy to transition between different musical styles, as they did when they dropped in a well placed cover of The Grateful Dead's "Friend of the Devil." Sewell's flatpicking was superb and Lovett sang it with riveting emotion.
The man on my right nearly jumped out of his seat when "LA County" was played, it being about his home and all, but the highlight for me was what came next. I am a traditionalist who loves acoustic based music played with authenticity; and single mic bluegrass covers both bases. Lyle said it best: "Country can be sad, but bluegrass can be dangerous. All you people who go to Telluride know!" Lovett, Sewell and Bulla all played and sang around the single mic for "More Pretty Girls Than One," "I'll Come Knockin'," "Keep It In Your Pantry," and "Up In Indiana"…and it was f'ing awesome! They traded verses as they traded spots on the mic all the while pickin' and grinnin'.
So the man on my left got his treat and I mine, but what about Ms. Burtt? Well, "If I Had a Boat" floated her's, but it was the "North Dakota" encore that seemed to put her over the edge. When Megan said, "My face actually hurts from smiling!," I knew the show was as good as I had thought! Since it was my first time seeing him, I thought maybe I was just dealing with the initial shock, but the accountant to my right agreed on the stellar performance. Lyle Lovett is so much more than what passes for Country music these days.  His stories are backed by different musical sounds and styles and he proved that they sound equally amazing whether you are in a Pick-Up Truck or in an Opera House.
Energy: A-
Sound: A+
Musicianship: A+
Stage Presence: A+
Set/Light show: B+
Overall: A
Brian Turk grew up in the shadow of the Catskill Mountains, near Woodstock, NY. He comes from a family of music lovers, audiopliles, Dead Heads and avid concert goers.The musical magic that can only be created in the Catsklills, both past and present, is what Brian cosiders the epicenter of his music addiction. The music of The Band, and most recently The Levon Helm Band, is the soundtrack of home for him. Brian's mother took him to his first concert at 5years old...it was Johnny Cash and Roseanne Cash at Jones Beach Amphitheatre. For Brian, music is a family affair. He feels the same way about live music...we all convene to celebrate together. Brian's writing life started when he wrote his favorite author, southern fiction writer Clyde Edgerton, a fan letter at age 13. When most kids were idolizing baseball players and television, he was worshipping writers and musicians. The two became friends and Clyde shared his craft with Brian. The next year Brian attended Duke University's Young Writers Camp. This is the extent, of what Brian considers, his "formal" training in writing. From then on his goal was to capture snapshots of life through words. Brian has been involved with live music in various facets over the years, and combined with his enthusiasm and love for Denver's music scene, he creates a vivid description of what he sees and hears. If you see him out at a show, dancing with a notebook in hand, say hello.