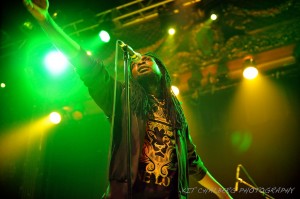 Photos by Kit Chalberg 
The Scene: As I walked into The Ogden Theatre on Saturday I was greeted by a ticket taker and the strong smell of herb. The Wailers were in town, and everyone was coming in from the cold and catching a fire!
The broad reach of the music that The Wailers created with Bob Marley was reflected by the crowd as people of all walks of life convened to celebrate their love of reggae. While only one of the men on stage, legendary bass player Aston Barrett, played in the original Wailers line up with Bob Marley, the whole band channeled his vibe. It had been announced that on the Revolution Tour "The Wailers will perform a set that includes their more socially conscious material including 'Get Up, Stand Up,' 'War' and songs of that nature." In other words: anything and everything written by Bob Marley! It's long been known that Marley is one of the true voices of revolution and his music is the soundtrack to all levels of revolt. Whether it is a teenager locked in his room with a towel rolled at the bottom of a door, or a protest in the streets of New York or Trenchtown, these songs inspired people to fight against all types of oppressors in their own way.
The Wailers: The Wailers set started off with an instrumental song and the stage only half filled. Once Koolant Brown, another male vocalist, and two female back-up singers hit the stage, the singing of Jah's praises began. "Natural Mystic" was the first trumpet and "Exodus" was the last, to my left I saw a puffer, on my right someone getting high, and I'll tell you why: because there was more than a natural mystic flowing through the air! There were clouds of thick smoke and feelings of nostalgia as well. Yes, these songs may have a revolutionary message, but that message is conveyed with an infectious groove and positive vibration. "Rebel Music" allowed guitarist Audley Chisholm to show us his skills as he went from playing chop riffs filled with riddim', to a tight rock influenced solo.
"Crazy Baldheads" was full of interesting sounds like Keith Sterling's bubbling keyboard tone, but also prolific lyrics about the exploitation of the working class. When fists went in the air for "Get Up, Stand Up" as Aston Barrett's thick bass lines shook the Ogden, we all did the traditional reggae "Wheyo" call and response and caused the place to shake a little more.
Singer Koolant Brown sings Marley's words with a deep reverence, but his stage presence and voice have no resemblance. There were no energetic and stage spanning movements and his dreadlocks did not fly through the air. He brought a mellower vibe with his slow, up and down dance cadence and his chill vocal stylings. I appreciated the fact that there was not a bit of imitation attempted and really got into the way Koolant presented the material.
As the set wound down, and all the musicians left the stage for a brief moment, cheering brought out guitarist Chisholm and the other male vocalist for a dimly lit version of "Time Will Tell."  As that song faded away, the room got a bit brighter for "Redemption Song" as hundreds of lighters and cell phones were held high in the air and just as many voices sang and shouted the words to a song that will speak to generations to come.
The rest of The Wailers soon reappeared and got the place "Jammin'," as the remainder of the night focused on more upbeat songs. Proving all revolution has a foundation of hope, we took the chorus of "Three Little Birds" all to ourselves and then clapped and sang along because we knew that everything was going to be all right! After "I Wanna Love You" and "One Love," the "Exodus" started. Filled with drum and bass, Jah people moved along to the song, and eventually out the doors.
The original line-up of The Wailers was pioneers in the reggae sound, and Bob Marley was a Rasta prophet. There is no confusion on the fact that this is a band covering someone else's work, but Aston Barrett's presence, and the entire bands deep connection to the material bring authenticity to the performance. You cannot think of The Wailers without thinking of Bob Marley, and I don't think The Wailers would have it any other way. The night was filled with constant mentions and praises of Marley and we all reveled in his memory.
Energy: B
Sound: A
Musicianship: A-
Stage Presence: B
Set/Light show: B+ 
Overall: B+
Brian Turk grew up in the shadow of the Catskill Mountains, near Woodstock, NY. He comes from a family of music lovers, audiopliles, Dead Heads and avid concert goers.The musical magic that can only be created in the Catsklills, both past and present, is what Brian cosiders the epicenter of his music addiction. The music of The Band, and most recently The Levon Helm Band, is the soundtrack of home for him. Brian's mother took him to his first concert at 5years old...it was Johnny Cash and Roseanne Cash at Jones Beach Amphitheatre. For Brian, music is a family affair. He feels the same way about live music...we all convene to celebrate together. Brian's writing life started when he wrote his favorite author, southern fiction writer Clyde Edgerton, a fan letter at age 13. When most kids were idolizing baseball players and television, he was worshipping writers and musicians. The two became friends and Clyde shared his craft with Brian. The next year Brian attended Duke University's Young Writers Camp. This is the extent, of what Brian considers, his "formal" training in writing. From then on his goal was to capture snapshots of life through words. Brian has been involved with live music in various facets over the years, and combined with his enthusiasm and love for Denver's music scene, he creates a vivid description of what he sees and hears. If you see him out at a show, dancing with a notebook in hand, say hello.