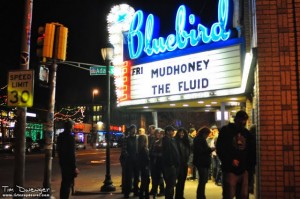 Photos by Tim Dwenger
This past February, many in the Denver area where shocked and saddened to learn of the tragic death of Rick Kulwicki.  Kulwicki had been a mainstay of the Denver music scene for more than 25 years and while his passing left a big hole in the scene, it left an even bigger hole in his family as Kulwicki was a single father to twin boys who were suddenly on their own.
While there were two successful benefit shows held in March, our tight knit community proved they did not forget about the costs associated with being a teenager and flocked to another benefit this past Friday.  This time, rather than a bill chock full of local bands, one of the pioneers of the Seattle Grunge scene, Mudhoney, teamed up with Rick's band The Fluid to raise some more money for the family of a good friend.
"Rick is an old friend of ours and we wanted to do whatever we could to help his boys out," Mudhoney frontman Mark Arm told me during a brief interview in the basement of The Bluebird as his bandmates soundchecked on the stage above our heads.  "We met Rick and the rest of the band back in '88.  We played with The Fluid here, at a small club, on our first tour in October of that year."  While he admitted that they hadn't been "super close in recent years," due to the distance between them, he did say that they made an effort to hang out every time that Mudhoney came through Denver.
While sadly Rick was unable to witness the reunion of these two bands that had first played together 23 years ago, his memory was very much on the minds of countless members of the nearly sold-out audience as they pumped their fists and the air and even thrashed around in a wild mosh pit at the foot of the stage thoughout the night.
The first act to grace that stage on Friday was the Kulwicki twin's band, Purple Fluid.  In a show of respect to the boys and their father, the theater was filling up quickly when the young band took the stage.  Their punk infused set clearly drew inspiration from The Fluid along with bands like The Clash and Turbonegro, who's track, "All My Friends Are Dead," they covered to close out their performance.  It's clear that Rick's boys are following in his footsteps.   He would have been proud to see them work so hard, and sound so good.
Rick's bandmates took the stage next to the delight of the hometown fans who had come out in force to hear one of their favorites.  Friends and family screamed along in unison as front man John Robinson led us on a rowdy tour through The Fluid's back catalog that even included a brief crowd surfing trip out over the outstretched hands of the adoring crowd.  Midway through the set Robinson hoisted a bottle of wine to his departed friend and invoked his memory with some brief words.  It was by far the most tender moment in a night filled with loud, angst filled, Rock and Roll, and one that surely left a few dabbing their eyes.
While some fans left after Robinson and the rest of The Fluid wrapped up a strong set, many in the room were patiently waiting to be pummeled by the unique sounds of Mudhoney who were due up next.  During the setbreak I found that some of the more jaded fans in the room thought the $30 ticket price was a little high until they were reminded of what it costs to put on a concert and what a good cause the money was going to.  In fact, Mark Arm put it very well when he said: "I hope a lot of money will be raised tonight, but it's only one show, so it will probably be a couple grand.  Hopefully people will just keep sending money to the fund to keep the boys in their home for the next couple of years until they turn 18, and then get them off to college if that's part of their plans."
If you would like to help raise money for The Kulwicki Twins Foundation, Listen Up Denver! is proud to be partnering with Mudhoney, Sub Pop, and the local organization Prints For A Cause, who is offering two limited edition photographs signed by the members of Mudhoney and taken by local rock photographer Mitch Kline during their set at the benefit.  All proceeds from the sales of these unique prints will be contributed directly to the foundation in the name of Mudhoney.  Please click here for more information and to order your copy of one, or both, of the prints.

Finally, as the clock moved well past 11, Mudhoney took the stage and the energy in the room reached a fever pitch.   As the band raged through a 90 minute set that included "Touch Me I'm Sick," "Poisoned Water," and "Get Into Yours," they proved one thing above all the rest: Mudhoney is still a powerfully relevant band that hasn't lost a step since their heyday in the 90's.
The energy and passion that Arm and his bandmates poured into the set would make many much younger bands blush.  With Iggy Pop-like gyrations, Arm thrilled the crowd while drummer Dan Peters wow'd us all with rocksteady rhythms and complex fills and solos.  It was a sight to see and it was clear that these four men were not dialing this show in and had practiced extensively.  Late in the set they added a feather to their cap when they were joined briefly by the Dead Kennedys'  Jello Biafra for a cover of The Dicks' "Hate the Police."
When they finally said goodnight, and Arm disappeared down the stairs I'd walked with him a few hours before, I was struck by something that he had said with a look of disgust and sadness on his face as he headed up the same stairs to finish up the soundcheck with the rest of the band:  "It's a fucking tragedy that we even have to do this."  Truer words may never have been spoken.
Energy: A+
Sound: A-
Musicianship: A
Stage Presence: A+
Set/Light show: B-
Overall: A
Music has always been a part of my life. It probably all started listening to old Grateful Dead, Peter Paul & Mary, and Simon & Garfunkel records that my parents had, but it wasn't long before they were taking me to concerts like Starship, Crosby, Stills & Nash, and Huey Lewis & The News. I got the bug to write about music after reviewing an Eric Clapton concert for a creative writing project in high school but didn't really take it up seriously until 2002. Since then I have published countless articles in The Marquee Magazine and done some work for Jambase.com, SPIN Magazine, and various other outlets. I started Listen Up Denver! as a way to share the music information that is constantly spilling out of my head with people who care. Please enjoy!