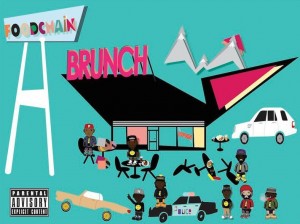 I think I may have Hip-Hop ADHD. I was introduced to Brunch, the new record from Denver's The Foodchain through the track "Maneuvers," but it is the musical joints that dot the album, clocking in at two minutes or less, that have captured my attention. Interludes like "Breakfast," "The Guys," and "Groove" fill the space between the better known tracks and keep this album in constant rotation on my stereo.
The Foodchain is a live Hip-Hop collective that is comprised of 4 MC's, 2 producers, a DJ, and a drummer. Before they even released an album, The Foodchain won Westword's "Best New Hip-Hop Crew – 2009″ purely based on a collection of leaked tracks. Now, in their continued effort to move the masses, they have unleashed Brunch, a stellar follow up to the band's debut album, Corpses, and better yet, it's available for free at Bandcamp! Highlights of this pure high-altitude Hip-Hop album that are sure to get parties movin' include the aforementioned "Maneuvers," "Basically," and "Traction." Go download it now, and check these guys out. If you like what you hear, grab their debut album Corpses available on iTunes.
Download | The Foodchain – BRUNCH
HERE FOR FREE
Wherever the music is, you'll find me with my camera, shooting on street corners, from barstools at clubs, from the side of the stage at theaters, and from photo pits in places like Red Rocks. Clicking away, trying to capture the emotive essence of music, and all those moments that we forget because of one too many Pabst Blue Ribbons.