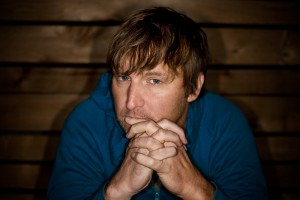 Reed Foehl had a hell of a year in 2011, and 2012 is starting off in the same fashion. Listen Up Denver! caught up with Foehl recently, and he filled us in on what has and what is going on with him.
"I guess one of the biggest highlights of last year was playing eTown for the first time . . . with Arlo Guthrie none the less," he said.  "Getting to sing with him on 'City of New Orleans,' which was written by Steve Goodman, who I grew up listening to, was amazing! I listened to all those folkies with my dad . . . Steve, Arlo and probably my favorite, John Prine. It was kind of surreal!"
Foehl was exposed to good music at an early age. When he was in middle school his parents formed a band as a hobby and he learned the songs right along with them. "They played stuff by Artie Traum, Kris Kristofferson, John Prine, Bill Monroe and other greats. Then in high school I got into Neil Young, Van Morrison, Bob Dylan and James Taylor . . . just good songs basically. That's when I fell in love with the writing," he said.  "I actually remember something very specifically. I was sixteen, it was Thanksgiving. I was taking a walk with Billy Conway, the drummer for Morphine. We grew up playing hockey together. He asked me when I was going to start writing songs. I was sixteen and had never thought about it until he planted it in my head. So I started writing  and haven't stopped since!"
It is that history of performing the material of, and listening to, some of the best songwriters that has given him a sound that really stands out. Reed Foehl is singer songwriter steeped in the folk tradition and the 2011 Rocky Mountain Folks Festival brought him a unique experience last year. He had sat in with Gregory Alan Isakov on the main stage in 2010, but a year later he was outside the gates, and being introduced to Anais Mitchell and her unique project Hadestown :: A Folk Opera.
"The first time I met Anais Mitchell was in Lyons during Folks Fest. I didn't actually go to the festival, but she called me after her performance and we ended up meeting in Lyons. The festival put her up in this house, and we just sat there and traded songs. Sarah Lee Guthrie was there too and we all just sang songs together. We were kindred spirits and hit it off right away. Anais wrote me after that to see if I would be involved in the live performance of Hadestown here in Colorado."
While being involved with eTown and Hadestown were highlights of 2011, one week into 2012 and he has already gotten some amazing news. "Leann Womack is recording one of my new songs that I just wrote called 'Fly.' I have no idea if it will make it onto her new record, but her just recording it is amazing," he said. Foehl has had songs featured on TV and on the big screen, but having a country great like Womack choose one of his songs to record is a real milestone.
While the recent past has held some significant moments for Foehl, he is constantly looking forward. "I am heading out to Vancouver soon to record with John Raham," he said. "We are going to try and do it simple and live, as much as we can. I start recording on February 6th. I will be up there for two weeks. If all goes well we should have a new album out late spring"
Foehl is going for a different sound this time around; less production and some more traditional methods. "The whole band will be set up in one room and we will record it live. It will be more raw and simple, yet intimate and flowing. We are going to tape, so it will sound good. Warm and nice. I am going to put this record out on vinyl also. Vinyl is so much more of an experience. You can hold the artwork in your hand, read the lyrics, and be more involved."
Foehl treats songwriting as a craft. When he is not on stage he is writing voraciously and is constantly aspiring to improve. Although he has had successes over the past few years, he has not lost sight of the big picture…writing that one song or album that stands the test of time and is considered one of the greats. It is that authenticity, humility, and drive that will keep Foehl on the path to his goal. Each year seems to bring more and more for this man, and 2012 may be his biggest year yet!
Catch Reed Foehl Live:
Brian Turk grew up in the shadow of the Catskill Mountains, near Woodstock, NY. He comes from a family of music lovers, audiopliles, Dead Heads and avid concert goers.The musical magic that can only be created in the Catsklills, both past and present, is what Brian cosiders the epicenter of his music addiction. The music of The Band, and most recently The Levon Helm Band, is the soundtrack of home for him. Brian's mother took him to his first concert at 5years old...it was Johnny Cash and Roseanne Cash at Jones Beach Amphitheatre. For Brian, music is a family affair. He feels the same way about live music...we all convene to celebrate together. Brian's writing life started when he wrote his favorite author, southern fiction writer Clyde Edgerton, a fan letter at age 13. When most kids were idolizing baseball players and television, he was worshipping writers and musicians. The two became friends and Clyde shared his craft with Brian. The next year Brian attended Duke University's Young Writers Camp. This is the extent, of what Brian considers, his "formal" training in writing. From then on his goal was to capture snapshots of life through words. Brian has been involved with live music in various facets over the years, and combined with his enthusiasm and love for Denver's music scene, he creates a vivid description of what he sees and hears. If you see him out at a show, dancing with a notebook in hand, say hello.