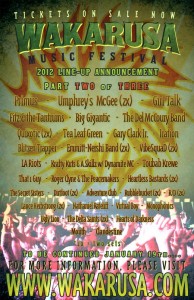 With their second line-up announcement of three, Wakarusa continued showering love on Colorado bands by adding several more local acts to the festivities.  Big Gigantic, Emmitt-Nershi Band, VibeSquad, and Nathaniel Rateliff will all be making the trip to the Arkansas hills!  Other notable additions include Primus, Umphrey's McGee, and Girl Talk.   See the first announcement here.
Wakarusa 2012 Lineup Part 2 of 3
Primus
Umphrey's McGee (2 sets)
Girl Talk
Fitz and The Tantrums
Big Gigantic
The Del McCoury Band
Quixotic Fusion (2 sets)
Tea Leaf Green
Gary Clark Jr.
Iration
Blitzen Trapper
Emmitt-Nershi Band (2 sets)
VibeSquaD (2 sets)
LA Riots
Krafty Kuts and A. Skillz with Dynamite MC
Toubab Krewe
That 1 Guy
Roger Clyne and The Peacemakers
Heartless Bastards (2 sets)
The Secret Sisters
Dirtfoot
Adventure Club
Rubblebucket (2 sets)
R/D (2 sets)
Lance Herbstrong (2 sets)
Nathaniel Rateliff
Virtual Boy
Monophonics
Ugly Lion
The Delta Saints (2 sets)
Hearts of Darkness
Mouth
Clandenstine