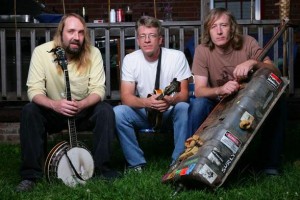 Split Lip Rayfield – Rig or Cross
After finishing up a tour with The Legendary Shack Shakers to round out 2011, Wayne Gottstine of Split Lip Rayfield took a few minutes to discuss the past, present, and future of his almost indescribable, Cow-Punk Bluegrass band. They will be rocking a six night run in Colorado starting this Saturday at The Black Sheep in Colorado Springs and ending at The Bluebird Theatre on the 21st.
LUD:  You play mainly Mandolin in Split Lip, was that your instrument of choice?
Wayne Gottstine: Well, I started with AGuitar. Then, I started playing in bands early and young so I needed electricity. I love playing the Electric Guitar. I was playing in my rock band Scroat Belly with Kirk [Rundstrom] when he asked me to pick up the mandolin and join Split Lip. I thoroughly enjoy playing mandolin.
LUD!: Can you talk a little about what you guys have happening in the upcoming year?
WG: Well, we have been doing a lot of writing. We've got quite a few shows coming in, and a few festivals. Hopefully we'll get out to the west coast this summer. We've just been writing a ton of new material and hopefully we'll be working on a new album in the early part of the year. Pretty much just grinding away and doing our thing.
LUD!: It's been a while since your last album. What is the song writing process like now? Has it evolved at all over the years?
WG: We generally just write the songs individually. The arrangements and everything are pretty much up to whoever wrote the song. When we record them it is pretty much up to whoever wrote the song to become the producer of it when we are in the studio. You know, if Eric [Mardis] has something in mind, we'll try to go that direction and vice versa. Whoever writes it pretty much has artistic control over the song, but we generally just jam out and it will eventually become a Split Lip song.
LUD!: I saw you guys a while ago and noticed Jeff's [Eaton] bass and I have to ask what exactly that is made out of?
WG: It's the gas tank of a late 70's Ford model something. Then, he hand-carved a piece of walnut for the neck. At one time, and he might still have it, he put a piece of ebony on for the fret board. Of course, it's fretless. Then he used a weed whacker string and tuned it to G. It has a stereo pick up and giant Spinal Tap type of Amp. It was just something he did whimsically. He wanted a washtub bass and didn't have a washtub.
LUD!: You guys have all known each other, and have been playing together, for quite some time now. Can you talk a little bit about what went into the decision to continue playing music under the Split Lip Rayfield name after Kirk passed away?
WG: Well…it was a decision that we all made together. After about a year of not playing we kind of wanted to see what could happen. Actually, The Reverend Horton Heat wanted us to open up a show for him. Then, the TV show "Squidbillies" wanted us to do a couple of songs for an episode. We got together and it sounded pretty good still, and it was a lot of fun. You know, we are all kind of unemployable anyway. We just kind of got back to work.
LUD!:  You say you are unemployable, I assume that means you don't have a 9 to 5?
WG: (Laughs) Yup, this is my job.
LUD!: When did you decide to make music a career?
WG: Well, I had to be pretty young. It's just something I always wanted to do. I went to school and majored in literature and journalism, but that never went anywhere with it because I kept joining bands.
LUD!: Having to devote so much time to being in a band, can you talk about what you dread the most and also what is the most rewarding part about being in a full time touring band?
WG: The thing I dread is just being gone for weeks at a time, just all of the things that pile up on you at home. But, the most rewarding aspect is that I get to play music every night. I get to go so many places and meet different people. I get to hear people say they listen to us all of the time, or know all of the words to our songs. That's rewarding.
Catch Split Lip Rayfield Live:
Black Sheep (Colo. Springs) :: January 14
Fox Theatre :: January 15
Three20 South (Breckenridge) :: January 18
The Sand Bar (Vail) :: January 19
The Eldo (Crested Butte) :: January 20
Bluebird Theatre :: January 21
I rode my skateboard from school in 7th grade to my buddy Vince's house where he put on the song "Perfect Government" by NOFX and I was hooked. The next day I bought the album Duh by Lagwagon. The next year I saw Against Me! at the Starlight Theater in Fort Collins, my mom dropped me off. I've since devoted every waking hour to anything done with passion. My speakerbox bumps everything from Lil' Wayne to Pablo Casals. I was never very good at making music, but I am damn good at listening to it. I've been filling up yellow notepads with random thoughts and misspelled words for as long as I can remember. I enjoy whiskey of all sorts, Newport cigarettes and the company of my family. I've got an addiction to run-on sentences that I'll probably never cure. A solid handshake with a stranger who has become a friend over a few beers means the world to me. You'll often find me wide eyed and wandering with an ear to ear grin. I live for funky break beats and spreading the love.