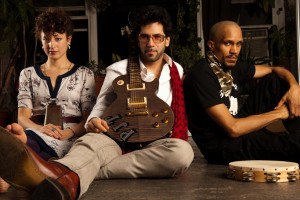 The Pimps of Joytime. It's a name that carries with it a certain panache, a "je ne sais quois" if you will, and lays the perfect groundwork for a funky sound that is sure to get any party hoppin'. At times, it's got a dirty, lo-fi feeling that is reminiscent of the best old school funk tracks, but it's evident that all that grime is intentional, as the group's song can swing into a swirling digital wonderland that comes through in all its hi-fi glory.
In his home studio, bandleader Brian J is quickly becoming a master at manipulating instruments and equipment to give him exactly what he wants: a funky good-time sound that isn't too serious but doesn't sound that way.
The Pimps were born out of Brian J's desire to embark on a project that would give him the opportunity to get out and have fun while showcasing his broad range of musical influences. "I built a studio in my loft space in Brooklyn with just the dream and the idea of making a record," he said during a recent interview with The Marquee. "I didn't know what kind of record it was going to be because I do different styles, but as I was starting to work on it I was getting immersed in the Brooklyn vibe at that time, the DJ culture and that scene, I slowly started getting into a funk groove."
That funk groove is a seed that took root early on as he was growing up between New York, New Orleans, and Los Angeles. "My main musical mentor was my father," J revealed. "He was a soulful person who loved music and he turned me onto the music of New Orleans, blues, early rock and roll, some jazz, and soul music. He had a great vinyl collection, which I now have, so that was a big influence on me."
Finish This Article Over At The Marquee Magazine Site . . .

Catch The Pimps of Joytime Live:
Fox Theatre :: January 13
Cervantes' Other Side :: January 14
Ullrs (Winter Park) :: January 15
Belly Up (Aspen) :: January 16
The Marquee is an independent, Colorado-based, PRINT & ONLINE Free Music Magazine. The Marquee strives to be the Farmer's Almanac of the regional music scene — providing readers with facts, tid-bits, in-depth feature stories and a Calendar section that is unparalleled on Colorado's Front Range, covering every live music venue from large venues such as Red Rocks Amphitheatre to small clubs and coffee shops.