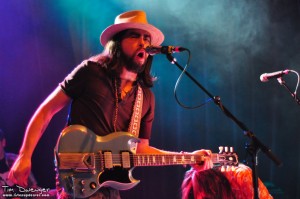 Photos by Tim Dwenger
The Scene: The Bluebird Theatre was comfortably full last Friday night for the second night of Jackie Greene's two night stand.  Long before he took the stage the crowd was buzzing about the apparently amazing show he put on the night before, and expectations were high for another stellar performance.  Dreaded out Hippies rubbed shoulders with bleach blond punk rockers, and grey hairs decked out in their best Western duds.  Greene typically brings out an eclectic bunch of music lovers with his wildly varied styles, and Friday was no different.
Opener: Nikki Bluhm & The Gramblers. Opening the evening was Greene's good friend Nicki Bluhm and her band The Gramblers.  Including her husband, Mother Hips frontman Tim Bluhm, the band was six members strong and they seemed to be loving every minute of their 45 minute set.   Dressed in high waisted, bell bottom jeans and a flowered button down, Bluhm looked every bit the part as her band took us deep into a sun drenched 70's California Country sound that relied heavily on rich harmonies.  There were clearly some longtime fans in attendance as they responded excitedly at the introduction of several of the tunes and danced and sang along in the pit in front of the stage.
Jackie Greene: At about 10:30, Jackie Greene and his band came out to a healthy roar from the crowd.  After tuning up a little, the band kicked into "Gone Wanderin'" from his 2002 album by the same name and we were off on a genre bending trip through his catalog that, admittedly, left some newcomers a little confused.   The harmonica laced Country shuffle of "Gone Wanderin'" was nestled in alongside the jammed out psychedelic rock of "Don't Let The Devil Take Your Mind," and the wailing blues of "I'm Tore Down," so yes, his shows are a bit unpredictable, but that's one the many reasons to love this guy.  He really challenges his listeners to keep up as he and his band switch from one style to another with road tested precision.
As most of his fans know, Greene has a soft spot in his heart for The Grateful Dead and it's rare to get out of one of his shows without hearing at least one of their tunes.  Friday night we were treated to not one, but three, and the Deadheads in the room were in heaven.  The first, "Deal," stayed pretty true to the original and showed everyone in the room why Greene will be returning to Colorado in February as part of Phil Lesh's group of "Friends."  Many outside of California were first exposed to Greene as he played and sang alongside Lesh several years ago, and it's clear that the two have formed a long lasting friendship as they frequently sit-in with each other around the Bay Area.
After a haunting take on "Mexican Girl" Nicki and Tim Bluhm returned to the stage to add harmonies and guitar to the last two songs of the set including a set closing take on Tim's "Squeaky Wheel."  As they flashed smiles and shared mics, it was clear that these three truly enjoy making music together and they looked more than happy to head backstage to hang out as the lights came up for a 20 minute setbreak.
The second set started out with Greene showing off his considerable chops on the organ as the band tore through an outrageously funky instrumental that was listed on the setlist as "Funky Jeremy Taylor."  As the room calmed down, Greene stayed at the keys for the radio friendly "Shaken" that was featured on his 2008 album Giving Up The Ghost, and then slid into one of the catchiest songs in his catalog with "So Hard To Find My Way."  It was a great start to a strong set, but unfortunately the next tune, "My Wonder Girl" written by Greene's guitarist, robbed us all of some momentum and gave us a chance to hit the bathroom, grab beers, or close up tabs.
Fortunately, Nicki and Tim came back to the stage and injected some energy back into the show as Nicki took over lead vocals for "Burnt," a sort of psychedelic, swampy, blues rocker that led perfectly into the Mother Hips "White Headphones," which appropriately featured Tim on vocals.  Again, Nicki and Tim seemed to fit into the band perfectly and elevated the show to another level.  As the clock approached 12:30, Greene and the band launched into rockin' version of "New Speedway Boogie," that clocked in at well over ten minutes.  While the crowd had thinned out some, those of who were left were singing along with the band on the powerful chorus.  As the band jammed the tune out in the middle section Greene took the opportunity to test our ears as he teased "Bird Song," and other Dead classics.
After a brief encore break, Greene and company returned and he and Nicki traded verses on a great version of "Sugaree," one of my personal favorite Dead tunes, and one that Greene does very well.  It was a great way to wrap up a fantastic show, and two night stand, at The Bluebird.  Whether it was better than the Thursday night show that everyone was raving about early in the evening I have no idea.  But I can tell you that I really enjoyed just about every minute of this one.
Energy: A-
Sound: A-
Musicianship: A
Stage Presence: B+
Set/Light show: B
Overall: A-
Music has always been a part of my life. It probably all started listening to old Grateful Dead, Peter Paul & Mary, and Simon & Garfunkel records that my parents had, but it wasn't long before they were taking me to concerts like Starship, Crosby, Stills & Nash, and Huey Lewis & The News. I got the bug to write about music after reviewing an Eric Clapton concert for a creative writing project in high school but didn't really take it up seriously until 2002. Since then I have published countless articles in The Marquee Magazine and done some work for Jambase.com, SPIN Magazine, and various other outlets. I started Listen Up Denver! as a way to share the music information that is constantly spilling out of my head with people who care. Please enjoy!