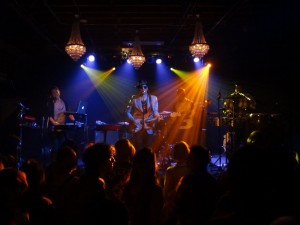 Photos by Tim Dwenger
The Scene: Cervantes' Other Side was THE funky place to be on Saturday night as Denver's funkiest party people packed into the room and danced till 2 in the morning.  Our crew was celebrating the birthday of a dear friend in style and we descended on the room decked out as Pimps & Ho's in tribute to the headliner and to Christine's love for costume parties.  We got our fair share of funny looks, but many in the crowd felt it pushed the vibe in the room up a notch as we shook and boogied our way through the crowd all night long.
Opener: Atomga Groove Alliance. I caught these guys once before when they opened for See-I next door in Cervantes' Ballroom and while I was impressed then, I was blown away on Saturday.  They took the stage at about 10 and proceed to whip the crowd into a frenzy that didn't let up for more than an hour.  A twelve piece band with a full horn section, Atomga Groove Alliance is bringing Afro-Beat to Denver and they are doing it right.  Their set was packed wall to wall with slammin' dance numbers as they seamlessly mixed original tunes with Fela Kuti and other Afro-Beat classics.  Watch out Denver, cause your newest party band is just getting warmed up.  These guys are poised to take this town by storm!
The Pimps Of Joytime: When The Pimps Of Joytime were introduced at just about 11:30, the crowd went nuts.  It was clear that expectations were high, and the band delivered with a two set performance that was heavy on the funk and cranked the temperature in the room up a few notches.
The bands mastermind and frontman, Brian J, stood front and center for the duration of the show looking every bit the part in a light colored blazer, Fedora, and shades.  Heavy organ lines, wah-wah, a rock solid rhythm section, and J's signature falsetto dominated the sound as the band took us on a journey that made stops in the Deep South, New Orleans, the Islands, and Latin America.
While the first set included raw, high energy takes on "San Francisco Bound," "My Gold," and "Bonita" from the groups debut album High Steppin', one of the highlights of the night came when bassist Dave Bailis busted out a phenomenal bass solo on another High Steppin' gem "Joytime Radio."
Given that J is really the only true, full time, Pimp Of Joytime, it's tempting to think of these guys as a studio band from time to time.  While their studio material is fantastic, they proved on Saturday night that their live show is one of the funkiest around.  After an early morning setbreak, the band returned and turned the funk-o-meter up to 11 with a couple of tracks from their most recent Janxta Funk !, "Keep That Music Playin'" and the irresistible title cut.  The crowd showed no signs of slowing down as they held their drinks high and swiveled their hips as the Pimps blended old school with new and even seemed to channel Brazilian Synthesizer legend Eumir Deodato at one point.
It was the kind of show that makes you want to jump on tour with a band, the kind of show that wins over legions of fans, and hopefully the kind of show that gets a band invited back to a venue real, real soon.  If you haven't gotten out to get funky with The Pimps Of Joytime, do it, and do it soon!
Energy: A
Sound: A
Musicianship: A-
Stage Presence: A
Set/Light show: A
Overall: A
Music has always been a part of my life. It probably all started listening to old Grateful Dead, Peter Paul & Mary, and Simon & Garfunkel records that my parents had, but it wasn't long before they were taking me to concerts like Starship, Crosby, Stills & Nash, and Huey Lewis & The News. I got the bug to write about music after reviewing an Eric Clapton concert for a creative writing project in high school but didn't really take it up seriously until 2002. Since then I have published countless articles in The Marquee Magazine and done some work for Jambase.com, SPIN Magazine, and various other outlets. I started Listen Up Denver! as a way to share the music information that is constantly spilling out of my head with people who care. Please enjoy!