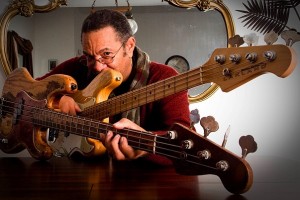 George Porter Jr. was a pioneer of the Funk sound during his days with The Meters, and he has been laying down funky bass licks since the 60s. Recently, he and his band The Runnin' Pardners have released a new album called Can't Beat The Funk. Listen Up Denver! caught up with him as he was spending some time at home in New Orleans before heading out for Jam Cruise.
Listen Up Denver!: I was listening to your new album and heard a bit of a jazz/fusion presence. What brought that on?
George Porter Jr.: Well, I really like where my band is right now. I just thought it would feel good to let players stretch out a little, ya know.
LUD!: And this was all reworking of material from The Meters days, correct?
GPJ: Everything on the album was previously released between 1968 and 1971.
LUD!: How did it feel to revisit these songs in the studio?
GPJ: It felt great! The original list had 24 Meters songs that had never been performed live by the band. That was the heart and soul of choosing these songs, because a bunch of them were being requested by people, you know
LUD!: You come out to Colorado quite a bit. Why do you think your sound connects so well with us out here?
GPJ: We enjoy ourselves when we are on stage, you know, people see that. I think people enjoy seeing a band enjoy themselves. It's not all business and we have fun but we don't act like no clowns. I know a lot of other New Orleans bands, like Dumpstaphunk, Papa Grows Funk, Bonerama and a few of the brass bands play up there all the time. I think Denver has always had a really good feeling for the New Orleans thing.
LUD!: I see you are doing Jam Cruise this year.
GPJ: Yeah, I am actually playing with two bands on Jam Cruise. Runnin' Pardners and 7 Walkers.
LUD!: You stay so busy! And you have for 40 years. How do you do it?
GPJ: I guess I must be doing something right!
LUD!: Well, some people choose to sit still more at this point in the game.
GPJ: I don't know if I am ready to sit still. I would love to be able to spend more time in the studio, because I love it. I like the creative part, getting stuff out of my head. We all gotta be out there workin' though!
LUD!: A large part of your career has been in the studio.
GPJ: Yeah, I would say the first 25 or 30 years I did a lot of studio work. I might get 3-5 sessions a year now.
LUD!: You have worked with so many people over the years. What has been some of you best musical experiences?
GPJ: Ah man, that's a good question! There were a few of the Meters sessions from the Rejuvenation album that stand out. The Look-ka Py Py album was fun. Those were my two favorites to make. The work I'd done with Earl King was always wonderful. The Robert Palmer sessions are high up on my list though. We had a lot of input in the recording of that project. We pretty much wrote our own parts. The fact that we got ignored after the fact was a bit of a claw though. The work I did with Tori Amos, I thought that was really good. The deep and diverse work I did with David Byrne was excellent and way outside my realm of thinking. When they called me I thought they must have had a hundred guys they could call in New York City that play this type of music. Why me? David's producer told me, "Man, there's just somethin' in what you all do down there."
LUD!: You were a big part in the development of the "Funk" sound.  Did you know you were creating something big?
GPJ: For us, we didn't know that's what it was. Bands and musicians hardly have any input on the labels that get stuck on our foreheads, you know. We were just playing and trying not to be everything we hear. That may have changed during the later years, trying to compete with the other vocal groups out there. The first three or four records, even all the way up through Rejuvenation, it was pretty much just a strong effort on being syncopated and Neil and myself playing the same licks and stuff like that. It wasn't a concentrated effort to say we were going to design something different. We would go in the room and just play off of each other and the guy would push a button, and the tape would run.
George Porter Jr. and his Runnin' Pardners are bringing their funky New Orleans sound to Cervantes' Other Side on Friday January 20th and Saturday January 21st.  Opening the shows will be our own little Denver super group Rodina, featuring member of Kinetix and Fox Street Allstars alongside Joe Tatton of The New Mastersounds.

Brian Turk grew up in the shadow of the Catskill Mountains, near Woodstock, NY. He comes from a family of music lovers, audiopliles, Dead Heads and avid concert goers.The musical magic that can only be created in the Catsklills, both past and present, is what Brian cosiders the epicenter of his music addiction. The music of The Band, and most recently The Levon Helm Band, is the soundtrack of home for him. Brian's mother took him to his first concert at 5years old...it was Johnny Cash and Roseanne Cash at Jones Beach Amphitheatre. For Brian, music is a family affair. He feels the same way about live music...we all convene to celebrate together. Brian's writing life started when he wrote his favorite author, southern fiction writer Clyde Edgerton, a fan letter at age 13. When most kids were idolizing baseball players and television, he was worshipping writers and musicians. The two became friends and Clyde shared his craft with Brian. The next year Brian attended Duke University's Young Writers Camp. This is the extent, of what Brian considers, his "formal" training in writing. From then on his goal was to capture snapshots of life through words. Brian has been involved with live music in various facets over the years, and combined with his enthusiasm and love for Denver's music scene, he creates a vivid description of what he sees and hears. If you see him out at a show, dancing with a notebook in hand, say hello.