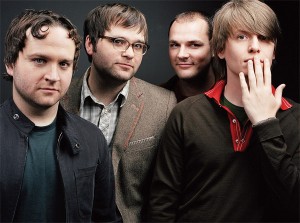 DEATH CAB FOR CUTIE
Tuesday, April 10th
Ellie Caulkins Opera House
Tickets: $29.75 – 49.75
Fan Club Pre-Sale: 1/20 @ 12pm
Public On-Sale: 1/28 @ 10am
PURCHASE HERE
This morning Death Cab For Cutie announced a very special 2012 North American tour. This one-of-a-kind spring trek will see DCFC accompanied on stage by members of San Francisco's celebrated Magik*Magik Orchestra. The dates begin right here in Denver on April 10th at Ellie Caulkins Opera House and finish up May 13th in Seattle, WA's Paramount Theatre.
Pre-sale for the show at The Ellie will begin for the band's official fan club, DCFC Union Local #1138, on Friday, January 20th at 12pm local venue time. This pre-sale includes regular pre-sale tickets and a limited number of DCFC t-shirt and poster bundles.
For more information on becoming a member of the DCFC Union Local #1138, or to log into your account and gain access to the pre-sale, please visit www.dcfcunion.com.
Regular on sale begins Friday, January 27th.  More details will be posted when we have them.
Please see below for a list of newly announced dates:
Death Cab For Cutie – Spring Orchestra Tour
4/10/12 – DENVER, CO @ ELLIE CAULKINS OPERA HOUSE
4/11/12 – OMAHA, NE @ OMAHA MUSIC HALL
4/13/12 – LOUISVILLE, KY @ LOUISVILLE PALACE
4/14/12 – GRAND RAPIDS, MI @ COVENANT FINE ARTS CENTER
4/15/12 – MILWAUKEE, WI @ RIVERSIDE THEATRE
4/16/12 – CHICAGO, IL @ CHICAGO THEATRE
4/19/12 – TORONTO, ON @ MASSEY HALL
4/20/12 – MONTREAL, QC @ ST. JEAN BAPTISTE CHURCH
4/21/12 – BOSTON, MA @ CITI PERFORMING ARTS CENTER
4/23/12 – PROVIDENCE, RI @ VETERANS MEMORIAL AUDITORIUM
4/24/12 – BUFFALO, NY @ KLEINHANS MUSIC HALL
4/25/12 – UPPER DARBY, PA @ TOWER THEATRE
4/27/12 – NEW YORK, NY @ BEACON THEATRE*
4/30/12 – NORTH BETHESDA, MD @ STRATHMORE*
5/1/12 – KNOXVILLE, TN @ TENNESSEE THEATRE*
5/3/12 – DALLAS, TX @ MCFARLIN MEMORIAL AUDITORIUM*
5/4/12 – AUSTIN, TX @ ACL LIVE AT THE MOODY THEATER*
5/6/12 – MESA, AZ @ MESA ARTS CENTER – IKEDA THEATER*
5/7/12 – LOS ANGELES, CA @ WALT DISNEY CONCERT HALL*
5/8/12 – OAKLAND, CA @ FOX THEATER*
5/11/12 – PORTLAND, OR @ ARLENE SCHNITZER CONCERT HALL*
5/13/12 – SEATTLE, WA @ THE PARAMOUNT THEATRE*
*with Youth Lagoon