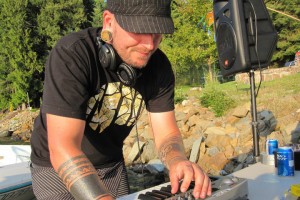 The Scene: It's always a toss-up in Denver when trying to figure out what type of crowd is going to show out for an electronic show. This was most certainly the case last Saturday night when ambient, bass heavy producers Ill-Esha and Bluetech took over The Summit Music Hall. The crowd size around 11 o'clock was nothing to impressive, a small group on the dance floor with people mingling and sitting around on the tables and benches upstairs but as the clock approached midnight the place began to get rather packed after STS9 wrapped up their show at The Fillmore.  Being that Bluetech is still relatively unknown to a lot of people, the crowd size by the time he hit the stage was rather impressive. I wasn't too sure what type of draw he would have as a headliner but was glad to see the place fill up.
Opener: Ill Esha. Ill-Esha has been around the music scene for quite some time now. Starting out as a vocalist, she has since added production and Dj'ing to her repertoire. Her bass heavy, futuristic sound takes you on a journey through many different genres including Glitch-Hop and Dubstep. All the while avoiding the abrasive "whomps" that Dubstep has grown to be known for.  Not only does she span genres, but she sings the vocals for her songs while mixing live on stage. Her voice over the glitchy samples and deep bass was very hypnotizing. All this fit together quite well with the bright lights and all of the flashy things people were twirling around on the dance floor. Her set ran just over an hour and ended with a brand new song that she seemed more than thrilled to play for us. It was my first time seeing, or even hearing of, Ill-Esha and after watching her perform I was instantly turned into a fan and will make it a goal to catch her whenever I can. The pure love and unique style she brought to the stage captivated me from the first note and left me wanting more.
Bluetech: No stranger to the underground Electronic scene, Bluetech has been blowing minds since the release of his first album in 2003. Since then he has slowly been gaining popularity and over the past few years has become a large name among Down-Tempo fans due to his one of a kind approach to production. The first time I heard Bluetech was a few years ago when he was simply a name amongst many others on a bill at Cervantes. Since then he has started headlining shows and making a true name for himself. Given the fact that STS9 playing across town, I was a bit worried that the crowd would be a bit of a disappointment, but much to my surprise by the time he took the stage a little after 12 the room had filled and the energy was vibrating with love and anticipation.
Bluetech is a classically trained pianist, among other things, but most of his sound lies in the Dub heavy ambient sounds meant to captivate and transform dance floors into fluid waves of dancers. By combining elements of bass heavy Dub with an ambient background he is able to tap into some strange psychedelic sound unlike anything words can really describe. His set was nearly 2 hours and he didn't say a single word as he just let the crowd tap into the vibe and float away. The lighting was well thought out, yet subtle. Utilizing blues and purples to create a serene atmosphere, not once did he lose my attention.
The set evoked emotions of peace and oneness with the people dancing around me. Intelligent Dance Music is the best way I can think of to explain what he does on stage. In the right state of mind Bluetech has the power to take you many otherworldly places. I think is one of his biggest draws is his ability to pick you up, to help you forget you are just dancing in some music venue. He built landscapes and created and new atmospheres of sound.
Even if electronic music isn't your cup of tea, do yourself a favor and catch a Bluetech set next time you have a chance. He transcends what is considered the norm in the genre and creates a unique sound all his own. Simply watching Youtube videos won't suffice, you need the full sensory experience. The lights, the massive speakers, and more importantly the energy of everyone around you feeling the deep beats coming out of whatever it is he has plugged into his laptop on that stage. As I was leaving I asked a buddy of mine who had never heard of him before to describe what we had just witnessed. Through his large grin and wide eyes he described it as "underwater, mescaline, space boogie." I found that to be quite suiting.
Energy: A
Sound: A
Musicianship: A
Stage Presence: B-
Set/Light show: A
Overall: A

I rode my skateboard from school in 7th grade to my buddy Vince's house where he put on the song "Perfect Government" by NOFX and I was hooked. The next day I bought the album Duh by Lagwagon. The next year I saw Against Me! at the Starlight Theater in Fort Collins, my mom dropped me off. I've since devoted every waking hour to anything done with passion. My speakerbox bumps everything from Lil' Wayne to Pablo Casals. I was never very good at making music, but I am damn good at listening to it. I've been filling up yellow notepads with random thoughts and misspelled words for as long as I can remember. I enjoy whiskey of all sorts, Newport cigarettes and the company of my family. I've got an addiction to run-on sentences that I'll probably never cure. A solid handshake with a stranger who has become a friend over a few beers means the world to me. You'll often find me wide eyed and wandering with an ear to ear grin. I live for funky break beats and spreading the love.