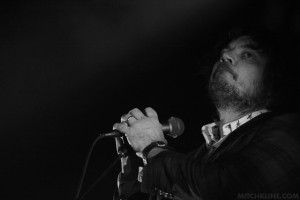 Photos By Mitch Kline
The Scene: The Fillmore Auditorium was overflowing with hipness and Wilco knowledge as fans squeezed in to not only hear, but also to discuss a band that seems to attract the "highly anticipated" label to every move they make. People truly connect to this bands work, and they analyze, criticize, and philosophize about their catalogue and performances in great detail. Wilco draws out true music geeks who also have the best taste in fashionable eyewear I have ever seen displayed in an audience. People adjusted their tortoise shell frames as they spoke of early Wilco albums, the genius of Jeff Tweedy, various lineups, and how much they loved Yankee Hotel Foxtrot or why they liked "Sky Blue Sky" more than "Summerteeth." The place was seriously packed, and as folks bounced off of each other, trying to make their way through the crowd, they religiously sang along to every word of every song. The eclectic sounds of Wilco didn't just turn out people with poor vision; there were sightings of dreadlocks, overalls, mom jeans, sport coats, and high heels as well.
Opener: White Denim. Austin based openers White Denim blasted ear drums with unconventional and aggressive sounds. The volume was obnoxiously loud and the vocals were lost in the screaming of guitars. It hurt, confused, shocked, and confronted an audience that was not prepared for such harshness. I actually saw people of the mostly over 40 persuasion seek shelter in the rear of the venue with their fingers plugging their ears. I was sucked in instead of pushed away. The songs were composed with unique structures that at times sounded disorganized, but came together into infectious grooves. Raw, guitar heavy, vintage, and artistic; this band pierced ear drums for a cataclysmic 30 minutes and left me anxious to hear their music on my home stereo at a more comfortable volume.
Wilco: The stage was decorated in a dramatic and well thought out fashion, much like the music of Wilco, and it reminded me of the "Tree of Souls" from the movie Avatar. "Poor Places" started the night off in a hauntingly soft and melodic way that was punctuated by Wilco's signature electronic sounds and synth distortions. The creative energy that is strategized in the studio translates onto the stage as they re-build their songs in front of an audience. The crowd reacted intensely to all the Yankee Hotel Foxtrot songs, but it was the easily recognizable "I'm Trying To Break Your Heart" that people were waiting for, and it was the first sing along of the night. The lineup that Wilco has been presenting the past few years produces an amazingly full sound, especially when the guitars of Jeff Tweedy and Nels Cline are joined by Pat Sansone's. They were able to give the songs enough gas to rock the hell out of the Fillmore!
Wilco's catalogue is an artistic roller coaster of musical moods and emotions, and the show had a very up and down feel. Everyone seemed to be hearing bits of the Wilco they love, and the band has been around long enough for people to really build a relationship with these songs. Many memories have been made to the soundtrack of Wilco, and watching faces light up to "Capital City" as much as "Via Chicago," shows the stronghold these guys have on their fans.
"Box Full of Letters" had people thinking back to their first time listening to Wilco as Tweedy's vocals rang with a sweet and dusty sound. His vocal and emotional rawness was near its peak for "Shot in the Arm" which was filled with a calculated and reserved intensity. Wilco is not in the "most danceable" music category, but white folks in plaid did manage some bouncing interpretive dance throughout the evening.
What began as an encore turned into an eight song second set to close out the night. People were staying to get their almost $60 dollars' worth, plus, with such a loved and diverse catalogue, no one knew what they would play next! "Heavy Metal Drummer" thumped into a funky "Walking" that was full of southern roots rock and heavy on lap steel. The harder and grittier rock continued into "I'm the Man Who Loves You," and it seemed to be the most danceable song of the night as people and PBR cans bounced up and down. Ending with "Outtasite (Outta Mind)" and "I'm a Wheel," Wilco left the stage as a very satisfied audience immediately started talking about the best parts of the show.
When all was said and done, there wasn't a Wilco fan that left unsatisfied. People got to hear all the different sides of this great band; the country twang, the indie rock, the smart and detailed song writing, the alternative soundscapes, the harder edge, and the softer side. Wilco has reached an iconic status and they have created an easily recognizable and broad reaching sound. While the talent of this band is undeniable, I wonder if they have perfected their sound too much. I would love to see them do something that shakes it all up; like focus on the raw, southern and roots sounds, and get into some stripped down soulful rock. Whatever they make the fans will love, cherish, and pick apart.
Energy: B+
Sound: A-
Musicianship: A
Stage Presence: B+
Set/Light show: A-
Overall: A-
Brian Turk grew up in the shadow of the Catskill Mountains, near Woodstock, NY. He comes from a family of music lovers, audiopliles, Dead Heads and avid concert goers.The musical magic that can only be created in the Catsklills, both past and present, is what Brian cosiders the epicenter of his music addiction. The music of The Band, and most recently The Levon Helm Band, is the soundtrack of home for him. Brian's mother took him to his first concert at 5years old...it was Johnny Cash and Roseanne Cash at Jones Beach Amphitheatre. For Brian, music is a family affair. He feels the same way about live music...we all convene to celebrate together. Brian's writing life started when he wrote his favorite author, southern fiction writer Clyde Edgerton, a fan letter at age 13. When most kids were idolizing baseball players and television, he was worshipping writers and musicians. The two became friends and Clyde shared his craft with Brian. The next year Brian attended Duke University's Young Writers Camp. This is the extent, of what Brian considers, his "formal" training in writing. From then on his goal was to capture snapshots of life through words. Brian has been involved with live music in various facets over the years, and combined with his enthusiasm and love for Denver's music scene, he creates a vivid description of what he sees and hears. If you see him out at a show, dancing with a notebook in hand, say hello.