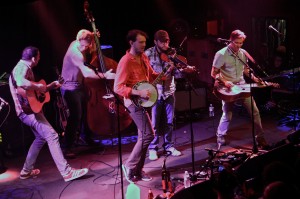 Photo by Anna Schwaber
The Scene: The line outside the Fox Theatre last Thursday night leading up to the box office stretched nearly around the block and it was only 9:30. The Infamous Stringdusters were the reason for this. It seemed as if most folks waiting were still intending to purchase tickets at the window. As the line got longer, and people's hope for tickets dwindled, it became rather obvious that I would not be able to make it inside in time for the opening band Pert Near Sandstone. Although this was a bummer, my excitement rose as everyone outside the venue spoke of how amazing the show was going to be.  I overheard the couple in front of me talking about a possible special guest since the band recently lost its mandolin player. This certainly sparked my interest. Around 10pm I finally made it to the box office window that no more than 5 minutes earlier put up a sign saying "Sold Out." It was truly remarkable to see that many people turned away from a bluegrass show on a Thursday night. Once finally inside, the place was packed to capacity. Pert Near had just left the stage and everyone was getting ready for The Infamous Stringdusters.
The Infamous Stringdusters: These guys have been around in the new-grass scene since 2007 and have been rapidly gaining popularity in recent years. With a sound that has earned them multiple awards throughout the community, they have almost become a staple of their genre. Their high energy sound, coupled with well thought out sets that feature everything from boot stomping originals to classic covers everyone can sing along with, has made them of the most sought after bands in their genre.
The Stringdusters didn't take the stage until almost 11 and by this time it was shoulder-to-shoulder with hardly any room to dance. From the first note it was clear why so many people lined the streets prior to the show and why many of them had left ticketless and disappointed. They came out fast and strong mixing originals with ballads and covers. Keeping everyone tapping their feet and grooving along.
If my memory serves me correctly, which it very well may not due to the free flowing whiskey. I believe they came out playing Sting's classic "Walking on the Moon." This set the mood for the rest of the night. Near the end of the first set they announced that they had a special guest planned. Then from the backstage area emerged Yonder Mountain String Band's mandolin player, Jeff Austin. This set the place off as everyone went into an uproar.
The first set was full of energy and high spirits. They even paid homage twice to bluegrass great John Hartford. First, by playing his "Steam Powered Aeroplane," then by allowing Austin the pleasure of singing "Up on the Hill Where They Do the Boogie." It was an absolute treat to have Jeff sit in, and for me a huge surprise. It was also nice to have a mandolin make an appearance for part of the show.
As The Stringdusters kicked off their second set without Austin, they proved that they are all very talented musicians and it was easy to tell that each of them has a great understanding for the music they play and how a show should be put on. While the set may have lacked a little in fast paced energy, it was laid back and relaxed in the most perfect way. They played an original tune off their debut of the same name "For in the Road," and another highlight was their ode to jam masters Phish with their rendition of "Free." This of course, turned out to be another crowd favorite.
The Stringdusters have certainly made a name for themselves lately and I see them going nowhere but up. They stick to their roots in traditional sound while barely teetering on the edge of being a "Jam-Grass" band. Just teetering, not ever quite making the plunge directly into full swing Jamband. This is part of their mystique and magic. Quick picking, solid harmonies, and the ability to pay respect to the greats of all genres, all while staying true to the sound that is The Infamous Stringdusters.
Energy: A
Sound: A+
Musicianship: A+
Stage Presence: A
Set/Light show: B
Overall: A
I rode my skateboard from school in 7th grade to my buddy Vince's house where he put on the song "Perfect Government" by NOFX and I was hooked. The next day I bought the album Duh by Lagwagon. The next year I saw Against Me! at the Starlight Theater in Fort Collins, my mom dropped me off. I've since devoted every waking hour to anything done with passion. My speakerbox bumps everything from Lil' Wayne to Pablo Casals. I was never very good at making music, but I am damn good at listening to it. I've been filling up yellow notepads with random thoughts and misspelled words for as long as I can remember. I enjoy whiskey of all sorts, Newport cigarettes and the company of my family. I've got an addiction to run-on sentences that I'll probably never cure. A solid handshake with a stranger who has become a friend over a few beers means the world to me. You'll often find me wide eyed and wandering with an ear to ear grin. I live for funky break beats and spreading the love.