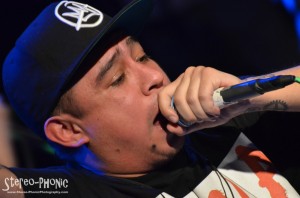 Photos by Johne Edge
The Scene: Smiling faces, words of gratitude, and flashing cameras filled the Summit Music Hall Sunday night.  Alongside their merch table, wonder-boy Ander, rappers Dessa, Sims, and P.O.S. were both receiving and dishing out some hard earned gratitude with a crowd of very dedicated fans.  Strange symbols comprised of wings with teeth were spotted all over the relatively new ballpark neighborhood venue as Soda Jerk Presents brought the Minneapolis hip-hop collective Doomtree to Denver.
Opener: Input & Broken.  Denver local and Fameless Entertainment artist Input & SLC based producer Broken opened up the stage with their signature style of Indie Rap.  Spitting out poetics with tracks like "Diamonds on the Inside" off his 2009 record Pictureface, Input reminded the crowd that heart and determination are all that it takes to make great Hip-Hop.  They also played a few tracks off an untitled forthcoming collaborative album, something to really look forward to in 2012 if you're a fan of either artist.
Opener: Sole.  Tim Holland, known as Sole, also filled the air with a selection of songs and spoken word pieces that emphasized his personal exploration since recently relocating to Denver.  Known for his satirically charged stream-of-consciousness style of rapping, Sole critiqued a variety of subjects ranging from his family to the Occupy Movement.  Sole expressed feeling very comfortable in Denver and promised good things were coming later this year.
Doomtree:  Lazerbeak got the crowd warmed up for a Doomtree rap party with 10 minutes of his signature brand of Lava Bangers.  By no coincidence also the title of his brand spanking new album created with DJ extraordinaire Plain Ole Bill, these spicy little Lava Bangers feature snares that snap like hot sparks.  Grooving percussion paired with synth driven heaters like "Smash Hit" show why Beak is getting so much praise for being one of the most skilled producers in the game.  If he starts a beat, he'll build it up, break it down, then throw it in your face right in front of you on an MPC.
In honor of their new album, Doomtree officially started their nearly 2-hour set with the first No Kings track "No Way."  The show quickly asserted itself as a tour de force of raw lyricism and explosive beats.  It's clear the Doomtree crew is in top shape and isn't taking any prisoners on their crusade to convert newcomers into committed fans.
Throughout the rest of the evening each of the 5 emcees showcased a collection of fan favorites blended effortlessly with material from the new album.  The dangerously catchy "Bangarang" bled straight into Mike Mictlan's classic track "Game Over" produced by Paper Tiger proclaiming "Rap won't save you!"  Sims (apparently a magician) turned the club into a zoo full of wild animals with "Burn It Down," and they both killed their classic banger "Slow Burn."  Cecil Otter played his classic "Rebel Yellow" as well as an untitled track that featured words that still echo in my memory. "We're lying in a minefield of dreams.  We count those sheep as they scream.  They never made it over the fence; with each noble attempt, we just sat there, conscious."  Dessa had the crowd singing the hook with "Dixons Girl," and P.O.S. finished out the set with his epiphanic anthem "Purexed."  Within moments of leaving the stage, the crowd roared for more, chanting "DOOMTREE, DOOMTREE, DOOMTREE!!!"
Fortunately for all of us, the crew graced the audience with a two song encore.   One new song, one old favorite, and an announcement.  First up was the new track "Fresh New Trash," and it featured every emcee encouraging listeners to go out and make their dreams happen regardless of what might be holding them back, just like Doomtree has been doing for 10 years.  They rounded out the night with "Low Light Low Life" off of P.O.S.'s 2009 Never Better.
Oh yeah, as for that announcement: Doomtree will be doing a Colorado-only "Snow Kings Tour" in late March with dates as far south as Durango and as far north as Fort Collins.  Presale tickets are available online at Doomtree.artistarena.com using the username "doomtree" and the password "tickets."  For more Doomtree check out Listen Up! Denver's interview with Dessa and Paper Tiger here.  No kings, ever!
Energy: A
Sound: A-
Musicianship: A-
Stage Presence: A-
Set/Light show: B-
Overall: A-
I've always tried my hardest to live it up whenever possible, so live music was something that I gravitated towards naturally. You can find me with a massive grin on my face; skanking with rude boys in the pit, grooving along to reggae and funk, and even occasionally getting my whomp on at electronic shows. From tiny clubs to massive festivals, my love for music and passion for writing make my time writing for LUD! feel like time well spent.