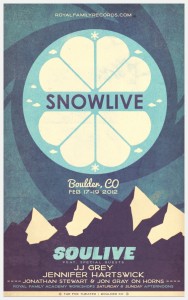 SOULIVE To Host SNOWLIVE In BOULDER This FEBRUARY
A Mini Three-Day Festival With Special Guests Including JJ Grey, Jennifer Hartwick & More . . .
Soulive has announced that they will begin 2012 by hosting their own mini-festival dubbed Snowlive this February in Boulder, CO at The Fox Theatre from February 17 through February 19. The first two nights will feature special guests JJ Grey and Jennifer Hartswick, while the third night will be an evening of "Rubber Soulive" named after the band's album of the same name paying tribute to The Beatles. The trio consisting of Eric Krasno and brothers Al and Neal Evans will also conduct a series of workshops for fans during the afternoon of each performance.
The Brooklyn-based soul-funk tour de force Soulive are coming off one of their most exciting years yet. In March 2011, the band set up shop at Brooklyn Bowl for their second annual ten night residency called Bowlive, welcoming a variety of special guests to the stage for a number of inspired collaborations. Later in 2011, Soulive presented their own U.S. tour dubbed The Royal Family Ball, which resulted in packed houses at venues such as Terminal 5 in New York City, House of Blues in Boston and The Fillmore in San Francisco among others. In August 2011, Soulive hosted The Royal Family Affair, their own three-day festival at Vermont's Stratton Mountain.
In addition to Snowlive this February, Soulive has announced plans for Bowlive 3 at Brooklyn Bowl in March. Later in the spring, the band will release a new EP featuring saxophonist Karl Denson entitled SPARK that serves as a tribute to the legendary soul jazz guitarist Melvin Sparks who passed away last year.
SNOWLIVE BOULDER @ THE FOX THEATRE
2/17 | Soulive + JJ Grey & the Jennifer Hartswick Horns (9PM)
2/18 | Soulive + JJ Grey & the Jennifer Hartswick Horns (9PM)
2/19 | Rubber Soulive: A Tribute to The Beatles (9PM)
For complete afternoon workshop information CLICK HERE
For tickets CLICK HERE