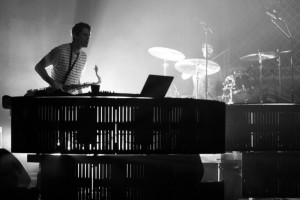 Photos by Jon Prins
The Scene: To call the scene both inside and out of the Ogden Theatre this past Saturday night a "madhouse" would be a vast understatement. Scantily clad females with their fingers in the air searching for tickets paced back and forth down the street. A line stretched from the box office window nearly all the way down the block and countless scalpers waived overpriced tickets in the air attempting to make a quick buck. It seemed the age group most strongly represented was early to late 20 something's with tons of energy and filled with joy for what was about to happen.
Big Gigantic was the reason for this. Two guys, who in the last 3 years have gone from playing small time gigs and house parties along the Front Range, to selling out large venues across the nation. It was no surprise at all to see such a huge turn-out for these local favorites. Especially with the buzz going around about their brand new light rig that was sure to "melt faces."
Opener: Griz. Griz isn't from Colorado but might as well call it home due to all of the love he gets from this place. He may be fresh on the scene but his sound has been turning heads for a while. With a lot of tracks along the same vein as Pretty Lights, Griz stays true to funky Soul music and Hip-Hop beats and he is certainly on a path for huge recognition. In fact, I hadn't even really been familiar with Big Gigantic before Saturday night. I was there after hearing the songs Griz has on his Soundcloud and being blown away by his Acid-Crunk style.
All that said, I was rather disappointed with his set on Saturday night. At times his transitions were choppy and his "whomps" were far to abrasive for me. His style is very groovy at times and he throws in a lot of horn samples that add a nostalgic, yet fresh feel to his songs. Perhaps he was just trying to cram too much into a too short amount of time. Either way, Griz is still someone you should keep on your radar as he progresses and grows in the every changing world of electronic beats.
Big Gigantic: For the past few weeks a huge buzz was building steadily, on the internet and the street, for Big Gigantic's run of Colorado shows. Being that both Dominic Lalli and Jeremy Salken have been well known in the CO music scene for a while now, and with the recent release of Nocturnal, it was no wonder everyone was so damn excited. The Ogden was an absolute sweatbox inside and the stage was dwarfed by two massive light rigs on either side. A DJ table hidden inside one and a drum set in the other.
The pair didn't come out until nearly 11, but when they did the place erupted into a complete frenzy. From my vantage point in the balcony it looked like complete mayhem everywhere. Within the first ten minutes of their set, the duo had the whole theater in the palm of their hands as kinds bounced around to every note and stared wide eyed into the massive light rigs.
If you're not familiar with Big Gigantic's music then that is really something you might want to rethink about your life. Lalli plays a brilliant Saxophone as he controls most of the electronic aspects of the performance while Jeremy keeps everyone grooving by beating on the skins. Not once during the night did I feel like they missed a beat. All transitions were smooth and the jazzy saxophone added to the electronic sound in a way I had only heard through samples in the past.
Early on in the set they introduced a song they had created specifically for the Colorado run. The name of it escapes me, but the vocal sample "Colorado in this bitch," is still ringing in my ears and definitely made this native proud. Their style is unique in so many ways. They are able to keep it "gangsta" with their hip hop samples, while getting very psychedelic and spacey within minutes.  The crowd loved every second of it, even people waiting in line for drinks were getting down. They ran the gamut from new material to old, to just simple improvisation. I usually take notes at these events, but knew within the first three songs that taking notes was clearly not an option. Every ounce of my attention was meant to be focused on what was happening on stage. I was able to pick out their remixes of "Notorious Thugs" by Bone Thugs N Harmony and "Get 'em High" by Kanye West. Above both of those my highlight of the night was their remix of Aloe Blacc's "I Need a Dollar."
By the end of their encore I was turned into a believer. Walking out of the Ogden it was beyond clear to me why these two have built such a huge buzz in the past couple years. Their sound, paired with the out of this world light set up, made for one of the most well put together productions I've seen, or been a part of, in a long time. The name suits them well, because everything about last Saturday night was nothing less than big and gigantic.
Energy: A+
Sound: A
Musicianship: A
Stage Presence: A
Set/Light show: A+
Overall: A+
I rode my skateboard from school in 7th grade to my buddy Vince's house where he put on the song "Perfect Government" by NOFX and I was hooked. The next day I bought the album Duh by Lagwagon. The next year I saw Against Me! at the Starlight Theater in Fort Collins, my mom dropped me off. I've since devoted every waking hour to anything done with passion. My speakerbox bumps everything from Lil' Wayne to Pablo Casals. I was never very good at making music, but I am damn good at listening to it. I've been filling up yellow notepads with random thoughts and misspelled words for as long as I can remember. I enjoy whiskey of all sorts, Newport cigarettes and the company of my family. I've got an addiction to run-on sentences that I'll probably never cure. A solid handshake with a stranger who has become a friend over a few beers means the world to me. You'll often find me wide eyed and wandering with an ear to ear grin. I live for funky break beats and spreading the love.