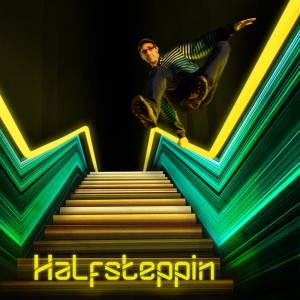 JPOD The Beat Chef is a DJ and producer based out of British Columbia.  His genre-bending Electronica gracefully blends elements of Glitch-Hop, Funk, Breaks, and a catalogue of intriguing world music samples to create his trademark style of self-proclaimed Melodic Bass Music.  Aside from churning out originals and countless remixes in the studio for guys like See-I, JPOD runs the Swingset Sounds label, which brings us his debut release Halfsteppin.
Halfsteppin gives dance-crazed JPOD fans exactly what they've been asking for as his first full-length record.  Clocking in at around 80 minutes, the album features 15 tracks of melodic synthesized bass layered with beats that clap like a live crowd.  A healthy dose of glitched-out goodness keeps you grooving along to dancehall-style tracks like "Voz De Loca."  Fast-paced bangers like "Ethereal Shuffle" showcase a simplicity often undervalued in today's electronica, with everyone obsessing over whose drop is the most filthy or whether or not Skrillex is a sellout.  The sultry "Come Closer" is a floating dreamscape of layered synth that conjures up memories of innocent eyes and glowing childhood summer afternoons with catchy 8-bit melodies.  Check out the new album over at Swingset Sounds.
Like what you hear?  Buy a copy, and then head over head over the party this Saturday night (January 28th.)  The party formerly known as Winter Whomperland, will be headlined by JPOD and also feature Willy Whompa, Coult 45, and more!  Presented by Whomp Truck & Band Kitty, the location will be announced the day of event so make sure you're following both on Facebook if you want to attend this very intimate get together.  Tickets are $10, 21+ with I.D., BYOB.  Catch Listen Up Denver! out there and have a listen to what JPOD The Beat Chef's been cooking up.
SWS006 – Halfsteppin Album (Preview) by JPOD the beat chef

I've always tried my hardest to live it up whenever possible, so live music was something that I gravitated towards naturally. You can find me with a massive grin on my face; skanking with rude boys in the pit, grooving along to reggae and funk, and even occasionally getting my whomp on at electronic shows. From tiny clubs to massive festivals, my love for music and passion for writing make my time writing for LUD! feel like time well spent.