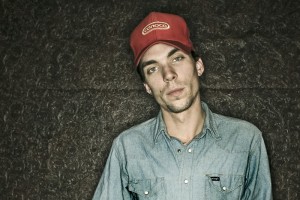 Photo by Joshua Black Wilkins
Justin Townes Earle is a legacy in the music world and he has inherited many things from his father, the legendary Steve Earle. When Justin Townes decided to follow in his father's footsteps by stepping on to a stage, he also stepped into lifestyle of excess. Last year brought him to his knees in his personal life, but his musical career began to stand tall when the title track off of his 2010 release, Harlem River Blues, was chosen as song of the year by the Americana Music Association. Listen Up Denver! got a chance to catch up with Earle, and he told us about the rocky start, but strong finish he had in 2011.
Listen Up Denver!: I am always interested in when a songwriter first found their love of writing. When did it start for you?
Justin Townes Earle: It started when I was a kid in school. I had a teacher that encouraged me because she saw a lot of promise in my writing. Writing has been something that has been in the forefront for most of my life.
LUD!: What have been the benefits of processing your thoughts through writing?
JTE: When I write songs, I seem to come up with better answers to life's problems than I do in real life. (Laughs.)
LUD!: Speaking of that, it has been quite a year for you! Could you give me some high points and low points?
JTE: It has, it really has. It's been a very interesting year and everything has kind of started to take off for me. I am trying to take a break right now, and just sit back and kind of take a breath before it all starts up again. I just got done making a new record, so that's great. But in the end of 2010 and beginning of 2011 I wound up falling back into Heroin, and ended up in treatment.  I wound up coming out of it just in time to recover and pull off the tour and this record. I had to decide that I didn't want to shoot dope again, ever in my life, and I had to move on. I am definitely not bullet-proof and I am just as susceptible to those problems now, if not more, than I ever was.  You are going to slip every once in a while. I realized that winning song of the year at the Americana Music Awards and being able to play places like Carnegie hall are prizes that only come to the hardworking, not to the sloppy junkies.
LUD!: Can you tell me more about the new record?
JTE: During the making of Harlem River Blues I made some inquiries into the life and world of 1960's Memphis Soul, so I just kinda decided to continue with the sound that I got off of "Slippin and Sliddin'" and things like that. That sound really got to me and it's been one of my favorite types of music for a really long time. I definitely didn't make a soul record; I made a singer songwriter record that is heavily influenced by soul music.
LUD!: You recorded the new album in Ashville, NC right? It is a beautiful place.
JTE: We did, at Echo Mountain Studios. The studio was amazing and the staff was great. They run a really tight ship. It's not only a beautiful area, but it's far away. We recorded this record live, there is not one single over dub on it. I needed everybody's full concentration and I was able to get people to pay attention a bit more by taking them up the mountain. The record is pretty dark, it definitely exorcises some demons.
LUD!: I love when artists do live studio recordings, and it just seems to come off in an amazing way.
JTE: It really does come off great. It comes off with a sense of urgency that you can't get from a tape and go, tape and go, style recording.
LUD!: You have stated that you feel like you wasted a lot of your teens and twenties by pushing the limits. Do you think the recognition Harlem River Blues got makes up for any of that wasted time?
JTE: Yeah, I think I have in a big way; things have started to come back my way. I still have a ways to go, but I can say, even with the times I've wasted in my early twenties and teens, I will turn thirty pretty happy with my accomplishments so far in life. Five years ago that would not have been the case!
Justin Townes Earle will be performing on eTown January 26th and will be opening for The Jayhawks at The Ogden Theatre on January 27th.

Brian Turk grew up in the shadow of the Catskill Mountains, near Woodstock, NY. He comes from a family of music lovers, audiopliles, Dead Heads and avid concert goers.The musical magic that can only be created in the Catsklills, both past and present, is what Brian cosiders the epicenter of his music addiction. The music of The Band, and most recently The Levon Helm Band, is the soundtrack of home for him. Brian's mother took him to his first concert at 5years old...it was Johnny Cash and Roseanne Cash at Jones Beach Amphitheatre. For Brian, music is a family affair. He feels the same way about live music...we all convene to celebrate together. Brian's writing life started when he wrote his favorite author, southern fiction writer Clyde Edgerton, a fan letter at age 13. When most kids were idolizing baseball players and television, he was worshipping writers and musicians. The two became friends and Clyde shared his craft with Brian. The next year Brian attended Duke University's Young Writers Camp. This is the extent, of what Brian considers, his "formal" training in writing. From then on his goal was to capture snapshots of life through words. Brian has been involved with live music in various facets over the years, and combined with his enthusiasm and love for Denver's music scene, he creates a vivid description of what he sees and hears. If you see him out at a show, dancing with a notebook in hand, say hello.